Short Acrylic Nails That Super Pretty ( 28 Photos )
Short acrylic nails can be elegant and beautiful. What makes women have an interest in short nails but want glamorous manicure with functionality. Acrylic is well known for being long and beautiful. But this is not always the case at least it is not anymore. Pretty short acrylic nail ideas are just s fun as long acrylic.
Short Acrylic Nails
Acrylic designs are made by combining a liquid acrylic product with a powdered acrylic product to enhance nails. Women have been adding things to their nails for a long time now, we have come quite far. We have other methods to make our nails stronger and stand out more. We have also removed the notion that beautiful statement nails could only be long.
Modern women looking for new short acrylic nails ideas will be pleased with our list. The possibilities are endless and designs keep coming each day. Maybe you are into cute short acrylic nails or you rather long coffin acrylic nails. You will never know whats your style until you try both.
*Disclosure: This post may contain affiliate links, which means that I get a commission if you decide to make a purchase through my links, at no cost to you. Read my disclaimer for more info.
Here is some inspiration for you to get the look you want. We know it can sometimes seem hard to find amazing short nails in this sea of long nails. We have collected some of the best short acrylic nails on the internet today.
Can you put Acrylic on short nails?
It is a question you may ask yourself if you have natural short nails. Yes, you can use acrylic on short nails, infect there are so many beautiful nail designs for short acrylic nails. What you should keep in mind is if your nails are damaged or thin then you need to hold off on getting an acrylic manicure until they are healed. Be sure to check with your manicurist to get short acrylic nails because some might give you longer nails that you are imagining as short has a different meaning for some people.
Light Pink Acrylic
The artist done a great job on this, simple and dreamy all in one. This design is elegant, shows how much short acrylic nails can keep up with long acrylic nails. If you are one looking for something beautiful and simplicity reign supreme here.
Credit: @id_nails_space
Short Acrylic Nails with Glitter
This first nail is perfect for prom or date night. Has an elegant appeal to it that will make you feel even more confident. The color is soft and has a natural-looking base tone. The glitter gives it a little personality and I would wear this to the most major celebrations.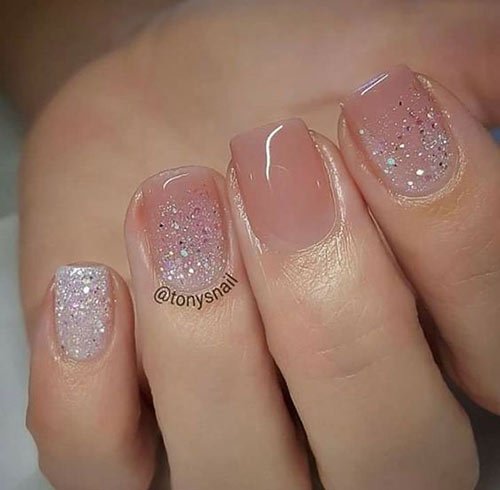 Light Blue Short Acrylic Nail Designs
This modern nail design is just what you need if you are a trendsetter. Love how the small finger has a unique design from the others.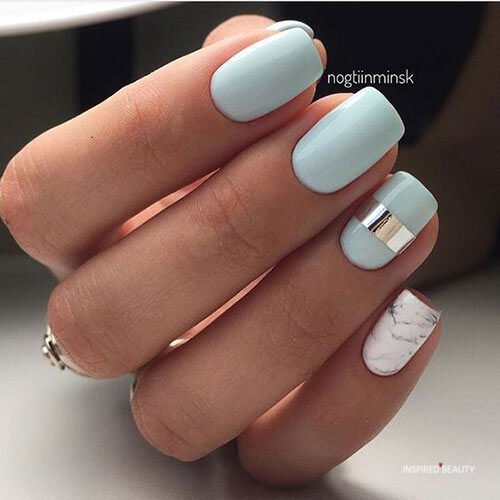 Short Designs
Pink nails with sparkle gold accent on ring finger. This nail art I can see looking good with black or other dark color jeans.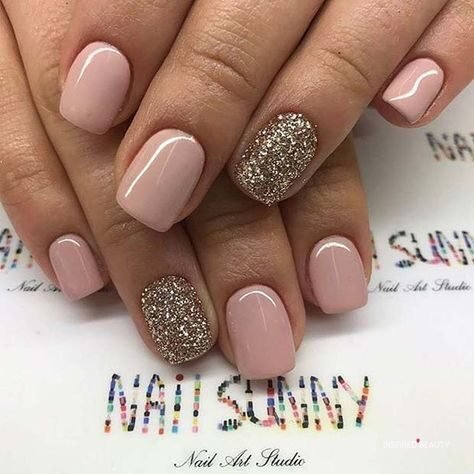 Leopard Design Short Acrylic Nails
This design is actually chic even with leopard and all. Leopard print is popular again so its a good time to try these out. The other nails with light colors and pearls make it more elegant.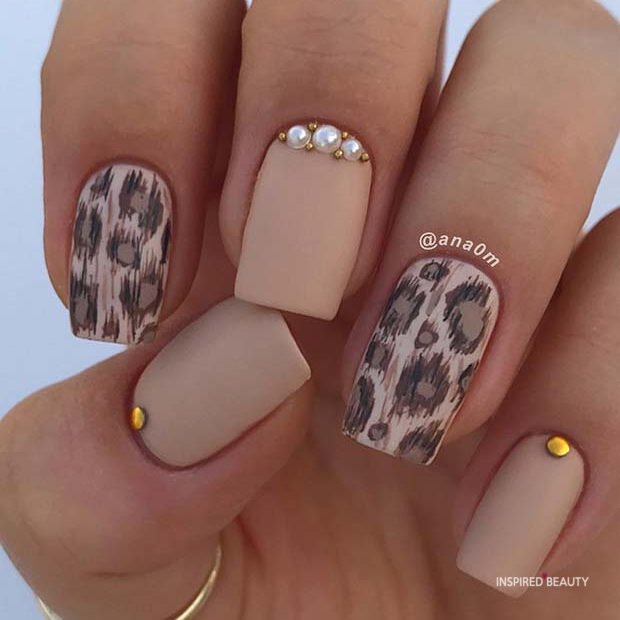 Pink short acrylic nail ideas
Pink nail ombre design, this short nail looks good and adding some glitter to take it to another level. Althought design is pretty basic and not as short as others on the list its still pretty. Pinka nd white ombre design with glitter on two fingers.
Short Acrylic Wedding Nails
If you like french nails this is a beautiful reinvent of the classic french manicure. Light pink nails and white tip but with gems to freshen up the classic look.
Black Matte short Nail idea
This black matte nail is chic and elegant. Here this nail had full black feature with matte base and black gel accent. Black nails will remain a popular choice for any occasion.
Simple Nude and glitter Acrylic Nails
If you are looking for a short acrylic nail design that is also stylish? Then Check this one out its simple enough to do at home by yourself and adding rose gold glitter to make it more fashionable. The light color like this will suit any occasion and outfit.
Almond Shape Short Acrylic Nails
Next is this pretty nail design to share with you. It has a light color and ombre of soft pink to white tip design with two fingers having gold streaks. The gold streaks gives a marble look that is awesome and goes well with anything.
Purple and Glitter Short Acrylic Nails
Purple has become one of the most popular color in fashion and nails. These short nails is worth a try. Dark purple the accent nails having light pink and glitter ombre. Copy this look for a glam outcome and would look great if all fingers were purple as well.
Simple Short Nail Ideas
This next design is ombre color in squoval shape nails. Four fingers painted with nude ombre and one accent finger with glitter. Who doesn't need a little sparkle every now and then? This design combine elegance and fun, truly demonstrate that sparkle doesn't need to be on all fingers to stand out.
Unique Designs
These next short acrylic nails are pretty chic. Short coffin nails with an interesting design that will make an impact.
Snow Flakes and stars
Try this nail for Christmas, bright and vibrant colors. Shop nail polish set for your new journey. A beautiful winter nail design that is practical but cute.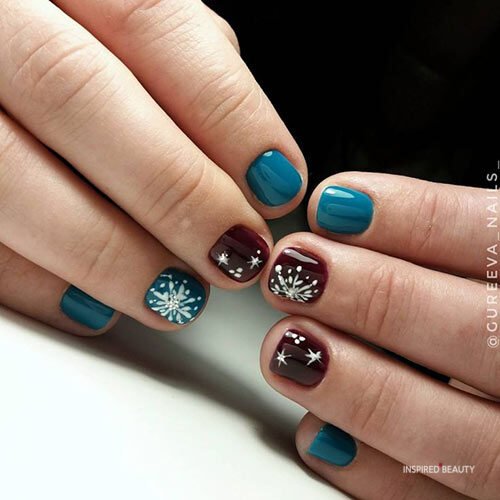 Easy Short Acrylic Nail Designs
This multicolor nail design is trendy right now and easy to do. Gather some of you favorite nail polish and just place a different color on every finger. For more advance look you can even make them ombre.
Pink Nail Designs
Different shades of pink on both hands to add imagination. One hand all fingers are painted with light baby pink other hand paint with a pop of bright hot pink. I love the light and bright color they so fun. This is perfect for ladies who have a fun personality but can't decide now which shade of pink to go with. With talented nail artist like this you don't need to choose.
White Wedding Short Acrylic Nails
Love the classic white for weddings? then these nails are for you. These short nails are easy to do yourself its simple white base with light sparkle on one finger. Getting your own nails done can be so relaxing.
White Easy Short Designs
A light color like this will suit any outfit and occasion. This is a really pretty manicure and you can see why I love it. I love getting my nails done in colors like this because of the versatility and it will look gorgeous all the time. You can shop similar nail polish here from amazon to recreate the look.
Light Chocolate Short Nail Designs
So many people are missing out on chocolate brown nail art. This is a highly underrated color option for a manicure. This design is for women who want a clean design with little distraction.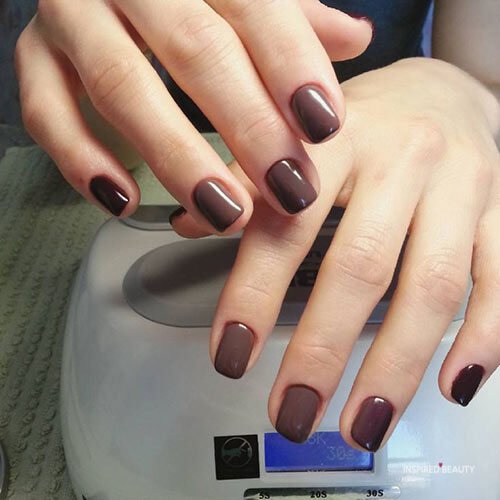 Sugary look and sweet, this nail design will look great on anyone during spring and summer season most. This design is actually one of my favorite because of how cute it makes me feel. The look is similiar to dip powder design.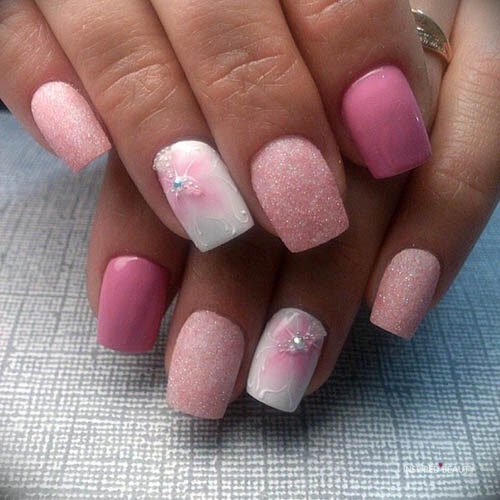 Pastel mismatch
The rainbow nail trend is not going away, for now, so for now it's safe to enjoy the style. If you are thinking of trying out something modern and bold this next design is for you. You can choose any light shades you like this design will look even better in spring.
Image from, here
Short Pink Acrylic Nails Almond
Regardless of the season this very short acrylic nail ideas will look good on you. Every season we need something fresh and this is a soft baby pink look. This design shows it doesn't need to have a lot of things going on to look good.
Shop pink nail polish here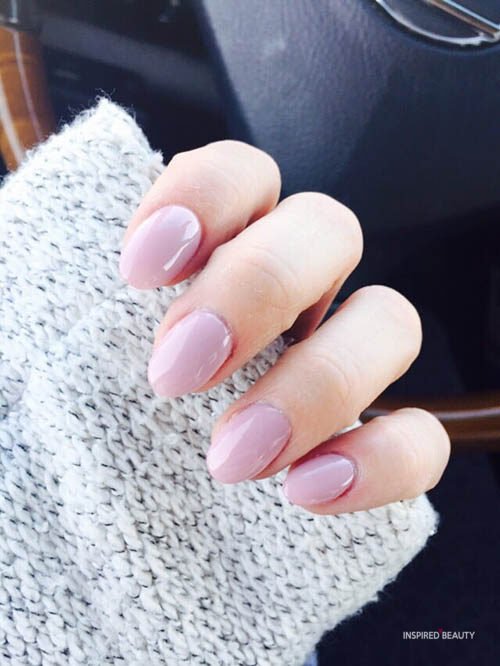 Black short acrylic nail ideas
A lot of people underestimate how elegant short nails can really look. So for a dramatic look go with black nails we all need that little dramatic look sometimes. The solid matte shade is gorgeous for any occasion.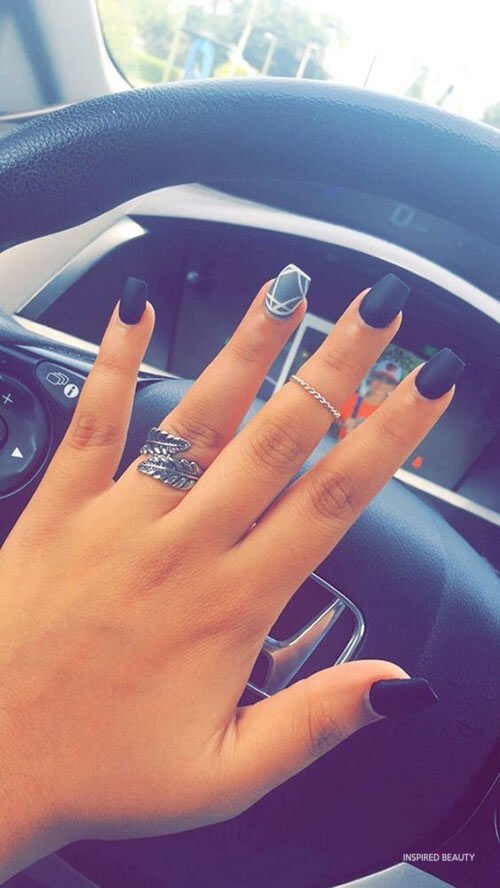 Purple square Short Nail
Purple nails in multiple shades can look exotic. Purple is one of the most stylish color of our time. This is a shade in many different purple shade with light glitter. You can choose to not use glitter for a more lux look.
Baby touch pink nails
If you want a pink color nail with touch of pink this next look is for you. This design is a bit junior so if you are in college or high school this is for you.
Metallic Gray Acrylic Nails
Gray nails are not the most popular choice of color. But if you have never tried it, you are missing out on how elegant they can look. This next design features light grey on all nail except for two fingers with dark galaxy look. If you are looking for something different from your regular manicure give this simple but dramatic look a try.
Short Pink Acrylic Nails
Pink always has a special place in my heart maybe because it gives a childhood vibe. Pink is a popular color for most girls growing up, we even decorate our room using this lovely feminine color. We are never too old to adore the color pink. This short acrylic nails is soft color with white palm tree hand drawn on two fingers.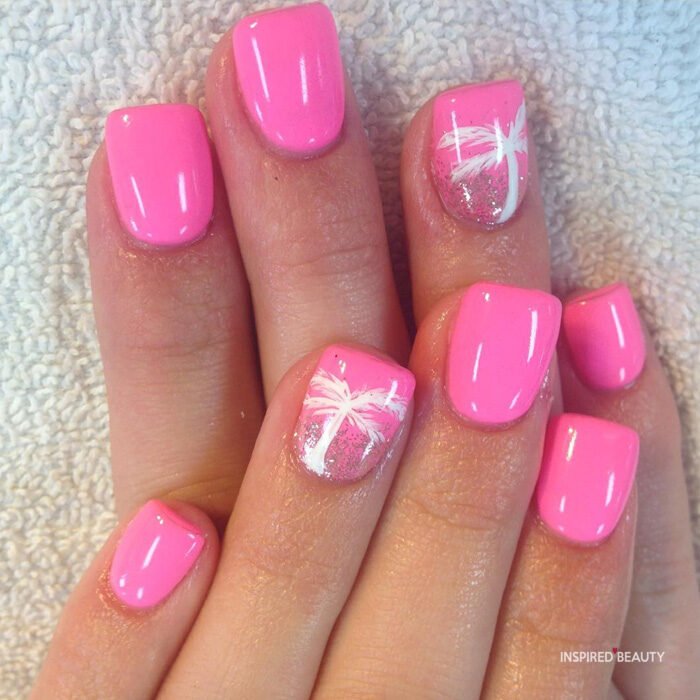 Instagram/@nicolethain_nailtech
Short Bright Orange Nail Idea
Want something bright and pretty to rock this is a fabulous summer nail color. This design is a fun color that will look great in any season.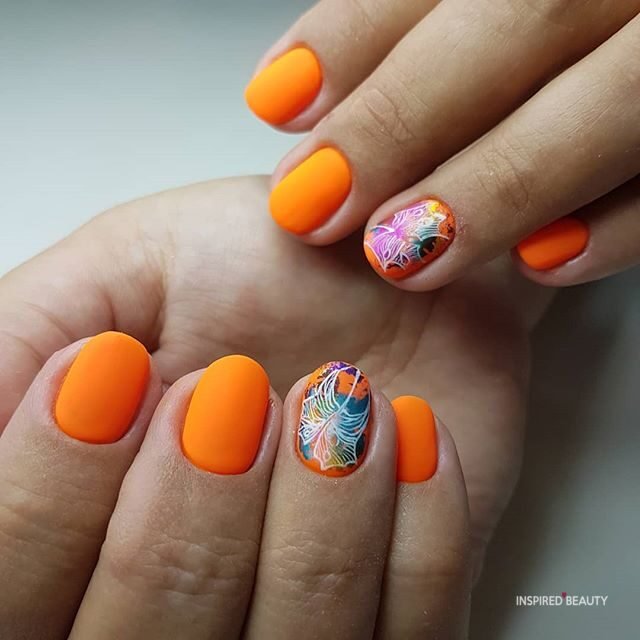 Credit here