38 Cute Coffin Nails to Inspire you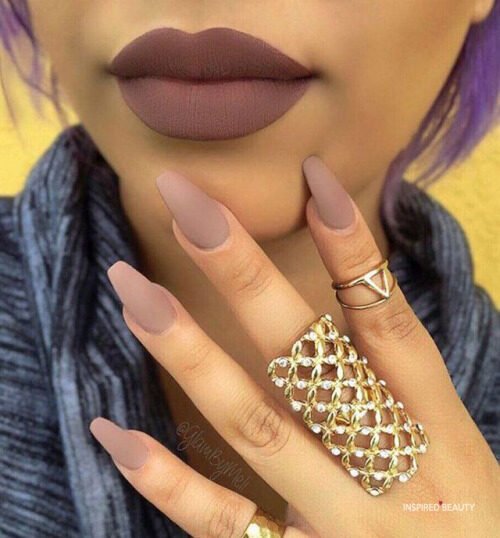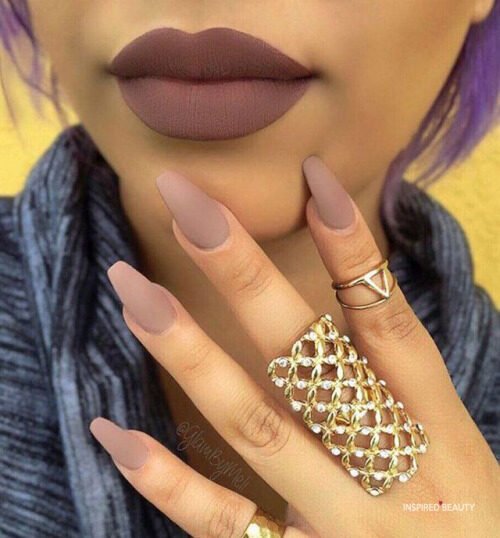 Coffin shape nails (also called "ballerina" nails) is not a new trend but still remain popular today. These nails were popular in the 90's but haven't lost their appeal. There are a lot of nail shapes to choose from and all has something special but coffin shaped nail is one of my favorite among almond and stellito shaped nails. Coffin nails are usually long but can be short as well. One of the best feature of coffin shape design is that they are practical not as pointy as Stellito nails. For you inspiration I have put together 37 beautiful nail art design.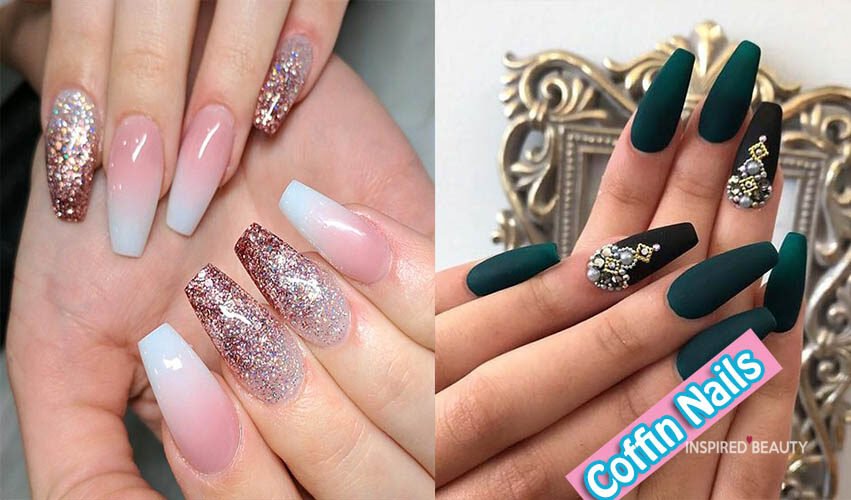 What are Coffin Nails Shape?
This shape is similar to stiletto, but with a squared off tip, shape more like a coffin or ballerina.  Coffin nails are harder to pull off on natural nails. If you can grow your natural nails long and with a square shape then good for you. Coffin shape nails  looks somewhat better on fake nails or long acrylic nails.
---
Here are the best Coffin Nails To Try:
1 . Coffin Nails Design : Cool Maroon Matte Nail art
*Disclosure: This post may contain affiliate links, which means that I get a commission if you decide to make a purchase through my links, at no cost to you. Read my disclaimer for more info.
This design is pretty and although matte polish are known for not being as long lasting as other polish its trendy right now. If you want to be in the trend this idea is worth trying.
2. Beautiful Nail Art Design for Coffin Nails
Glitter on against matte nails take your design to a whole other level. The color ranging from dark burgundy to a full glitter nail on the small finger.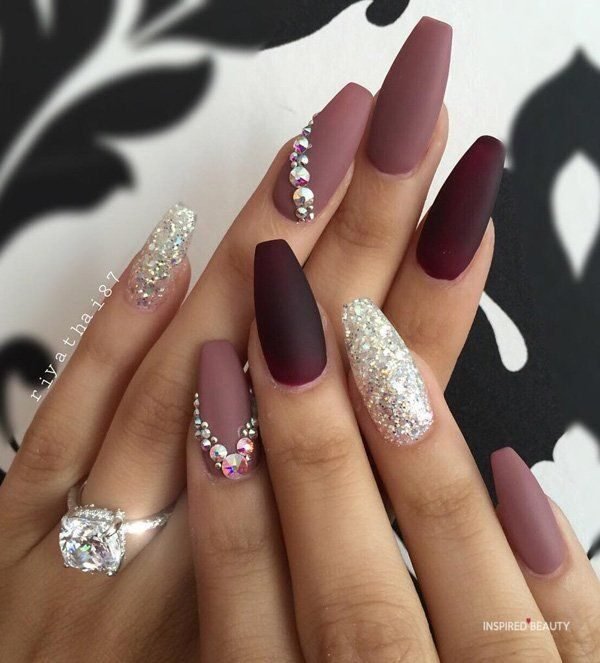 3. Glossy Lilac Acrylic Nail Coffin
This pastel color is going places. If you are into shiny light color nails that as delicate but not as cute as pink. This is worth trying. This is gorgeous and not over the top. Coffin nail with some crystals for a sweet design. Beautiful acrylic nail coffin design idea.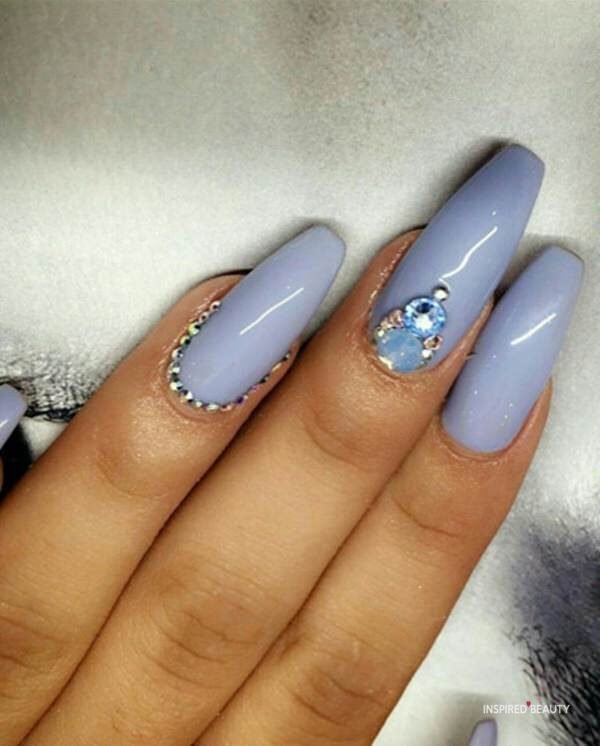 4 . Rhinestone Accent Coffin Acrylic Nails
Rhinestone gems adds some creativity to your nail designs. This easy design when you use rhinstones that already have the shape you need. You can shop this one on amazon 1500Pcs Mixed Flat Back Crystal Rhinestones Gems for 3D Nail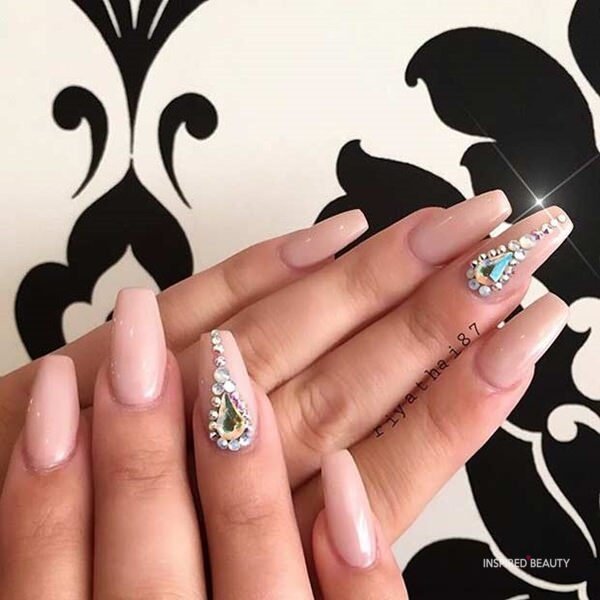 5. French Tip Coffin Nail
If you are use to wearing french tip this is something similar but with more a edge. This is great new look on the classic french tip nails that could be a little dated.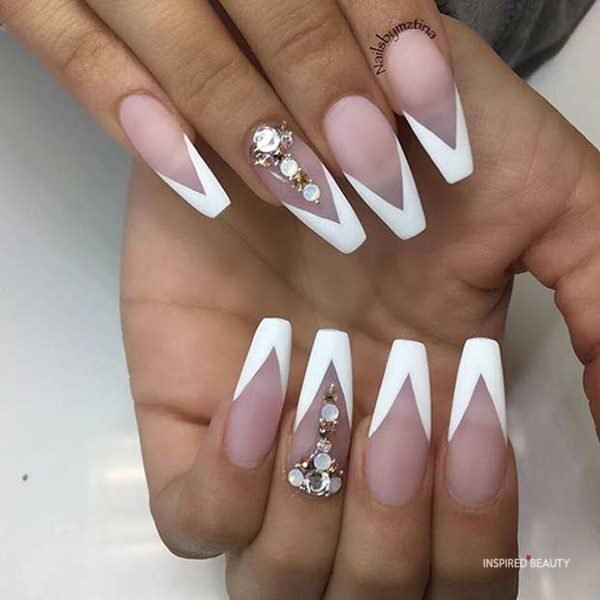 6. Cream white coffin nail
Cream white coffin nails are charming and gives a delicate look. This white designs if perfect for prom/ wedding. This nail design is great for all age group and shows a bit simplicity. If you are looking for something with minimal design then try this.
7. Chocolate Brown Coffin Acrylic Nails
Brown , pattern and rhinestone to create a fabulous coffin nail design. Each finger has a unique design, amazing coffin nails shape to die for. Coffin shape nails are are great and if you love long nails this brown earth tone matte coffin nails .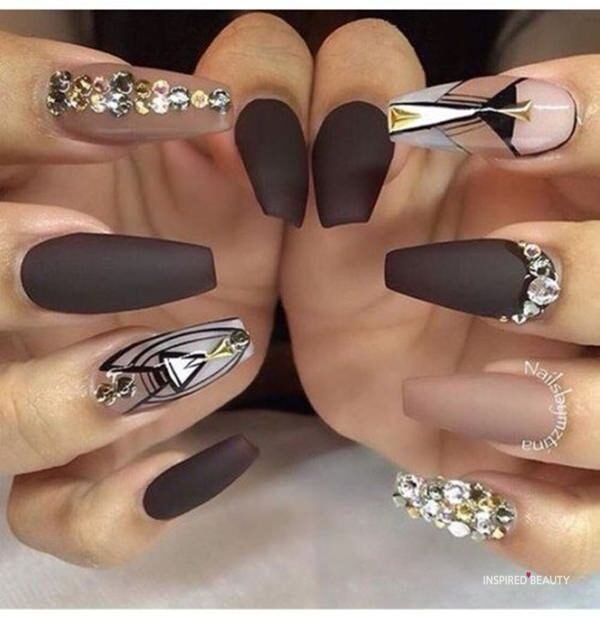 8. Khaki green , Matte Coffin Nail
Khaki green is trendy right now and totally worth trying. I would have not thought these two colors could work together. This nail design is beautiful, the green with peachy pink , gem stone and glitter is the real deal. This will have your friends all want to get nails like yours.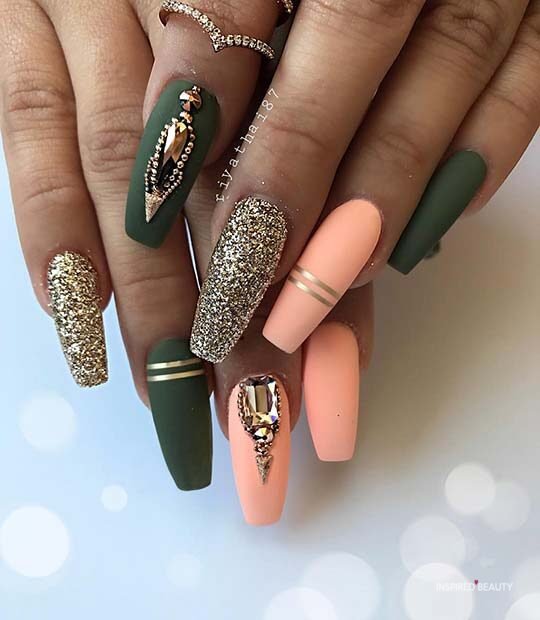 9 . Lime Green Matte Nail Art Design
This Lime green design is easy to do and will let you feel super chic. This design is perfect for spring, summer time.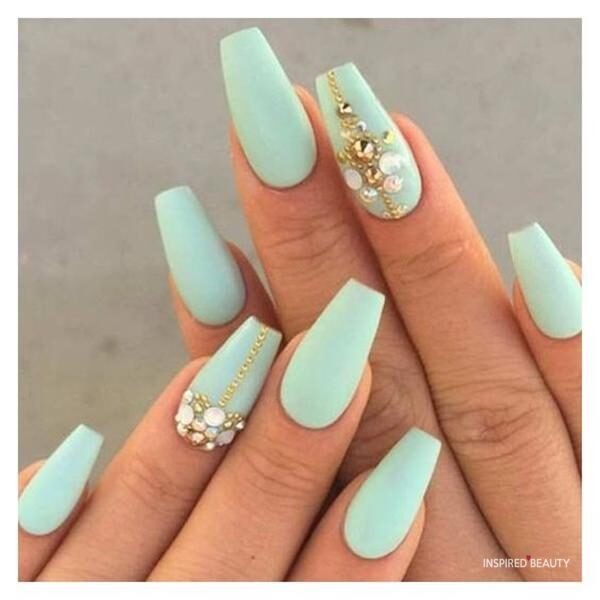 10. Coffin Nails Design Ideas
Multi design showing your unique personality. Want to show off your unique personality this design may just do that. For your next manicure just try it all, this is trying out all stuff.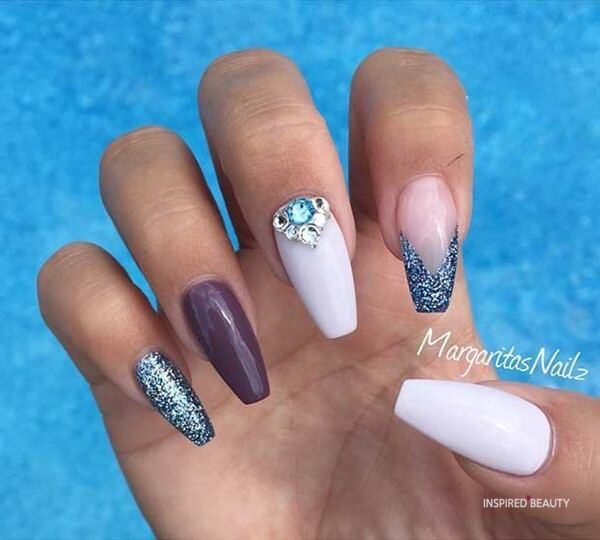 11. Matte Coffin Nails Ideas with studs
Crystals are a nice way to make your design look even more beautiful. Also great if you are new to Nail Art design . If you want to have some matte design but with some studs. Studs give this design some personality. Perfect design for the office.
12. Black Coffin Nails
Bold black coffin nails, two shade nail is glamorous, black being bold and the white bring out the life of the nail. These are not as hard as you may think, but does take some practice ofc. I tried doing this took me a few tries so practice a bit and you will get it. If you want it for a special event now then get done by a professional.

13. Matte Red Coffin Nail Design
Red Coffin nails, red base color on all nails ring finger got rosy design. Minimal design that you can enjoy any time.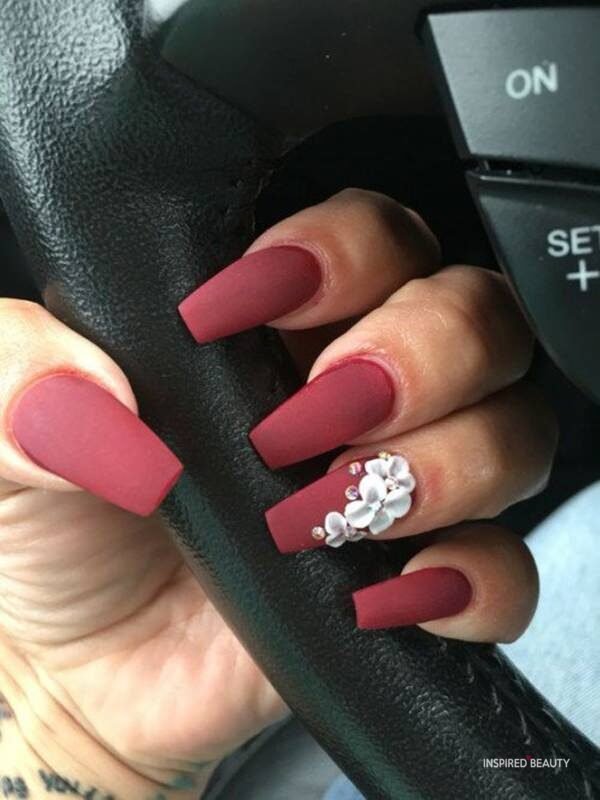 14 . Christmas Art Designs For coffin nails
The perfect coffin nail art for winter. If you are someone who wants to celebrate winter without going too practical red and white colors this nail design is worth trying.
14. Heart Shape Short Acrylic Nail Coffin
We heart it 🙂 This cute coffin nails design is perfect for valentine. Also the dark color is great for winter. Also if you dont want long nails this short design you can enjoy.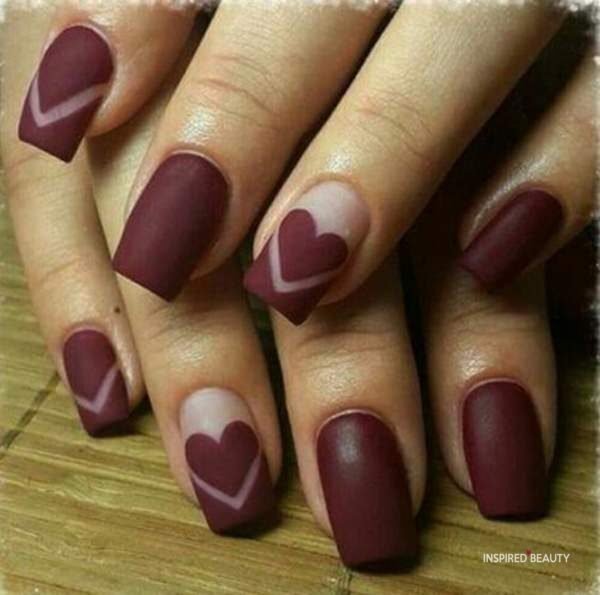 15 . Feeling the Army look Designs
Try out these baddie look when you want something to show your boss side. If you love to take Instagram photo this is a winner. Do you get the urban trend feel?!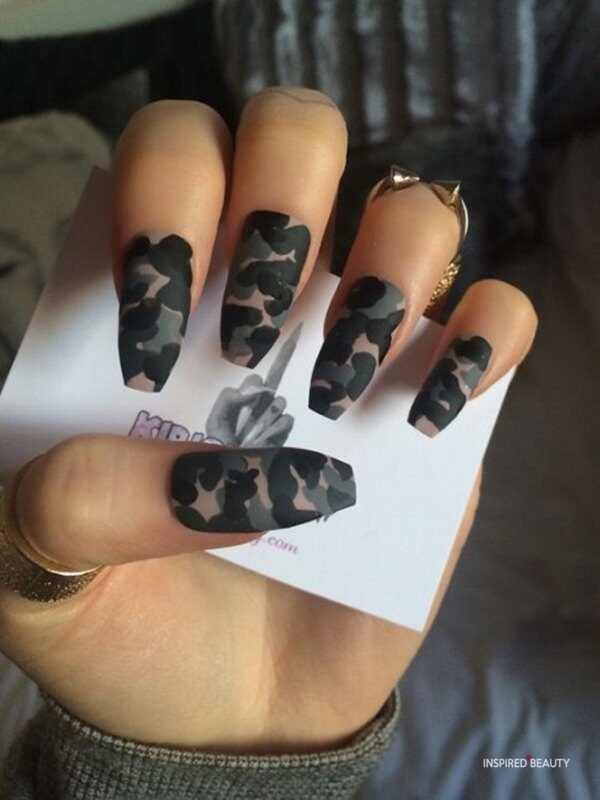 16 . Natural Look are In Also
The natural look may need some more work. You have to find a more natural color , like light pink and matte white nail lacquer to apply on the base and tips of your nail. Also see : Coffin acrylics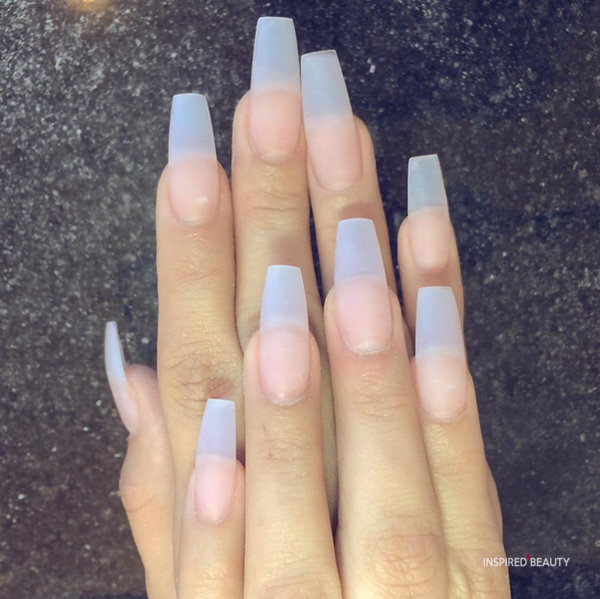 17 . Red and Black Nail Art Designs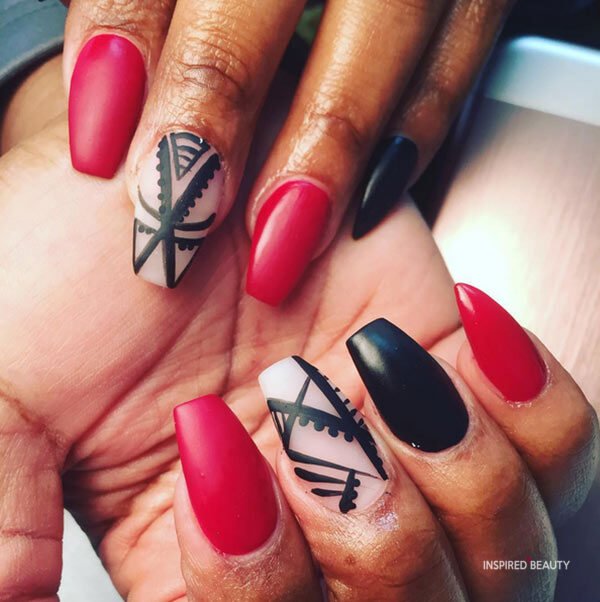 18. Light Pink Nails Design
When in doubt light pink is a go 2 color for all woman. To add a little design to the pink nails , give one of them gold glitter.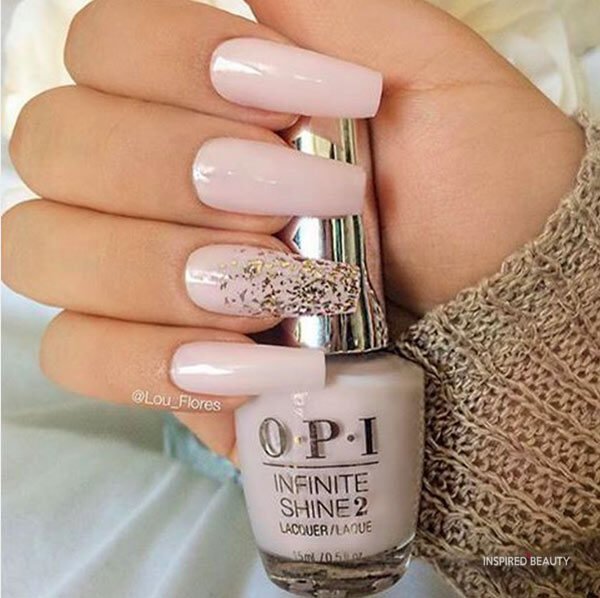 19 . Easy Pink Coffin Nails
This design is perfect for beginners, light pink base and add some rhinestone to it.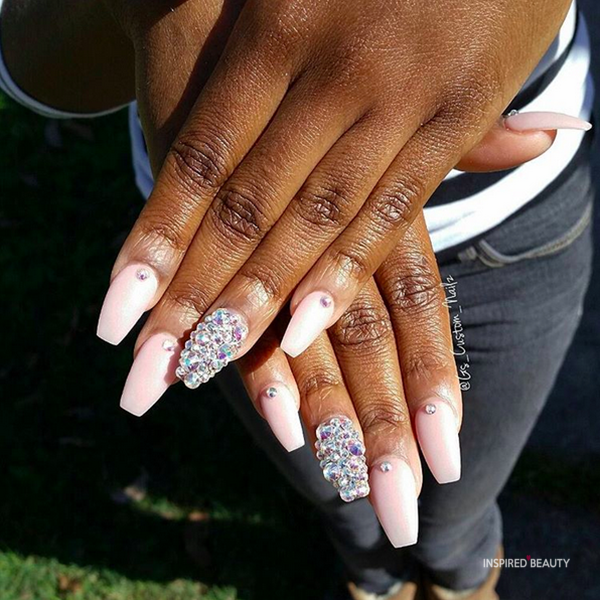 20 . Long Pink Design
Long pink coffin nails are sophisticated and can go from the office right into a formal event. The more simple the nails design the more sophisticated it look when long.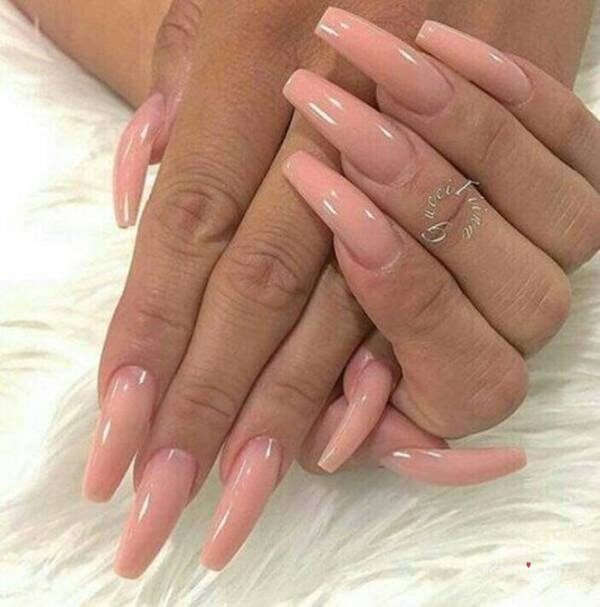 21. Pastel Orange Design
Like pink pastel colors are great when you are unsure of what look you going for. Pastel Orange nails with a little touch of flower on the finger of your choice. These will look great on you during spring and summer season.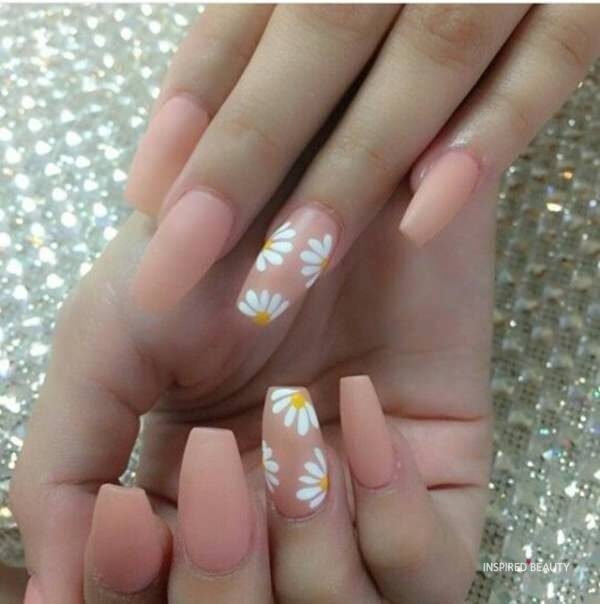 22. Translucent Long Tip Nail Art
Be sure to have this done by an expert not beginner friendly. For the stylish woman who is bold and be beautiful.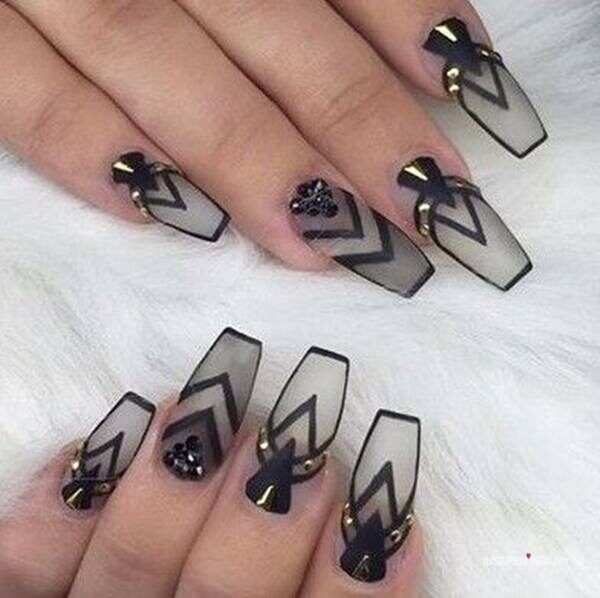 23 . Bright Yellow Coffin shape nails
Sunny bright yellow nails, this matte color will certainly catch the eyes of others. Perfect nail color for Spring, summer and Autumn . These will leave an impression and yellow can wear with black outfit to create a beautiful contrast.
24. Translucent White Coffin Nails
Translucent nail mix with white is fun .Clear base nail polish and add your white design on top. Draw it if you can but if not get done professionally. These will go well with anything in your wardrobe.
25 . Classy White Coffin Nail Shape
White nails are pretty fun when done right. These are elegant and also fun, the perfect Nails for wedding and formal events. The touch of crystals on the tip and the a little extra flare by adding the clear and white design mix on one of the nail with some rhinestone for that extra glam.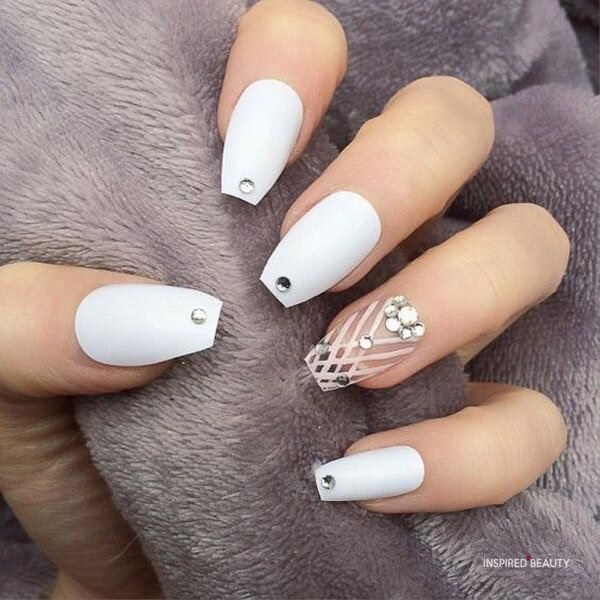 26 . Black and Silver Nails
This simple but dramatic look is a popular choice for girls new to designing. Black and silver color alternating , great choice for beginners . Paint simple black line on silver nail or buy black strip tape for perfect lines.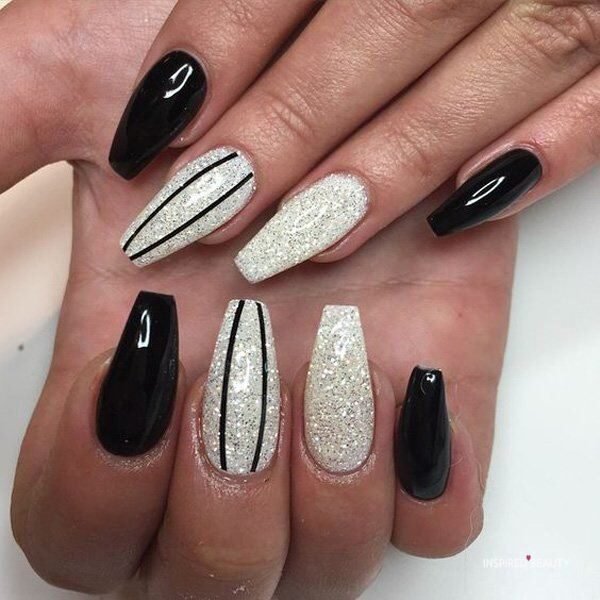 27 . Silver and White Glitter Nail
Long nail art design with white and silver design. Long nail coffin shape is elegant and the glitter is a lovely touch. If you want a design inspiration for your wedding maybe you will like this look.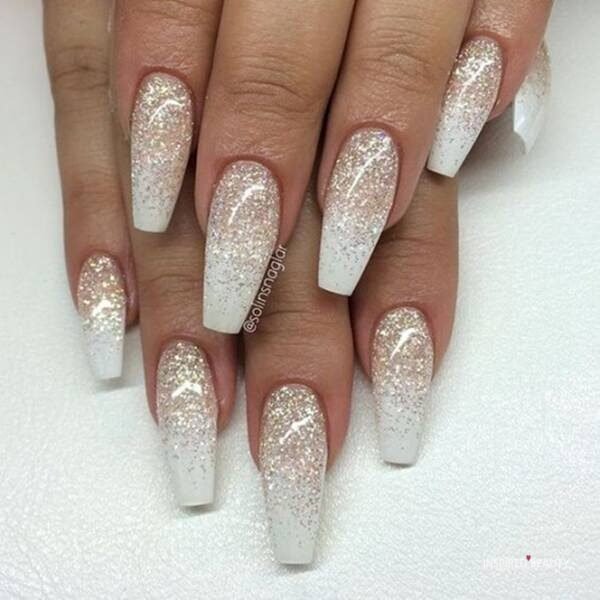 28 . Edgy Black Coffin nails
Black acrylic nails are bold with silver edged , this is probably one of my favorite black design. These black coffin design nails will look great for prom and will go well with most outfits.
29 . Black with Gold Nail Designs
Want black coffin design but with some touch of gold. This design is perfect for you.
30 . Turquoise Nail Art
Deep Turquoise color coffin nail for and the extra flare on your ring finger. Classy beautiful design for women looking for design that is not too boring but not too much.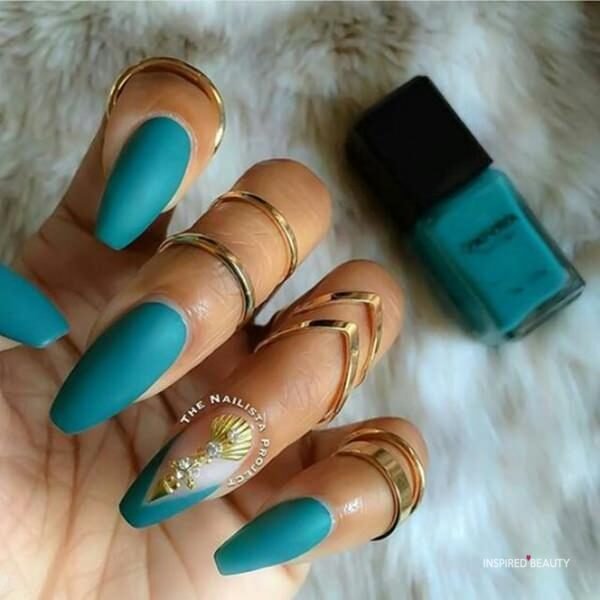 31. Mint Green Coffin nails
Mint green nail are are perfect for spring time but will look good all year round. With the right accessories this look is sweet and will leave an lasting impression.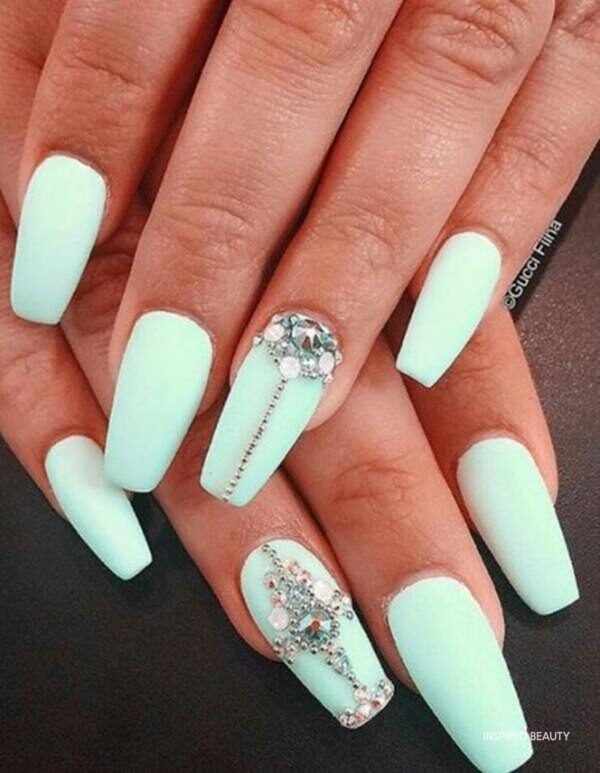 32. Baby Blue Acrylic Nail Art
If you dont know what manicure design you need then just go with something soft and solid. This color is beautiful and with the right wardrobe will look fun and pretty.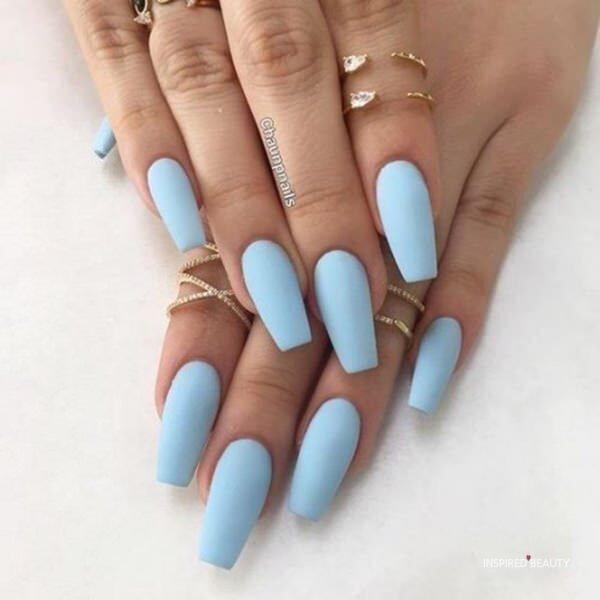 33. Dark Green Coffin Shape Nails
For my next look the ombre look of dark green and black to create this stylish look. This color combination look beautiful in matte.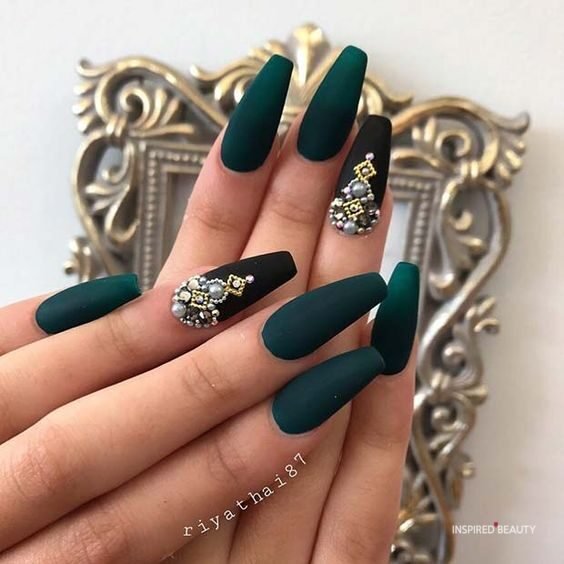 34. MARBLE COFFIN NAILS
Marble nail design are quite trendy at the moment. This pretty design with white, pink and gold marbling.
35. Red Lips and Glitter
This is an interesting design and worth trying. If you like design thats cool and has some story this is probably for you.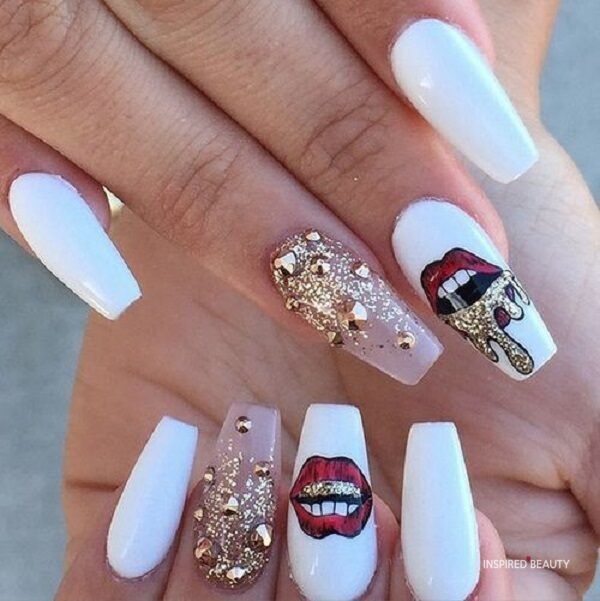 36 . Yellow Coffin Acrylic Nails
This look is bright and has great design. With nails like this you will sure leave a good impression on the people you meet that knows anything about a good manicure. This design is fun , bold and a little wild but still earthy. Use this design to inspire your next manicure. Source: @nailedbyvu
37. White Coffin Acrylic Nails
Long Acrylic Coffin Nails Color that is just so fun. This is a easy design for those just getting into doing their own design. Even with such minimal design can have a look that will still gets everyone attention. Playful cute nail art design for everyone.
38 . Black coffin nail with Crystals
Bold black coffin nails and the crystal makes it stand out.