26+ Gorgeous Black Nail Design Ideas
Choosing the right nail design for occasions such as birthdays, anniversary, Christmas, and other special dates you may just want a sophisticated look. You may want a little sassy new nail design. Black nail design is a color you can't go wrong with when out of ideas these will do.
Black Nail Art Designs Ideas will never go out of style. If you are looking for a variety of designs we have some really cool ideas for you.
Black Gorgeous Nail Art
1 . Black and Gold Design
This nail design is done on short nails, with easy design. The glitter really stands out on the black nail. You can add these to your manicure inspired list, I think would look on any nail length.
*Disclosure: This post may contain affiliate links, which means that I get a commission if you decide to make a purchase through my links, at no cost to you. Read my disclaimer for more info.
The facet thy are easy to do is a bonus. you can shop glitter nail polish here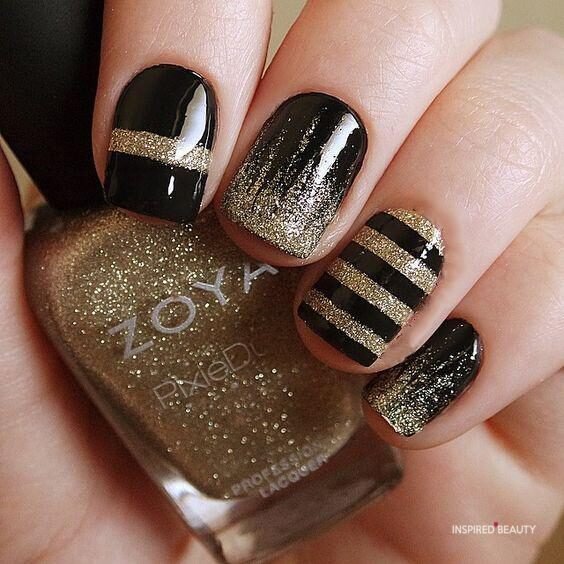 2. Google Eyes Black Nail Design
This next idea is creative and cool, who doesn't like a little google eye. Get base color in shiny black, paint two medium size white dots for eyes, and black in center to create the eyeballs. You can find a lot of tutorial around the internet to recreate this black nail art design.
3. Half Moon Nails
The next design are done on square shape nails. They look attractive and minimal design makes it sophisticated looking.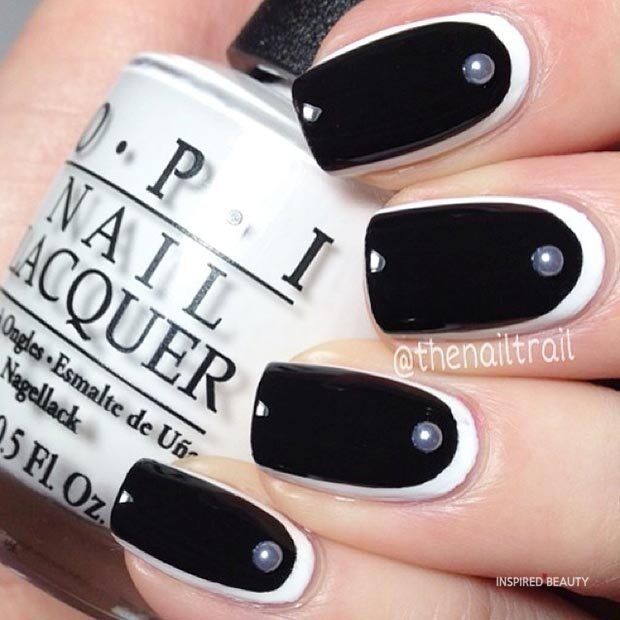 4. Black different Texture
On these next design is all black, but two accent fingers with a textured design. These are really cute and I like it a lot.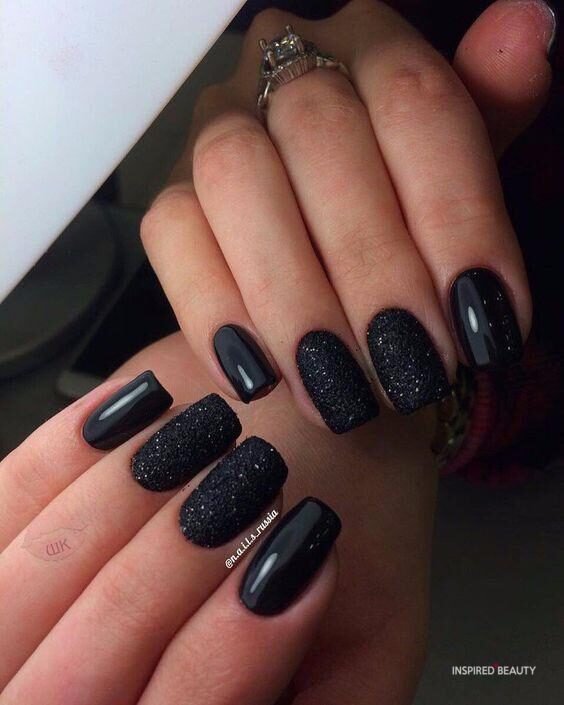 5. Black and Silver Nail Designs 
Black and silver nail designs never goes out of style you can count on these to look classy and elegant. This next design specifically has flowers shape design in black and white.
6. Black Nail Design Sparkle 
Who dont want a little sparkle. well if you are like me then you will love this next design idea. The design is done on cute acrylic nails designs which is practical but still stylish.
7. Black Nails with little glitter
Glitter black nail design is nothing short when it comes to the holiday. This next design is perfect for Christmas and new years party.
8. 

Short Black Nails
The next design on this list is another short classy nail design. Fun elements in this next design accent nail art. The accent nail is neutral color with sparkle and black side tip. This design is good to wear to anywhere at anytime.
9. Sugar Nail Inspiration 
Nail in matte and shine to brighten your day.
10. Galaxy Nails
Do you like watching the sky? if you do, then this next nail art is for you. Choose black base colors and create sparkle and constellations by joining the dots and stars. You can shop holographic polish like this one here to help create this look.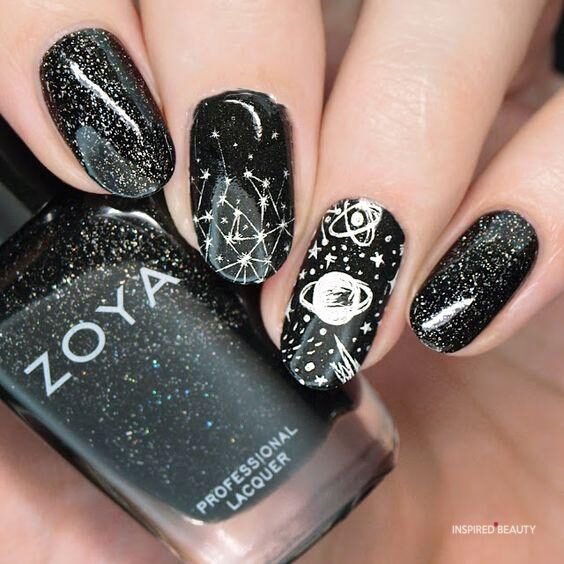 11. Random Shapes
All nail design are unique on each finger. What I love most about this design is it is done on matte square shape nails. You can rock these any season they are just so cool. This manicure is royal design with a little sass as well.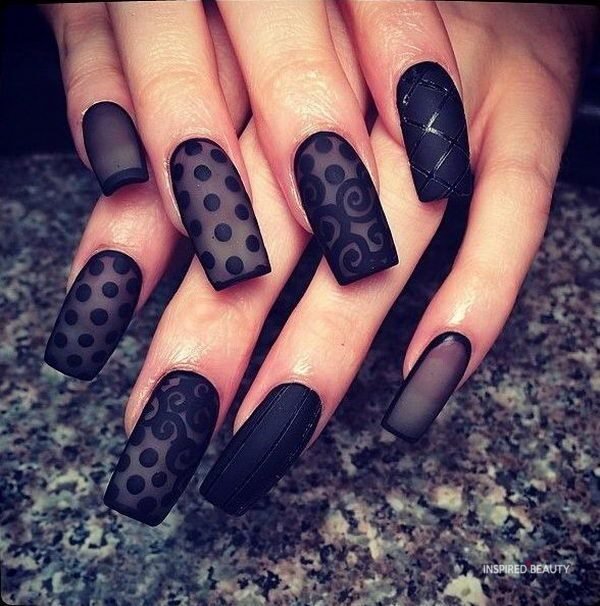 12. Black with silver stars
This next design gives me a festive nail feel. Thinking of the winter nights it is a beautiful design with minimalist elements. If you like the night sky maybe this design will work for you.
13. Satin Nails
Black vines and polka dots on neutral shade with alternate fingers in black. You can add maybe rhinestones to the black nails to make them a little more chic. Another alternative to the neutral tone to color them in white creating lovely black and white nail design.
See Also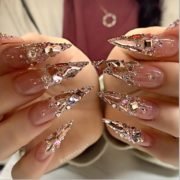 14. Simple black nail art
This next design has shiny black polish with pink glitter stripe. The pink is a nice touch to a design that could have been boring.
15. Silver chrome, glitter and black
This design has a lot of other colors such as chrome, white glitter with black being the accent look. These nails are done clean and on coffin shape.
16. Black with colorful stars
The stars are and the black is a win on this design. If you are a beginner this is a easy black and silver nail designs to try out.
17. Black blue
If you are looking for a design to wear to school that you can do at home you will love this next one.
18. Purple black chrome look idea
19. Black nails and white rose design
There are a lot of shiny nail design but this one stands out by not being over the top. All nails done in black base but the ring finger has a white rose design.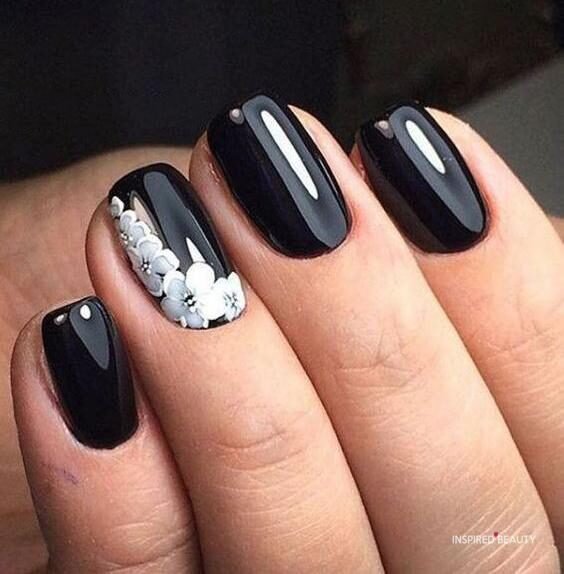 20. Glitter nails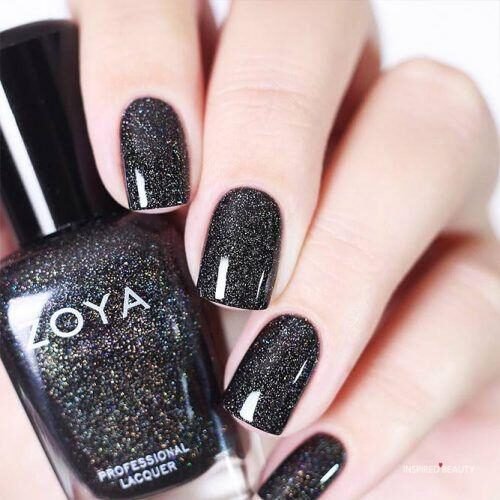 21. Elegant design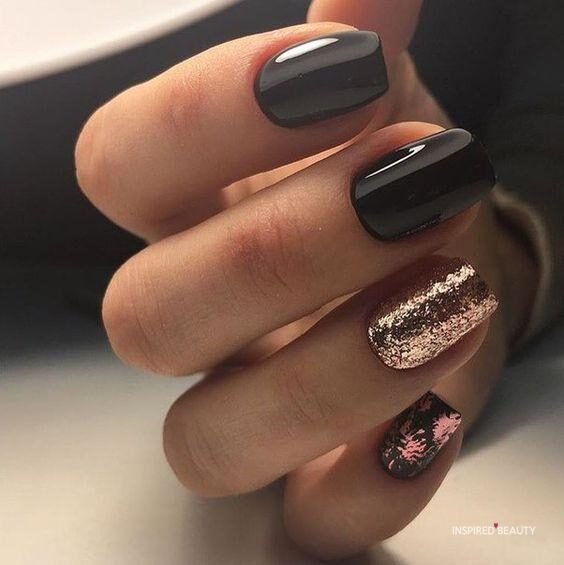 22. Cute simple design
23. V shape design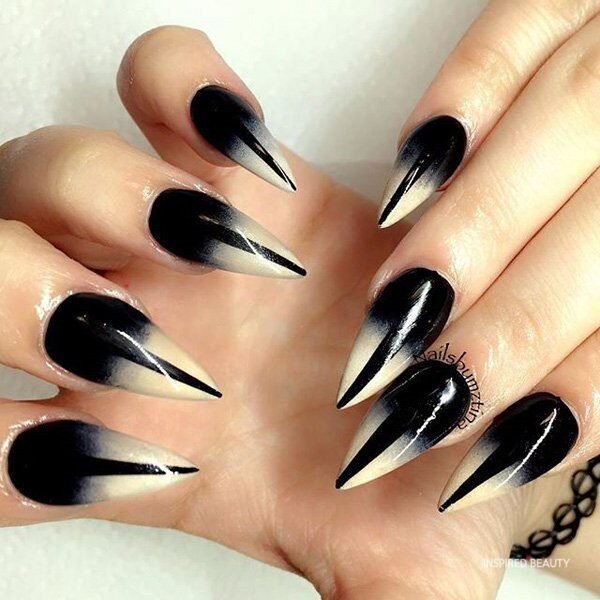 24. Mini Tribal Design
25. Black Nails and single finger with with rhinestones
26 .