16 Bright Summer Nails Stylish and Fun 2020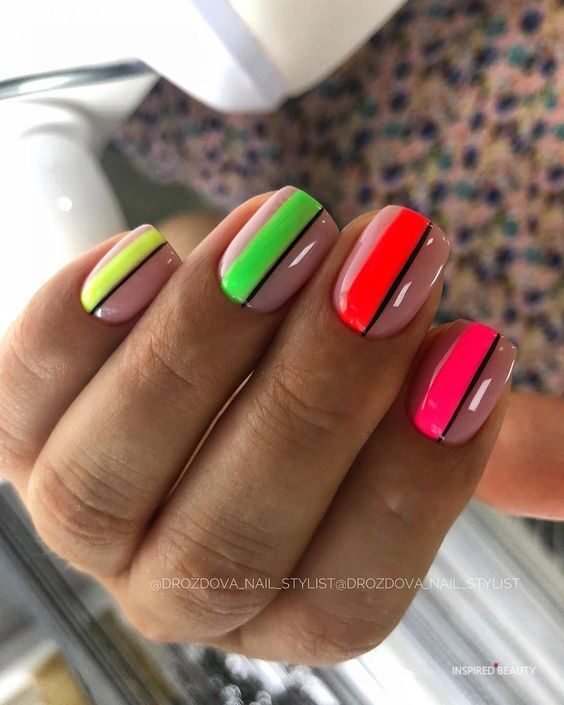 https://www.instagram.com/p/B9rQ9XAA14w/
https://www.instagram.com/p/B92Keh8HwJk/?utm_source=ig_embed
https://www.instagram.com/p/ByQ_uTihiis/?utm_source=ig_embed
When it comes to summer bright summer nails and colors is just more fun. Having eye-catching manicure is something we want all season but summer is just a bit more fun and bold.
Whether is trying out new colors, fresh texture, different techniques. Also showing off summer is officially here with our mani.
Note: Post contain affiliate links
*Disclosure: This post may contain affiliate links, which means that I get a commission if you decide to make a purchase through my links, at no cost to you. Read my disclaimer for more info.
Bright Summer Nails Long
To get your summer started nothing is more excited than looking up new manicure ideas. You can't beat the bold peach color and a touch of yellow.
Image: instagram/vinanailshouston
Abstract Nails
Our next look is one of the hottest summer nail trend of 2020. This is one of our favorite bright nail art on short nails.
Bright Summer Nails
Ombre nails in mix of pink, purple,blue and pink is so pretty. The gel nail designs is breathtaking and not really hard to execute.
The long nail design is done in coffin nail shape which is beautiful. You can choose to mix with whichever bright color nail polish you like.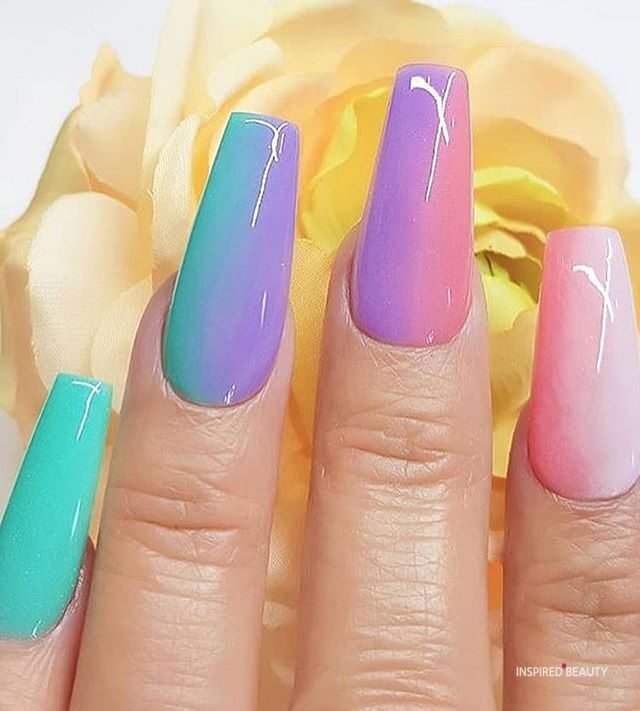 Rainbow French Tips
Bright color on all the tips of your finger on done in matte finish polish.
This design will get you totally notice this summer but not really a DIY type of nails.
Credit: instagram/tonysnail
Coffin Cloud Nail
Cloud nails are still one of the hottest trends today.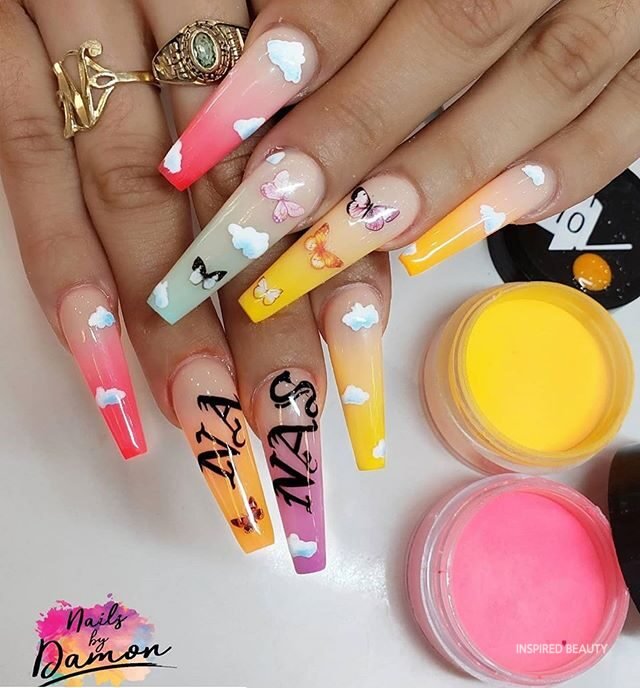 Rainbow Bright Summer Nails
with long nails come more possibility and summer is the best time to show that off. This is another gradient nail design but in ultra bright colors.
If you want more rainbow nail design idea check these out here.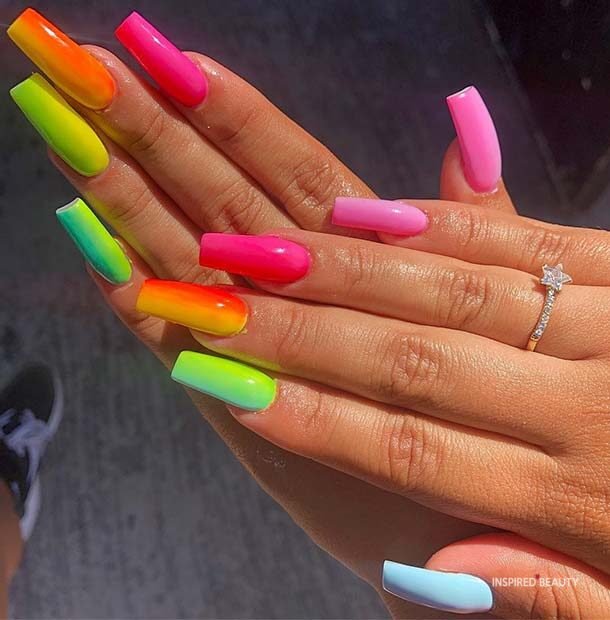 Image: instagram/nadiaa_o
Neon Green
These bright green hue colors is just perfect for summer. Bright summer nail designs done on medium length nails. The color reminds me of citrus fruits quite lovely.
The color is vibrant and will make a great summer manicure plus totally DIY doable.
Credit: instagram/nail_swag
Blue short Nails
Dont these turquoise nails remind you of the ocean or pool? I think it being done on short nails is also a compliment to the design.
With the center finger being accent with leaf its pretty and breezy design.
Photo: instagram/ajl.nails
Bright Fruity Summer Nail Designs
If you love fruity nails you will love our next pick. The design is quite interesting , simple white lines painted on the nails. Yellow lemons hand drawn on two fingers that help the design stands out.
This design has a fresh pretty look to it and worth trying out.
Photo: instagram/ajl.nails
Cute summer nails
Do you want another way to make multi-color nails? Well, here we found a design that is perfect for your desire.
These bright summer nails are done in yellow, green, red, pink on clear color base in a glossy finish. The design is lovely and yes another one for short nails.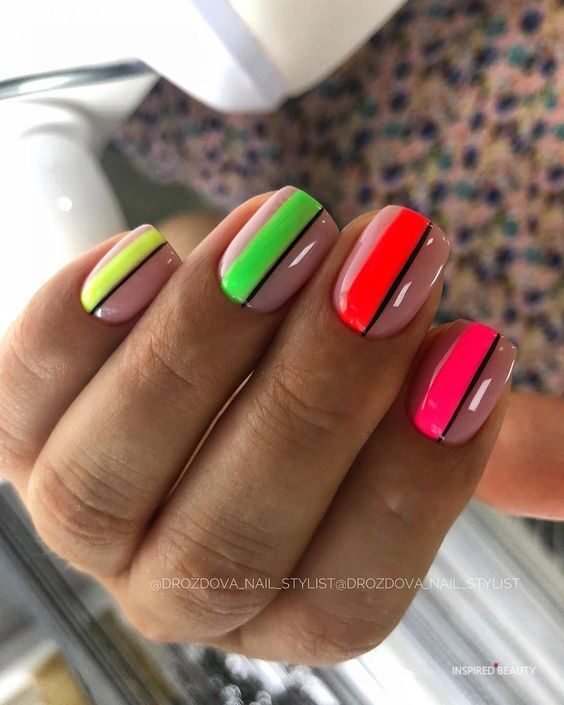 Credit : instagram/drozdova_nail_stylist
Bright Summer Nails Designs neon
Our next design has color combination of matte and glossy and yes they look great together. This nail design has color block on the two middle fingers of neon yellow and green.
instagram/zhannanails
Fun Bright Summer Nails
Bold, pretty matte finish nails they will really get you notice. If you are looking for the right manicure you may like this next one.
They are pretty and will certainly get notice when done right. The color combinations work well together.
Colorful Nails
The next designs are instantly pretty and fun manicure. Orange and yellow with a touch of pink is a great summer color combination. Stylish design for women who just want something new and pretty.
Colorful Matte Nails for Summer
Bright summer nails in matte polish. You can have some fun with these colorful stiletto nails. One hand has pink and red shades with rhinestones. The other hand has yellow, blue, and green shades.
All fingers have a different color and one finger with lots of rhinestones fully covering it. This rainbow look makes bright summer nails long great.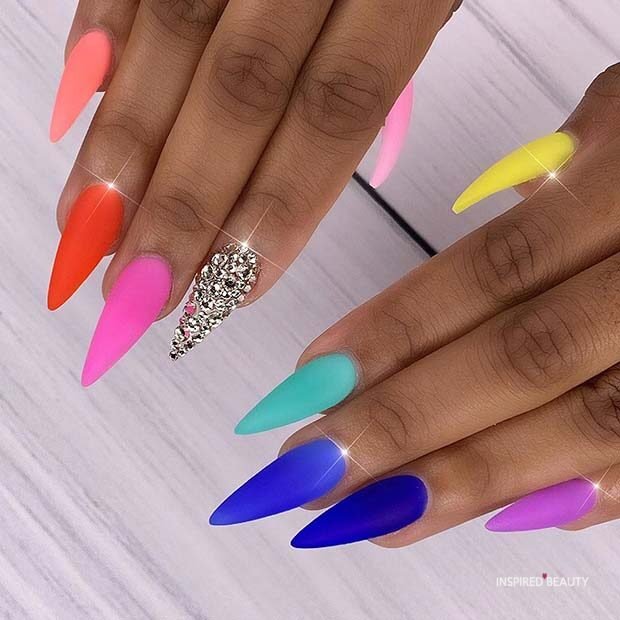 Smiley Nails
This nails bring so many joy that reflect summer
Rainbow Jelly
These jelly summer nails got me speechless so pretty.