Matching tattoos for married couples
There are so many ways to show your love, getting a tattoo is a fun and modern way to express yourself. Matching tattoos for married couples that are lovely to look at.
When you are in love its an amazing feeling and you want to say it out loud. Its a beautiful passionate experience that can last a lifetime, someone makes you feel warmth and special to them. A lot of couple consider getting matching tattoos to express their love for each other. This can be an amazing expression of love that makes you feel even closer together.
Matching tattoos for married couples
Matching couple tattoos are really meaningful and a great expression of forever love. You can show the rest of the world how much you love each other by getting a personalize tattoos that just both of you share. Every time you look at the tattoos it is a constant reminder of that love you share in a more visible form. This can help your love blossom even more, just picture it.
*Disclosure: This post may contain affiliate links, which means that I get a commission if you decide to make a purchase through my links, at no cost to you. Read my disclaimer for more info.
Heart tattoos for couple
Cute heart tattoos for couples are perfect for married couples. This simply lined tattoos can really make an impact. It is a great way to symbolize your love for each other.
Photo credit : instagram/leoniemoistattoo
Disney Husband and wife tattoos
This could be a nice tattoo for the day you met. If you both Mickey love and Minnie, or just really want to express your love with your fun-loving childish side. Love mostly form when we share things in common.
Cute couple tattoo ideas
This next cute matching tattoos for couples, they dont look exactly alike but they flow together naturally like your love. So these tattoos dont look alike but they still connect them as lovers.
Cute couple tattoo ideas butterfly
Although butterfly tattoos are consider very feminine in this case it works well on both gender. This design is done in classic black out line which is pretty and the butterfly shows different pose on the couple.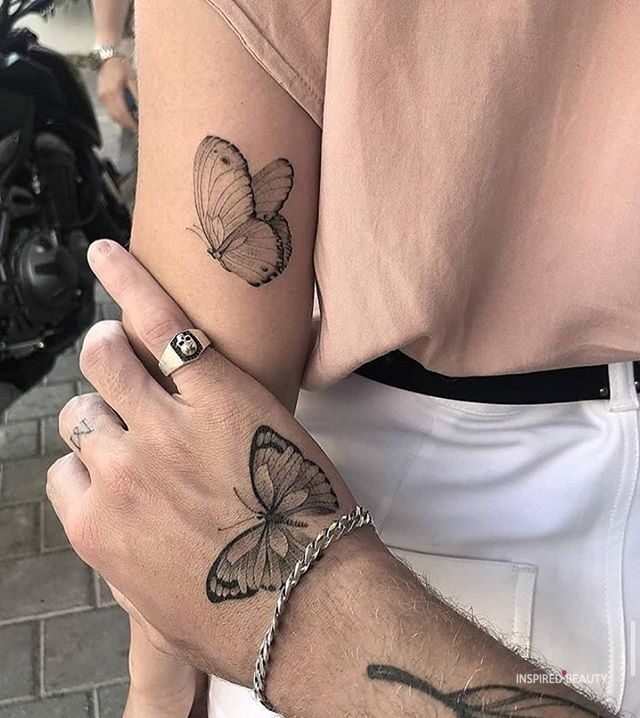 The Promise tattoo for couples
This statement of love may just be what you are looking for. Its a cute declaration of the promise you made on your wedding day.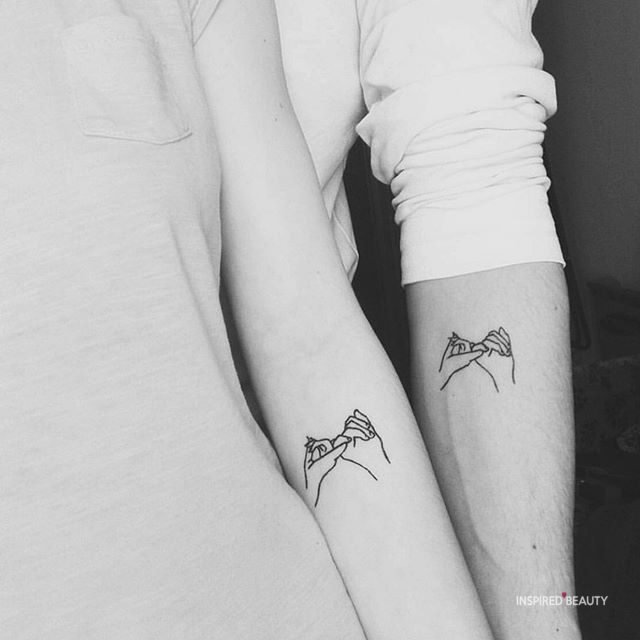 small couple tattoo ideas
Together as a team, my next pick is matching tattoos for couples in love. Show you are both equal and both different but still special to each other and connect together.
Matching ring finger tattoos for couples
Ring matching tattoo designs for married couples, the tattoos can show both of you first letter in your name. Not only does its showcase your love but also your identity is not lost.
KQ , KQ Small tattoos on fingers
Heart tattoos for couple with K and Q small shape. This tattoo ideas is small and cute if you want something trendy but not too much.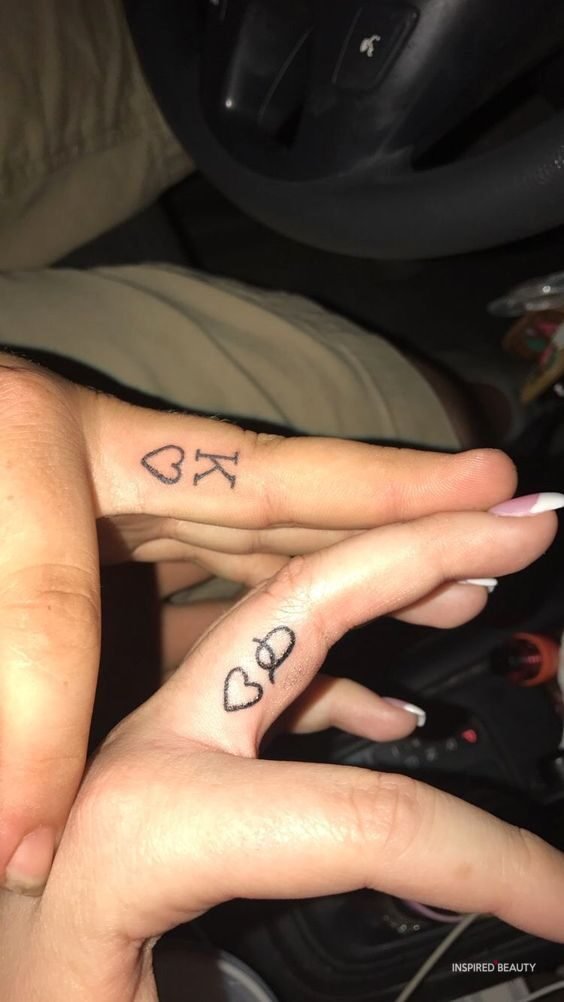 Brain and heart small couple tattoo ideas
Brain and heart like most relationship we are stronger at some things. but we complete each other. Maybe your partner has been the brain or heart, this small simple tattoo can have significant meaning.
Image: instagram/jooyfava
Beauty and the beast unique couple tattoo ideas
Beauty and the beast , the lady is beauty and the man is the beast. If you like this Disney movie then make a statement with this tattoo.
Unique couple tattoo ideas wolf pack
The meaning behind wolf mating is great for a couple. Matching tattoo ideas for couple who show they dont want anyone else. You find your pack and that is who you will run with forever.
Matching tattoos for married couples
Small meaningful tattoos for couples to share. This is a good way to declare your love to one another. Showing a united front, this is something every good marriage need.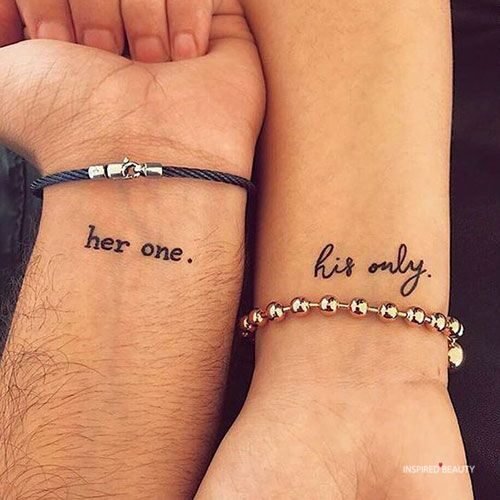 Matching tattoos for married couples quotes
Couple tattoos unique meaningful, you can put whatever you want and that is why its special. When others look they may not understand what it means but its a clear statement that connects you as a couple.
Husband and wife tattoos
This statement may be what you want, it is sweet and cute. Could be exactly what you are looking for.
Matching rose tattoo for couples
Roamntic tattoo with a rose on the thumb finger. If you and your partner like rose tattoos then you could consider getting one like this. Couple tattoos unique meaningful can really say a lot.
Rose matching tattoos for married couples
Rose tattoo on forearm, I love rose and if you and your partners do then this is a nice tattoo to get. This tattoo is pretty and on the male hand it also reads "always Remember."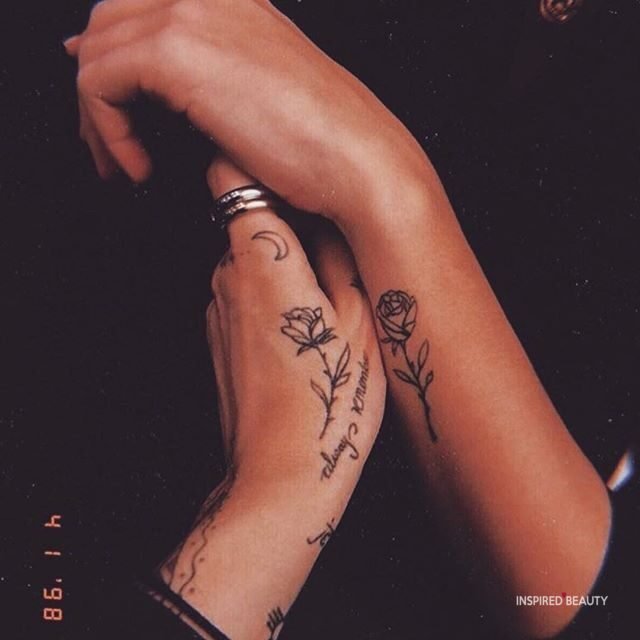 Tattoos are more popular today and being more accepted by larger group of people. A lot of young teens are waiting for the day they can get and show off their tattoo.