Red Balayage on Brown Hair 20 +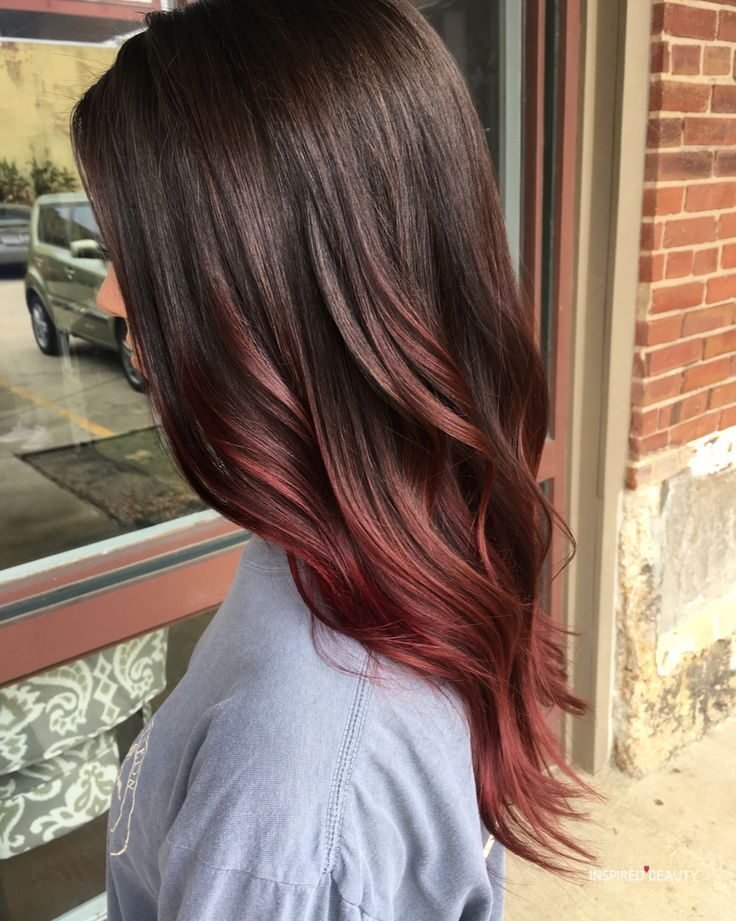 Red balayage on brown hair is when the hair is colored red leaving some of the brown hair exposed. The most common way to color brown hair black is through the highlight, ombre, and balayage technique. If you have dark brown or black hair you may want to check out these balayage hairstyles for black hair. Copper Red balayage on brown hair is also one of my top favorites.
The solution to enhance a dull brown hair into a fire red without going all red. The beautiful blend will sure get you notice and bring a dose of brightness and dimension to your look.
1 . Best Red balayage on brown hair
Rich red dye highlight the end of a straight lock with waves at the end. This looks great on a freshly cut locks at any length. This will not require as much upkeep as some but please give it the love and you can definitely rock this out.
*Disclosure: This post may contain affiliate links, which means that I get a commission if you decide to make a purchase through my links, at no cost to you. Read my disclaimer for more info.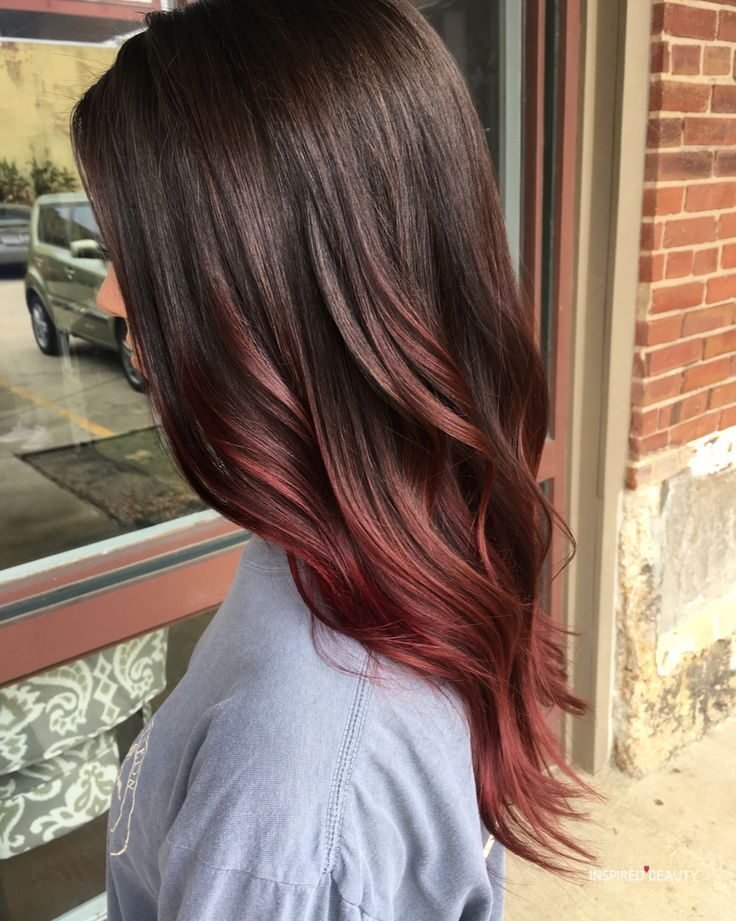 2 . Brown, gray and red
With the grey at the roots , leading into the brown and finishing up with the red. This look is perfect for someone who is daring and has a lot of time and maybe more money to maintain it. If you are worried about cash this may not be the best option in the long haul.
3 . Balayage Brown Red
Flaming red balayage on brown hair highlight, leaves a lasting impression. With this is a easy way to enjoy the red hair life without too much maintenance.
4 . Beauty Red Hair Balayage Ombre
Dark red at the root and goes into a lighter copper one red at the end. The contrast is beautiful when done right, highlighting your hair with a even brighter shade of red toward the ends.
5 .Copper Red Balayage on brown hair
With 3 different colors melting into one, it a good thing balayage happened. This copper red would look great eve as red and black balayage.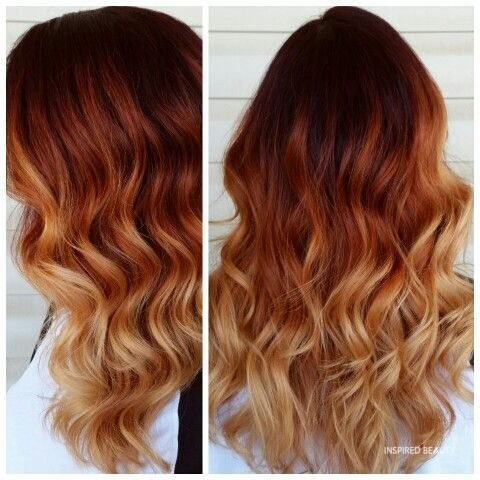 6 . Dark Cherry Red and Black Balayage
The ombre works well, with the sweet pop of cherry color at the ends, perfect blend of brown going into the red.
7 . Copper Red balayage on brown hair
Super beautiful transformation, the hair didn't just transform but gain a whole new life. Red balayage on brown hair can really bring the hair to life, adding shine and beauty.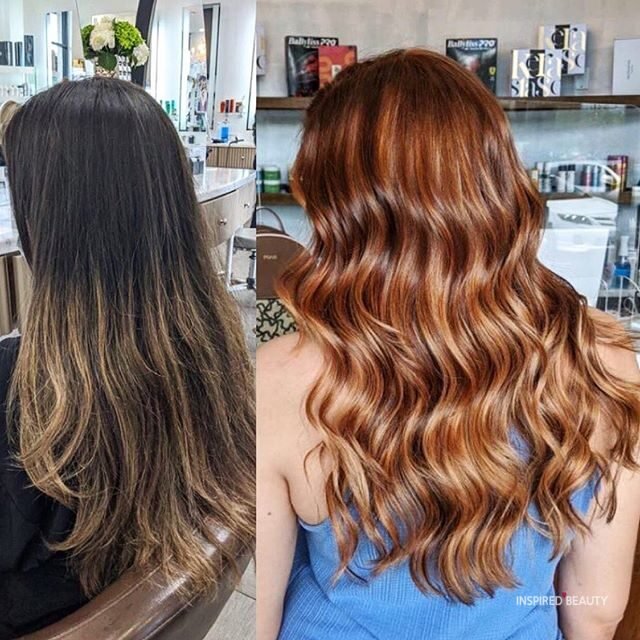 8. Chocolate caramel balayage
If you are looking for something with dark roots chocolate lilac hair color is also another great option. The red bleeds into the brown caramel creating a beautiful ombre. The color is not subtle as some ombre because the caramel really brings it up to another level. This red balayage mix is worth a shot, right?
9 . Fire Red on Dark Brown roots
Fire red not leaving anything to chance, you want to get notice and you want to be bold. This gives a powerful and confident feeling, this girl knows who she is. Strike the crowd with this confident color combination.
Image credit here
10 . Cherry red balayage on brown hair
This is one beautiful color on brown hair, it accentuates the waves making them look glamorous. The hair gets brighter at the ends in a delicate way. Remember to take proper care of your red hair. The color is delicate and pretty soft.
11. Bright Ginger Color
If you have always wanted to try this color out now it's your chance. The red is lighter around the face so keep that in mind when getting it done. The back has a mixture of red hues that look stunning and nicely stacked. If you have brown or black hair this is great for red balayage on brown hair.
12 . A Paler Shade of Red
This red balayage highlight is a beautiful shade of copper. This hairstyle has a few different shades of copper red, the roots look more burn warm color as the color transition into a lighter tone. From dark burnish roots to cinnamon hue and then into golden red ends.
13 . Old Red Faded Brown to Topper Balayage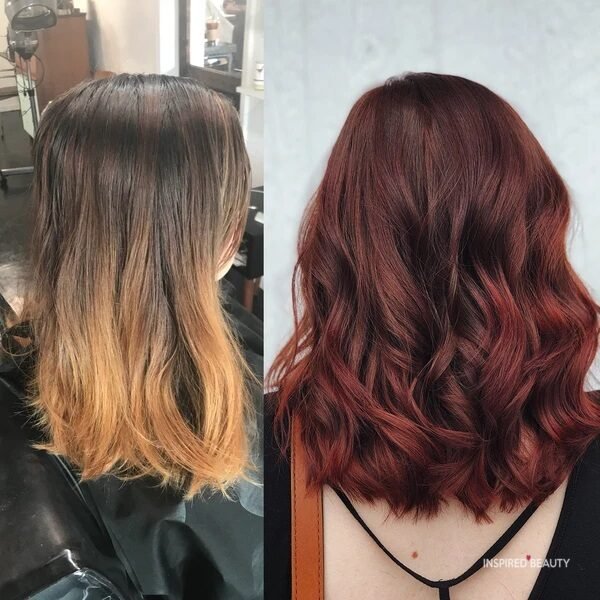 This next red balayage on brown hair was an easy job since the hair was lighter on the ends. The turn out looks great darker red at the roots smoothly transition into a lighter red at the ends.
See Also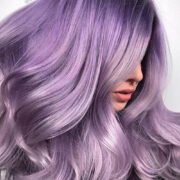 14 . Red balayage on brown hair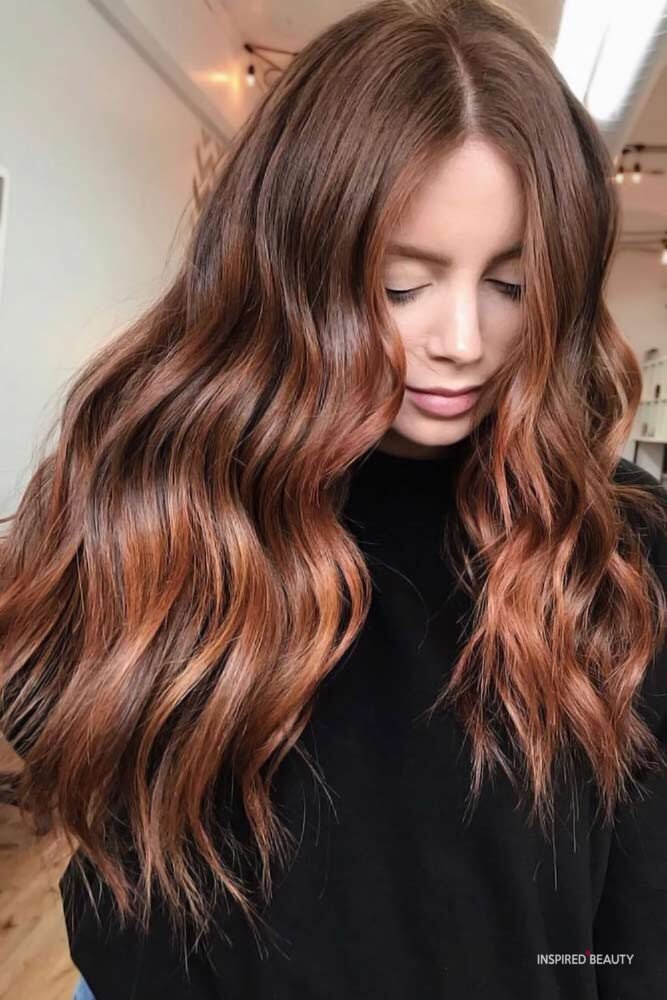 Feeling you really want a change, you can change your long wavy hair to this beautiful color combination. These bold colors have chestnut brown, chocolate, bright orange-red. The look is sophisticated with feminine grace.
15 . Sweet Little Copper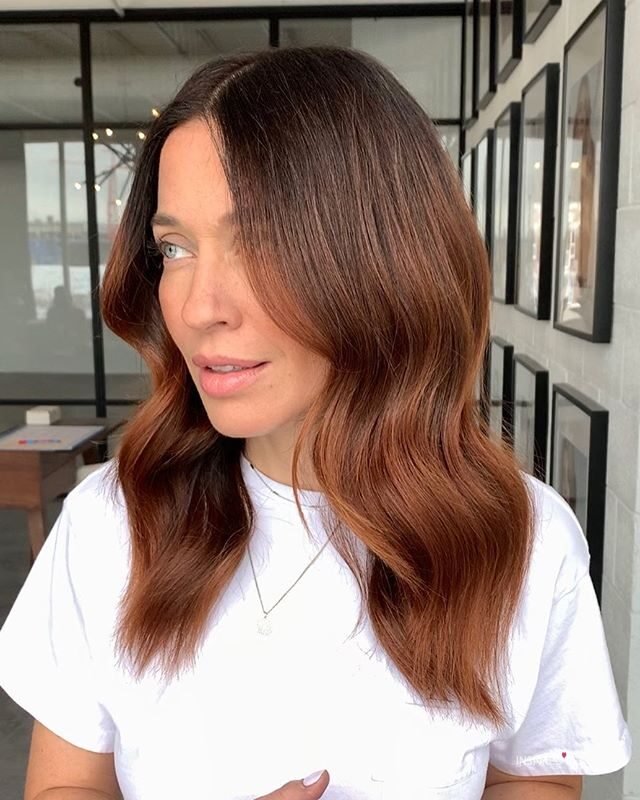 Just a little red? if you want to just have the red on the ends of your hair instead of all over. This is an interesting way to play around with a red balayage on brown hair. This hairstyle is more suitable for women with short to medium length hair.
16 .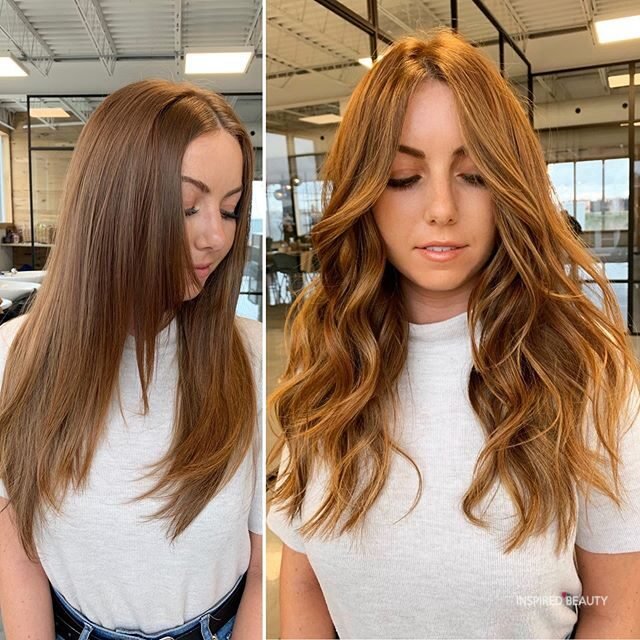 Jazzing up your pretty brown hair with just a little red orangish color. This hairstyle transforms with curls and shines. If you already have light color hair just adding a bit of color will do the trick, the waves create dimension.
Image from :instagram.com/maxgourgues
17. Short Bob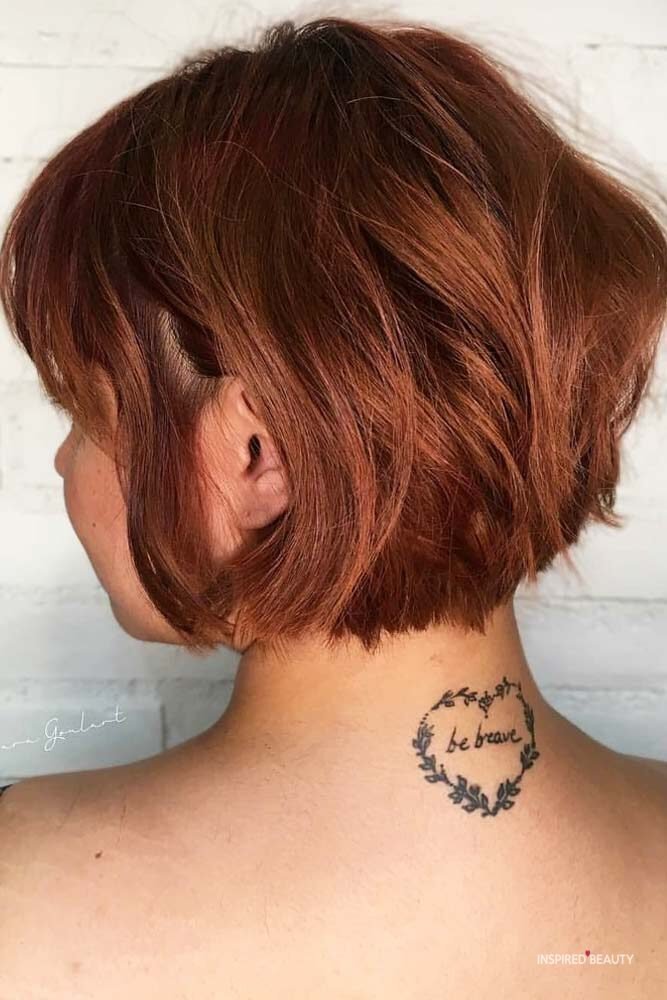 Wanting something sassy and edgy like this? If you are feeling bold and beautiful This hairstyle is great. This red balayage on brown hair is flawlessly blended with light color. This color would work well on any hair length or texture so drop your doubt.
18. Red Balayage Very Short Hair
Image by : instagram.com/myguiltycrown
If you have super short hair don't shy away from red hair. This short pixie cut has a pink hue and deep red at the roots. This 3 dimension hair color, deep red, light pink, and chocolate brown.
19 . Rose Gold Highlights On Dark Hair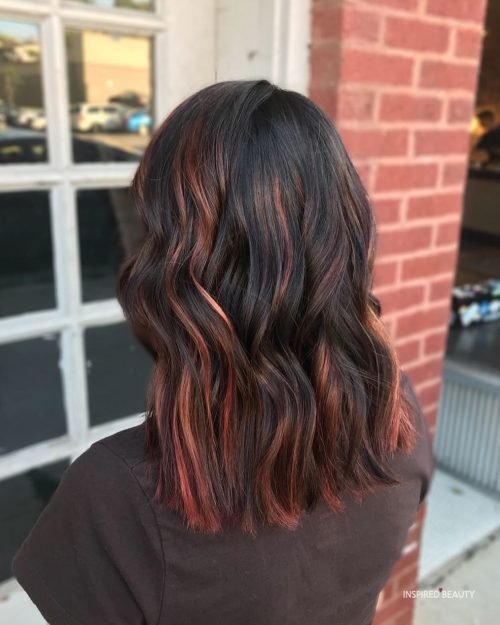 20 . Red balayage hair brunettes
For more, follow Inspired Beauty on Instagram.