Knotless Box Braids Styles and Tips
When it comes to knotless box braids styles there is plenty of variety and you may get overwhelmed with options. They are not really the same as traditional box braids but offer some of the same benefits. We have put together some of the pros and cons of knotless braids and some beautiful style choices such as Jumbo knotless braids with beads.
Whats are knotless box braids styles?
Knotless box braids are another type of box braids but with less tension on the scalp caused by the knot, it's also pain-free. Knotless braids are better for people with delicate or tender scalp. Basically a refreshing new take on the old traditional braids without the knot.
How long Can Knotless braids Last?
Like regular box braids, it can last just as long 4-6 weeks with proper maintenance. although is a protective style it is not suppose to be worn forever. If you continue to keep these longer than recommended it will damage your hair.
*Disclosure: This post may contain affiliate links, which means that I get a commission if you decide to make a purchase through my links, at no cost to you. Read my disclaimer for more info.
knotless braids vs box braids
Knotless Box Braids: Pros
Pain-Free; Unlike traditional box braid that used knot, these don't and that makes them less painful. This is a healthy alternative, you don't have to wear braids that hurt you anymore.
Less-tension; Again the being knotless causes less tension to the scalp. The traditional braids can cause scarring and redness to your scalp over time.
More Natural Look; They look neater and since start with your own hair can look really natural. The braids start with your own hair then extensions are added midshaft so the root is laid flat.
Lighter weight; They are not as heavy and chunky as traditional box braids, they look more natural with a natural flow.
Versatility; The old fashion box braids are not able to style in any direction when freshly done. You would usually have to wait a few days or weeks to get them loose enough to style in any direction. This remake can style in any direction right away.
Knotless Box Braids: Cons
If you have thin hair may look scalpy
More expensive than traditional box braids
May not last as long as traditional box braids
10 Knotless Box Braids Hairstyles
1 Trendy Fun Braided hair
There are a few ways to determine when a trend is coming in hot. These braids hairstyle has evolved into a full-fledged trend when you notice lots of black girls going natural and celebrity rocking it. You may see it on Instagram, YouTube, and then the likes of Rihanna.
source: Instargam/jordynwoods
2 Box Braids Knotless Makes a Great Protective Style
Another upvote for this trend in the natural community is that it makes a great protective styling. You are also probably seeing a lot of tutorial about these braids. Unlike regular box braids, knotless braids are just as the name suggests, knotless.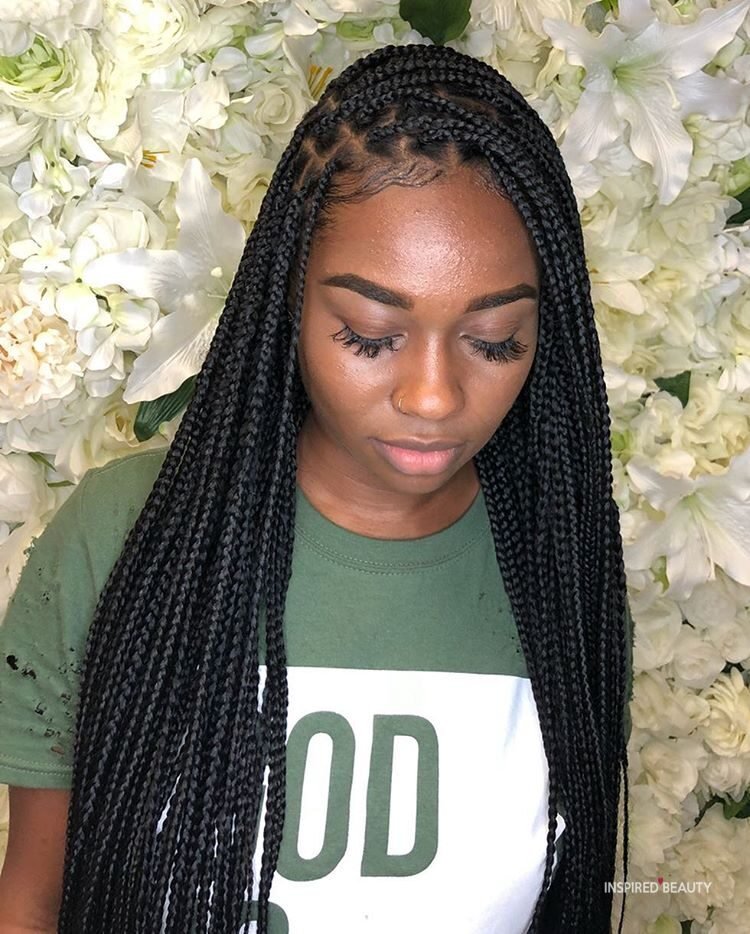 instagram/thevanitytrap
3 Small Box Braids
Not have to worry about bulge at the scalp, instead look natural and flat at the roots. This technique is pretty and looks supernatural. Adding twirls and baby hair to enhance your look. This hairstyle could also make a great wedding hairstyle for black women.
4 Braided updo Ponytail
You can see a lot of A list celebrities wearing ponytail updos, such as Rihanna, Beyonce, and Cardi B. We are not really sure why this style has become so popular but it's good it has. The style has become more and more popular, there are people learning it right now. You can choose to style your hair with beads as well to enhance the look.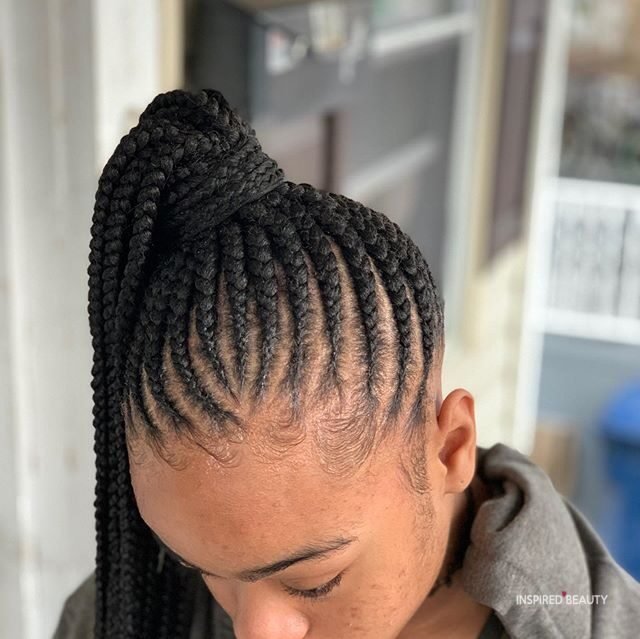 5
Micro Braid Idea
Micro braids come and go out of style but for some, it's always a solid option. If you have natural hair and want to give your hair a break, then it's a good style for you. These hairstyles are neat and perfect for prom when done right.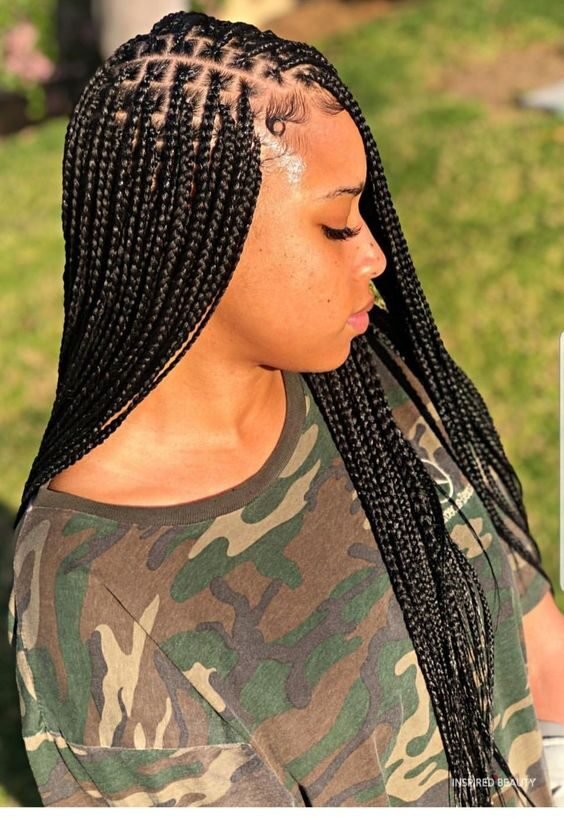 6
Extra Small Braids
If you have the time, you can get a really small knotless box braid. When done really small, there are plenty more ways to style your hair. The con is this is time-consuming and not practical for all women. Extra Small knotless box braids are quite feminine and worth trying if you have the time.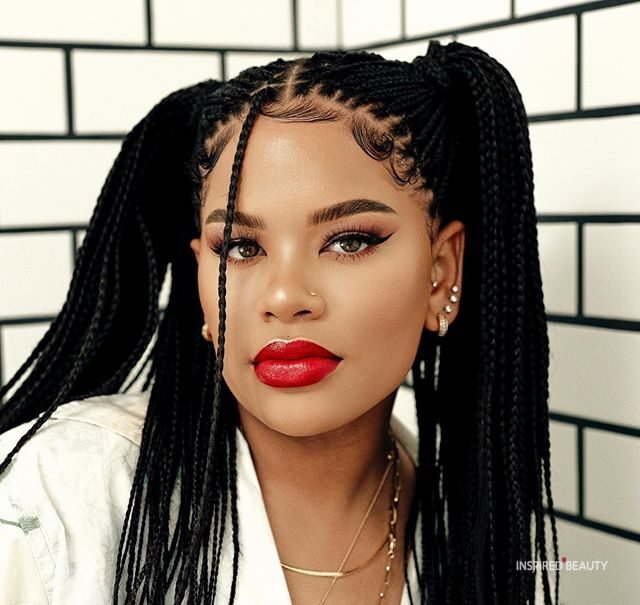 7
Cornrow Braided Hairstyle
You can do a knotless braid in your cornrow as the next style we are about to show you. Your cornrow will look more natural and less painful as regular box braids. It doesn't help to sit ina beauty salon for half a day only to be in pain at night. Stylists are making it a priority to create a lightweight and painless experience. Less breakage and strain on the edges, that is why it's protective styling.
Source : instagram.com/alissa.ashley/
8
Side Swept Braids
Here the braids are not very small but knotless never the least. Also, a style to save you time in the morning and keep your natural hair protected. The downside is because your root is more exposed it's easier to more frizz.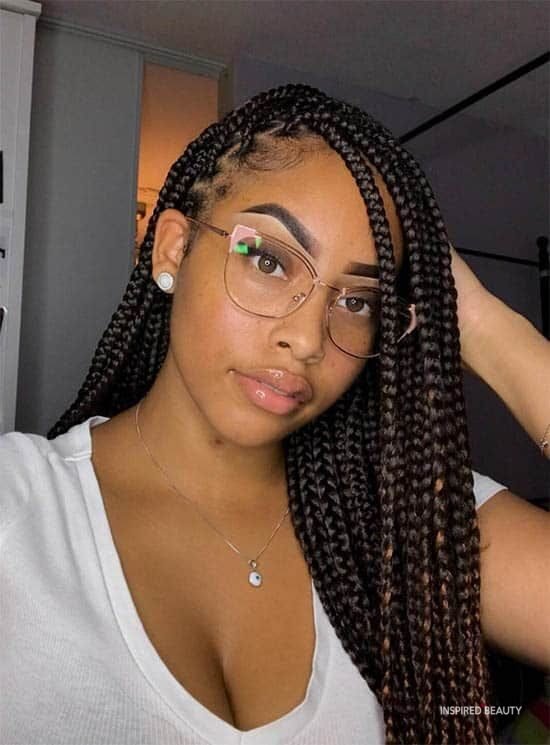 9
Side-Swept Braid Styles
These look natural and elegant, you can see why people love them. This is a perfect example of how to slay your baby hair and knotless braids all in one. The style may be more expensive than traditional box braids because of the time it takes. The longevity is similar to those of knotted braids. One of the best gel for a hairstyle like this is Jamaican Mango & Lime Locking Hair Gel here.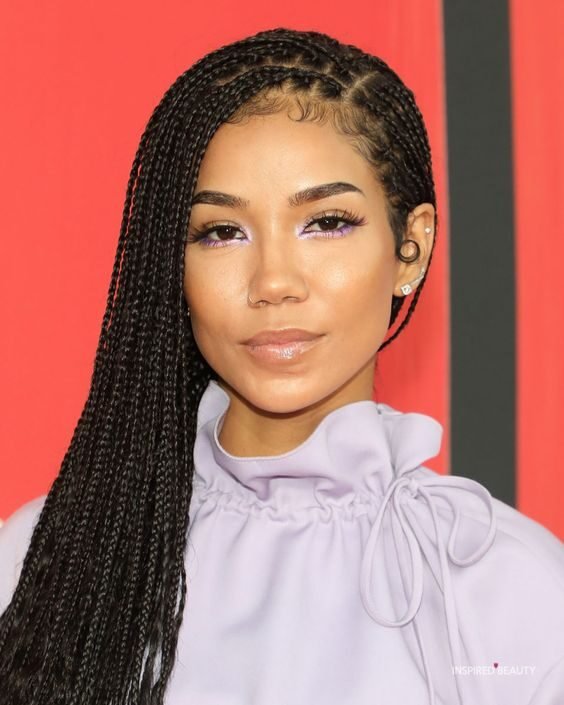 10
Blonde Boho Knotless Box Braids Styles
Trend come and go, but a lot of trends recycled. There are so many 80's and 90's style that has made a huge comeback. Blonde knotless braids with dark roots, this is a popular and trendy color combination.
11
Jumbo knotless box braids
Always try to get your part in a similar size, this style will take up less time. Have your hair properly detangle before starting to add your jumbo knotless box braids. This will give you a smooth and more professional looking if you attempt to do it yourself.
source: lacyredway
12
Knotless braids with beads
The hair color is quite pretty and the beads add a little more drama to the look. The magnetic hair extension is added and blends with the natural hair color. This stunning tribal hairstyle has a sophisticated feel to it as well.
13
Jumbo knotless braids with beads
You can choose to have medium size or really large jumbo braids. To personalize your braids you can weave into them multiple colors and add hair accessories. This is really pretty and makes a great protective style.
These also totally DIY knotless braids too. You can do them overnight and save money if you
Knotless braids maintenance
Ok you have done your knotless braids but now how do you maintain them? Well here are some simple tips to help your hair looking its best for longer.
Clarify and keep your hair moisturized
Although you are wearing extensions, don't neglect your hair underneath. It is important to continue to remove buildup so your hair can properly thrive as well. You should use a lightweight co-washing product to remove build-up but still light enough to not weigh your braids down.
It is important to keep your scalp moisturized, you can use essential oils to massage your scalp. This will reduce dryness and stimulate blood flow and promote hair growth.
You should do both moisture and co wash 2-3 times a week.
How to maintain your knotless braids
Take Them down Do not over do it
Do not let the style goes past a certain time, when its time to take the style out takes it out. It is a protective style that doesn't mean it will last a lifetime no matter how much you love it. Although it could last 8 weeks, as I recommend above 4-6 weeks is best practice. This will help reduce any long term damage to your hair underneath, do not neglect your natural hair needs to breathe.
Keep hair protected at nights
Although all of it is not your real hair it still needs some love. Invest in a bonnet to protect your hair at night as you sleep. Silk or satin bonnet will help prevent breakage while you sleep. Before your wrap, your hair up for bed sprays Coconut Water Mist Leave-In Treatment for overnight moisturizing. I know some women find bonnet and scarf boring so if you are not into it just get yourself a silk pillowcase this will do as well. Do not skip the nightly routine it is a key part of keeping your knotless box braids styles looking neat.
Fine Hair Knotless braids maintenance
Knotless braids maintenance for fine hair, you should pay attention to this. Jumbo braids may not be the most ideal for fine hair because of the heaviness. If the braids are too heavy they can pull the hair right out. A good product to consider is the Camille Rose Buritti & Nectar Repair Hair Oil and the Sugerbear hair vitamins to help nourish your hair. Also, do a pre-check with your stylist before getting the weave install.
Be kind to your hair
Sometimes depending on how small these braids were done may be tiresome. Take your time and be gentle when removing them to avoid your hair breaking off. If you dont have the patient get your stylist to remove it for a fee.