20 Wedding Hairstyles for Black Women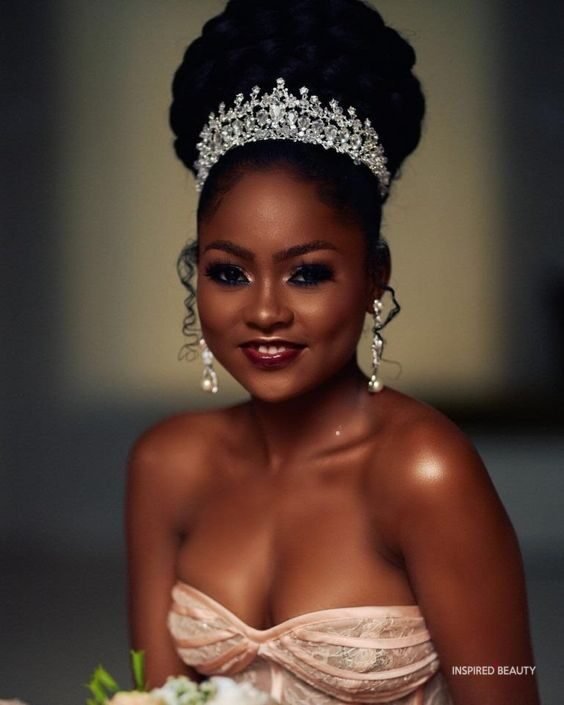 *Disclosure: This post may contain affiliate links, which means that I get a commission if you decide to make a purchase through my links, at no cost to you. Read my disclaimer for more info.
---
Picking the right hairstyle for such a big day is sometimes not the easiest. Wedding hairstyles for black women come in many varieties. Choosing from a variety of ranges from simple to more complicated ones.
Wedding updo hairstyles for black women go well with natural textured curls and waves. You can choose buns, updos, elegant twist, and braided hairstyles. If you have wavy hair try swirls and veils. You can add accessories to your hair to give a more luxurious look. We are giving your great ideas that look great with women for your dark skin.
*Disclosure: This post may contain affiliate links, which means that I get a commission if you decide to make a purchase through my links, at no cost to you. Read my disclaimer for more info.
Wedding Updo Hairstyles for Black Women
Updos are lovely for brides to keep the hair off your back and in place. You can have to define wave curls and to really sculpt your face. Updos are elegant and any women will look great in it. We have examples of the best styles for different texture hair, color, and length.
Smooth Curl Chignon
Chignon is not new to formal look but the modern smooth take on this particular one is breath taking. The touch of soft natural brown tone and dark roots really makes the look even more pretty.
The define flow to the back is where the elegant curl bun. The style let your face really shows and make your eyes pop.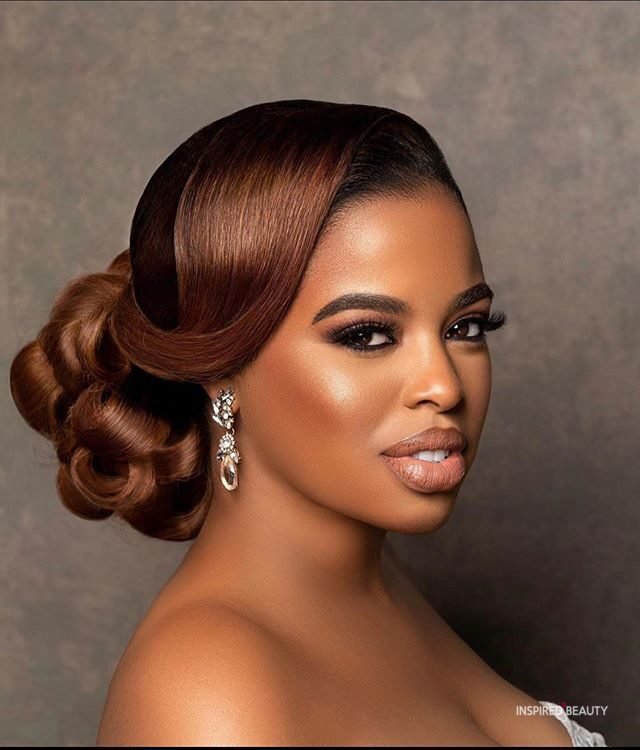 Credit: IG @aubridalhairdesigns
Elegant Tuck wedding hairstyles for black women
Pulling the hair back then roll and tuck it under, this is a beautiful and elegant alternative to a bun. Wedding hairstyles for natural black hair and this would also look good on relaxed hair. I love this style because of how it draws attention to the eyes.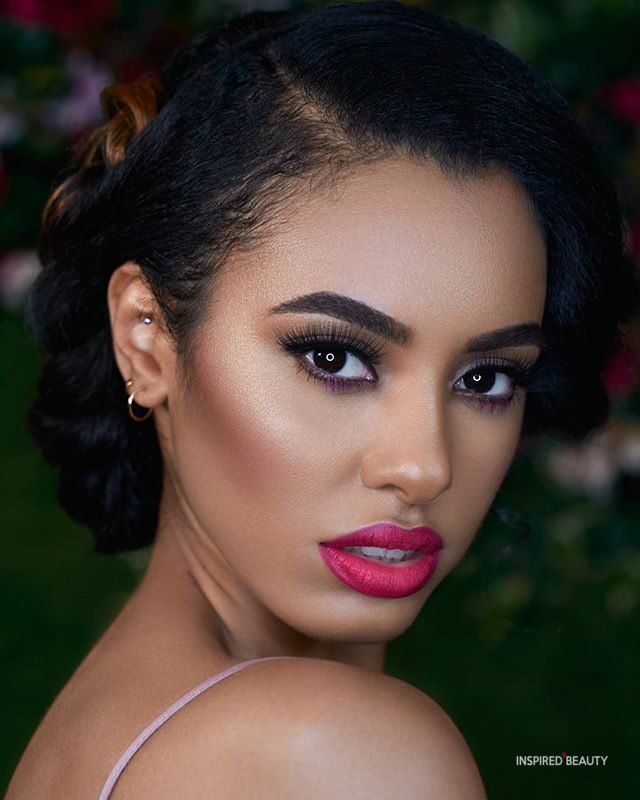 Wedding Hairstyles For Natural Black Hair
If you are thinking of a elegant updo in natural texture this next style can fulfill all that. If you have natural curls that define when wet, you can also achieve this look with a define twist out.
Pull the hair up on the top of your hair like a bun, let small hair fall out at the front for a more romantic look. This wedding hairstyle has laid edges that make it more laid back.
instagram/aprylweechthehairstudio/
Wedding Updo Hairstyles for Black Women With Headband
This next hairstyle is has a fantastic headpiece, alternative to a tiara or veil. Headpieces hair accessories always help to make the wedding feel a bit more special. The relaxed texture hair is pull in a low elegant style. The earring matching the head pice is beautiful.
Shop wedding headband here
Photo credit : instagram/joyadenuga
Gorgeous Black Women Wedding Hairstyles With Veils
With the wedding looks everything will take longer no matter how simple the style is. Choosing to pull your hair back in a bun or let it down with a veil pairing with drop earrings.
instagram/shaleirasmithbridal
Black wedding hairstyles with veil
Whether you wear sleek hair or flowy hair updos with your veil. The color will and style will look great with your dress. Doesn't matter if your dress is white, creamy or even black dress like for a spooky wedding.
instagram/stanlophotography
Short Hair with Veil
If you have short hair your wedding hairstyle can look great with veil. The next hairstyle is pull under the veil to let your beautiful face shine.
instagram/joyadenuga
Charming Black wedding Hairstyles With Flowers
During the summer and spring season flowers is among the most popular hair accessories. It doesn't matter how you want to wear your hair updo, all out, wavy curly. For classic brides, try tucking a single flower into a chignon or high bun and for more edgy brides place it in your crown like the example below.
instagram/rebeccaorsida
Sassy flowers Style
If you love flowers why not have it on your wedding day. With your lovely natural texture, you will have no problem pulling this next style off. This wedding hairstyles for natural black hair is style wth flowers and crown rocking at the side. It is so pretty and sassy as hell.
Image: instagram/stanlophotography
Small flower
Bohemian brides-to-be should try a flower crown, you can add tiny flower accessories like the picture below. This simple accessory just made a normal hairstyle more delicate and luxurious.
Black Wedding Hairstyles With Major Flowers
If you are bold and you think you can rock multi color flowers its your day. This hairstyle is done on natural 4c texture hair. Its just letting your hair out and let it shrink and represent the natural you.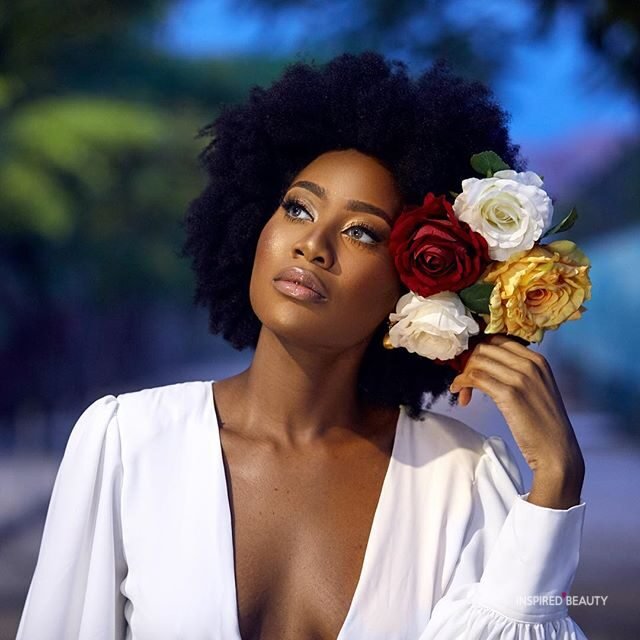 Image: @efikzara
Best Wedding Hairstyles For Black Women
Wavy hair is the definition of romantic hairstyles. Why not make those waves speak for your big day. You can create waves on any length of hair. The veil will never go out of style at least not in our life time.
Wavy Wedding Hairstyles for Black Women
Wanting some inspiration for wavy texture well you will like the next couple of ideas we put together. This look is simple but it's very elegant, wearing your hair down in wavy texture. This look is adorable and will have your guest staring with adoration.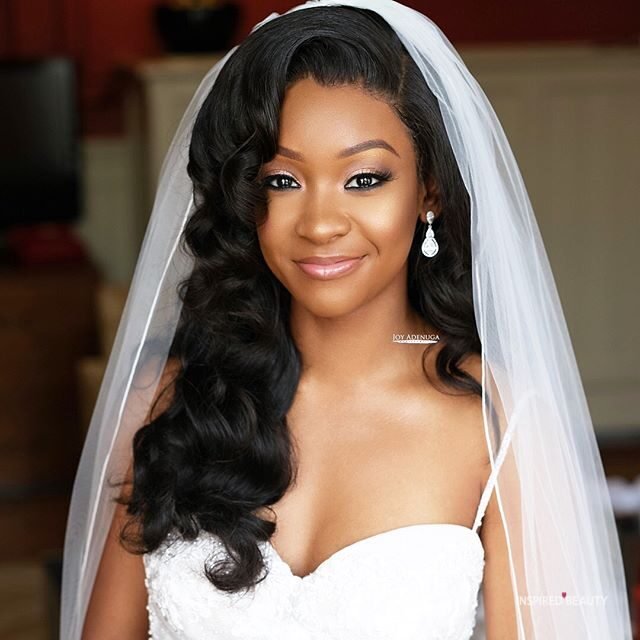 Half up Half Down
Long loose waves with romantic appeal. The simplicity of adding zero accessories to the look makes it even more lovely.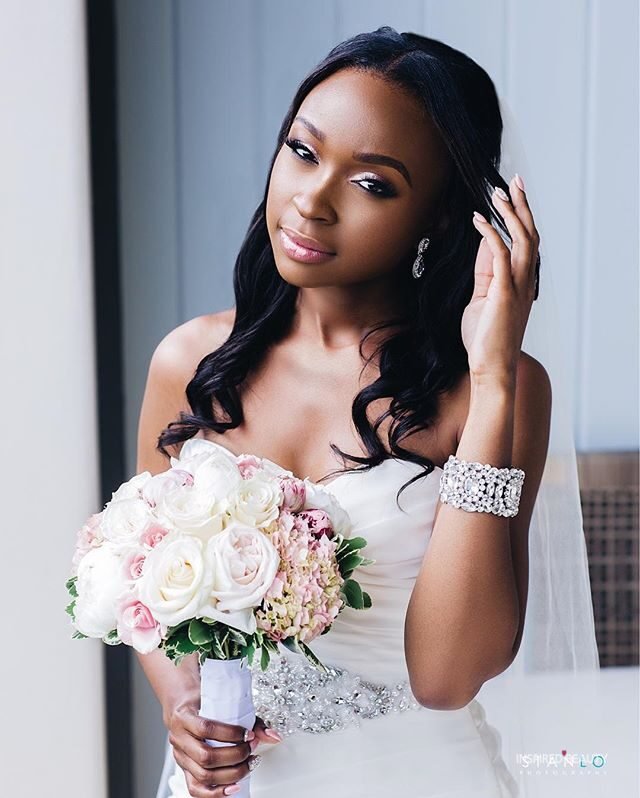 instagram.com/p/BZQ_4bvFZoL/
Side Swept Bangs & Snow Flake Wedding Hairstyle
Long loose waves with snowflake hair clip add charm and elegance to the look. This hairstyle would look good also on medium shoulder length hair.
See Also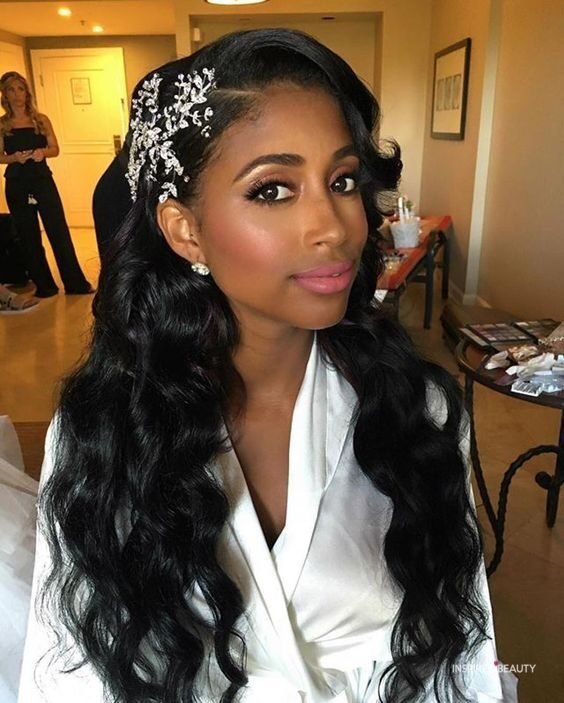 Wedding Hairstyles for Relaxed Hair Black Brides
This wedding hairstyle has a modern and chic look. Every bride wants to look stunning on their big day. The hair color is flattering on all skin colors and frames the face beautifully.
Black Women Wedding Hairstyles With Accessories
Princess hairstyles for black women on her big day. Who wouldn't want to feel like a princess or a queen on such a special day right? You can go for high bun with crown accessory or add waves to your hair.
Wedding style with Tiara
Tiara is one of the basic wedding hair accessories as it let you feel even more special. The next black women wedding hairstyle focus on the face, the hair is pulled on top to create large strands braids. The sparkly tiara compliments the updo but doesn't take away all the attention from your face.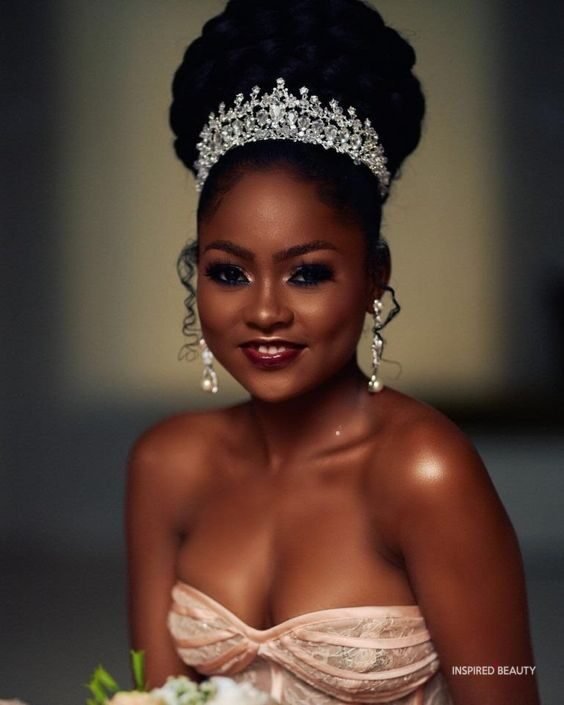 Accessory headband
Next hairstyle you will love if you ever picture letting your big luscious curls out. These curls have amazing volume and not too tight which makes them more glamorous on your shoulder.
You can achieve these curls using curling wand or maybe old school flexi rods.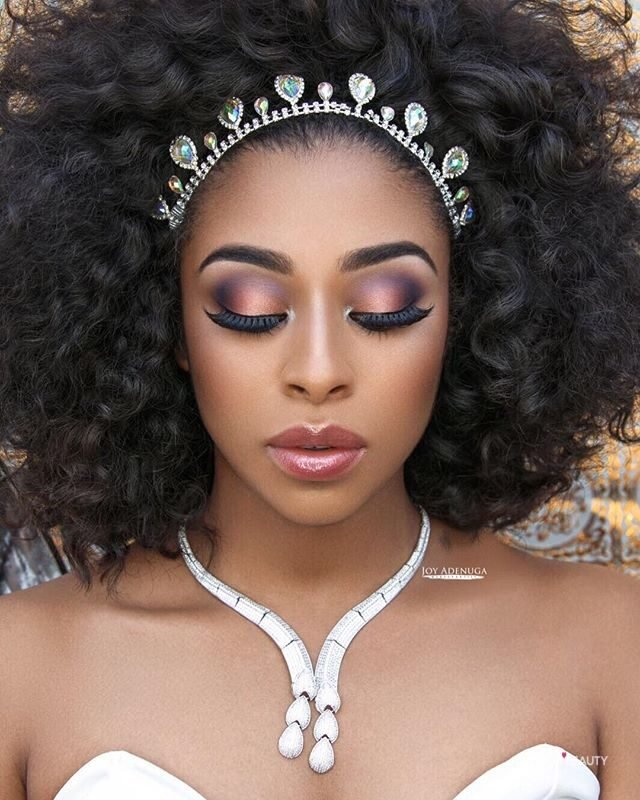 From: instagram/joyadenuga/
Smooth Minimalist look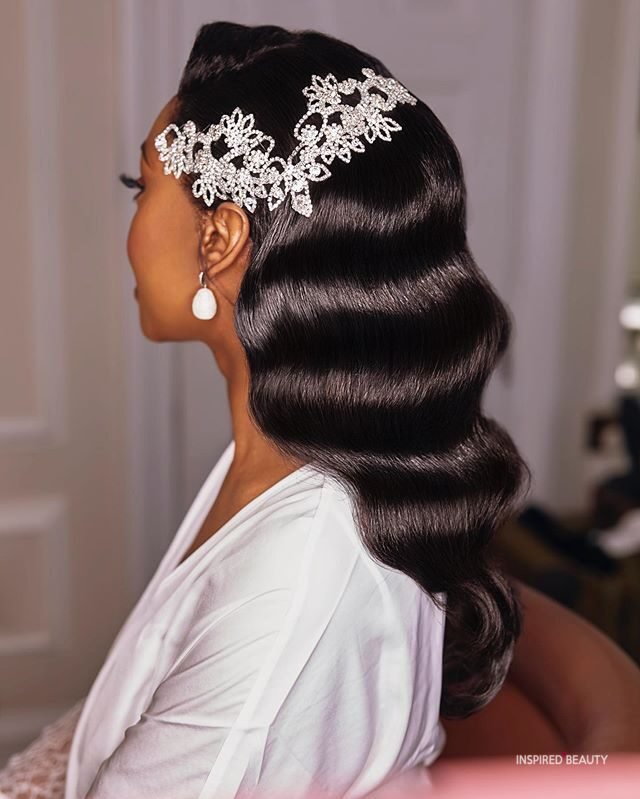 instagram/charishair
Natural Hairstyles for Black Brides
Hairstyles for natural texture hair black women. You can add an extension to create a big puff that will create stunning hairstyles.
Updos are a no-fail choice when it comes to wedding hairstyles and this back updo is no exception. This updo is lovely for any bride and goes well with the hair accessories, and would still go well if you decide to wear a veil.
You could wear this with a birdcage veil to have the hairstyle show. Wearing updos with veil is a timeless look.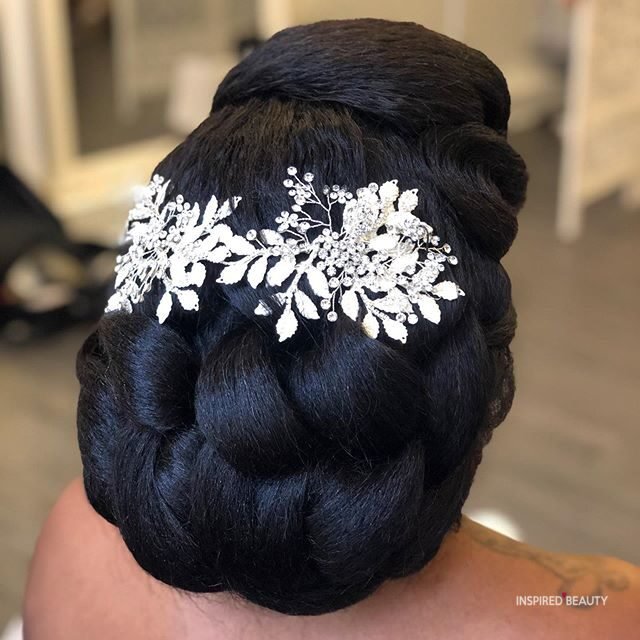 Big Natural Bun
For a smooth easy wedding hairstyle, the bun is the ultimate go-2 style. Creating the bun with an almost donuts puff and twist at the side. This look is elegant and pretty and will help you feel even more special on your big day.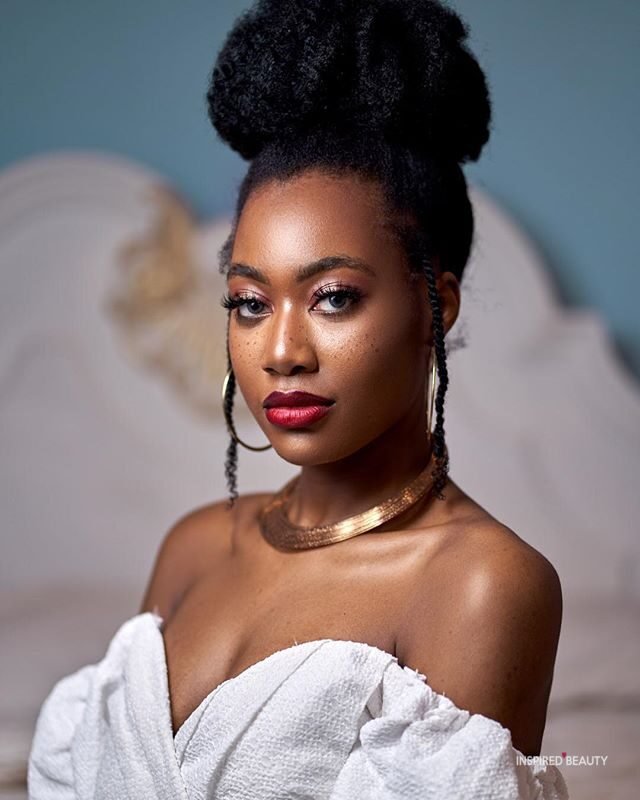 Image: @efikzara
Save for later