Hair Color Remover DIY at Home
It doesn't matter what you have done could be a great dye job or something gone wrong either way it happens. That is where hair color remover DIY comes in handy. Here we have gathered some of the best product and hacks ( vitamin C hair dye remover, baking soda to remove hair dye) to remove dye jobs at your home.
Before we start its always best to let a professional handle this kind of work as its complicated even for some pros. Call a professional and be honest with your products used. That being said if you are going to tackle this task at home here is what you need to know.
It is said that every time we remove one color we risk the chance of our hair being damage. Like when you dye your hair if not handled correctly you can have lots of damage. Find a gentle moisturizing free of bleach and ammonia to remove dye. If you have these two ingredients present you may do more damage than good.
*Disclosure: This post may contain affiliate links, which means that I get a commission if you decide to make a purchase through my links, at no cost to you. Read my disclaimer for more info.
You may ask yourself do DIY really work ( baking soda and vitamin C) can you trust these products or the home ingredients you have.
Tip 1
In this process, you want to apply the hair color remover to the ends of your hair first. The ends of your hair are more porous and hold onto dye more.
Tip 2 Next tip go without saying
Make sure you really saturate the product throughout your hair so you don't end up with unflattering pitch patch results.
Tip 3
Start off with deep cleaning shampoo that is high in sulphates, this will help loosen the color. Do this washing process for 4 times in a row then one more time but this time leave in on the hair for 20 minutes with a shower cap.
This Post Contain affiliate links
Here, the best hair color removers and correctors.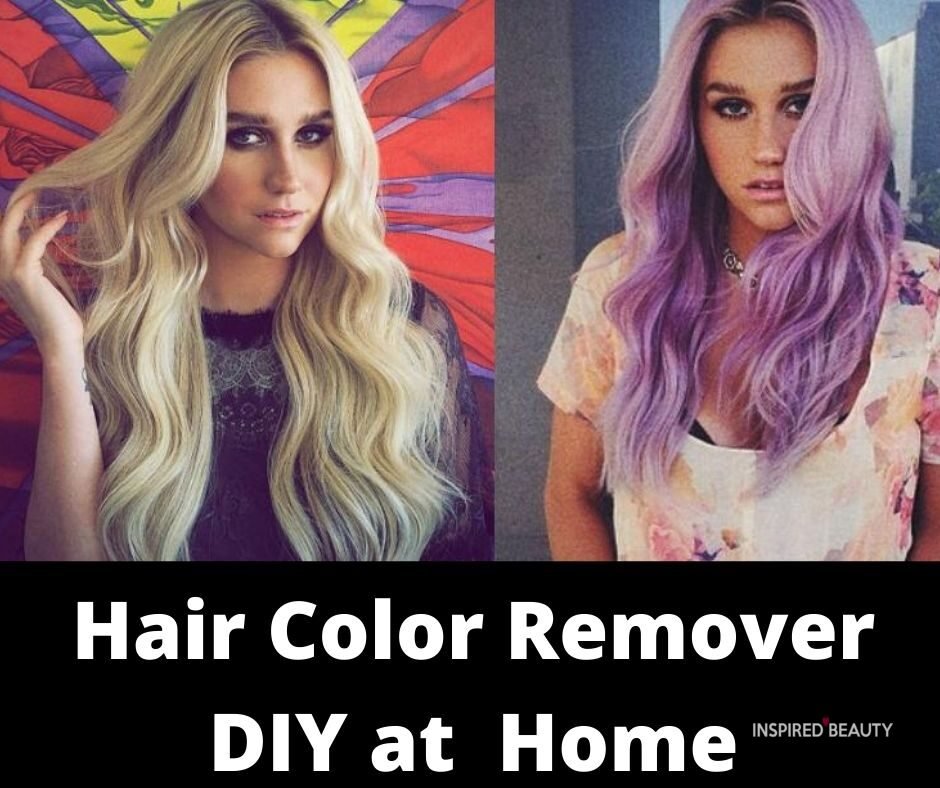 Color Oops Hair Color Remover
Experts recommend this product it is mild on the hair and affordable. Also, ammonia and bleach-free that can remove both permanent and semi-permanent colors. Your hair may feel a bit dry afterward but it won't be damaged. And work very fast in about 20 minutes.
---
Colour B4 Hair Colour Remover Extra Strength for Darker Hair Colours
This is a great option for everyone, they have different selling ranges for all hair types. Choose regular strength if you have lighter color hair (brown or fair hair). Extra strength for erasing dark colors or hair with lots of build-ups. The Frequently use option is for people who dye their hair more regularly.
What this product does, remove color buildup among removing the color, you can re-color ( not recommend for henna treatment) your hair right after the process. The process is a simple comb in the hair and waits 60 minutes rinse and style.
Shop Extra Strength Amazon $40
---
One 'n Only Colorfix Hair Color Remover DIY
Will remove unwanted dye doesn't matter how old it is. It has a great feature such as making your customize mix it the way you want, is designed for full or slight color corrections. Dos not contain ammonia, bleach or formaldehyde those bad ingredients. Some of the user refer to the smell not being the best but did a great job being hair color remover diy.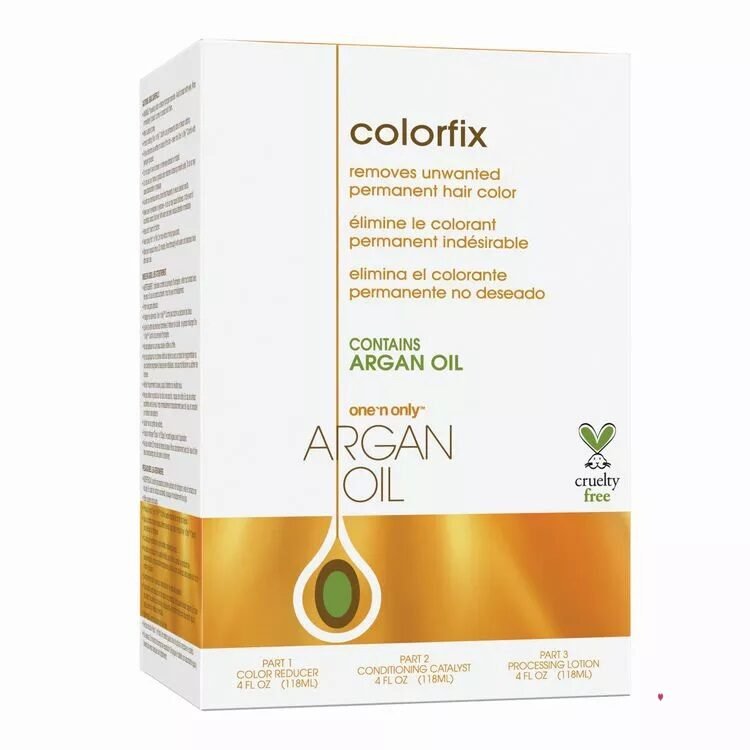 ---
Framar Kolor Killer Wipes
Although these wipes are not for hair like other products on this list. If you have ever had your hair dye before you know it can get a bit messy and you may need to remove hair color from your skin. This hair color remover wipes can remove stains from unwanted areas such as the ears, neck, around the hairline without having to scrub. The smell is great and it is gentle to use.
Buy on Amazon for less than $10
---
Joico Hair Color Intensity Eraser
This is one of the best out there works really fast, 30 minutes to take off permanent and/or semi-permanent dyes. It will get rid of any color doesn't matter how stubborn the color is. Another plus for this product is the strengthening keratin in the formula to help eliminate damage your hair may take.
---
Sephora Collection Heat Activated Color Fader
This next DIY hair color remover this one is best reserved to tone down the semi-permanent color. So keep in mind with this product it will not completely remove dye its purpose is to help fast track the fade of semi-permanent color. If you want nice pastel shade this is the product to try.
This product activate on heat as the name suggest, Apply the mix to your hair,place a shower cap on and sit under a hooded dryer for 10-15 minutes.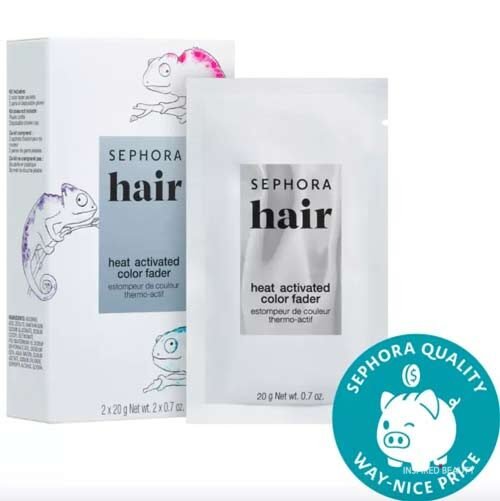 Buy on Sephora $10
---
RELATED: 42 MERMAID HAIR COLOR IDEAS
Revolution Pro Hair Colour Remover
Does not include these two bad ingredients bleach and ammonia-free. This nourishing product rids your hair of color builds up.
---
Roux Clean Touch Hair Color Stain Remover
This product has multi-purpose and such a plus in my book. Not only does it remove extra color build-up from the ends of your hair, but it also removes color stain from skin and clothes as well.
Note this pick contains ammonia, so it's not a great pick to use all over your hair. Save it for small jobs.
---
Malibu C Color Correction
Unlike other products on this list its super-fast only five minutes. This product is quite popular for a lot of colorists with a vegan formula. Although this hair color remover DIY product removes color the finish hue may not be the desired result.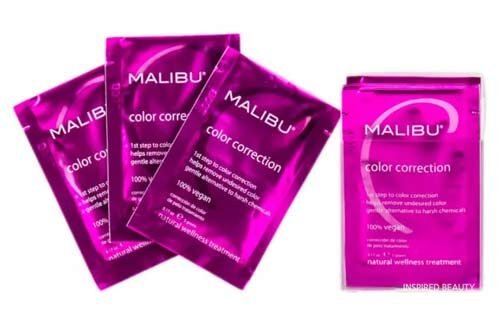 ---
Scruples Color Delete Permanent Haircolor Remover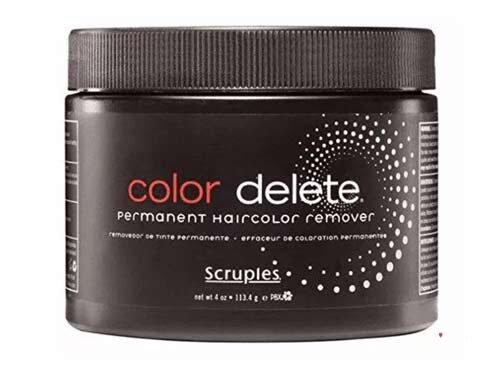 This is is one of the best hair color removers available right now. This is a strong product that can remove the stubborn permanent dye. This product is gentle enough to also re-color the hair immediately after removal. boost avocado oil, bamboo oil, and a protective complex to help protect against breakage.
See Also
---
DYI Vitamin C Hair Dye Remover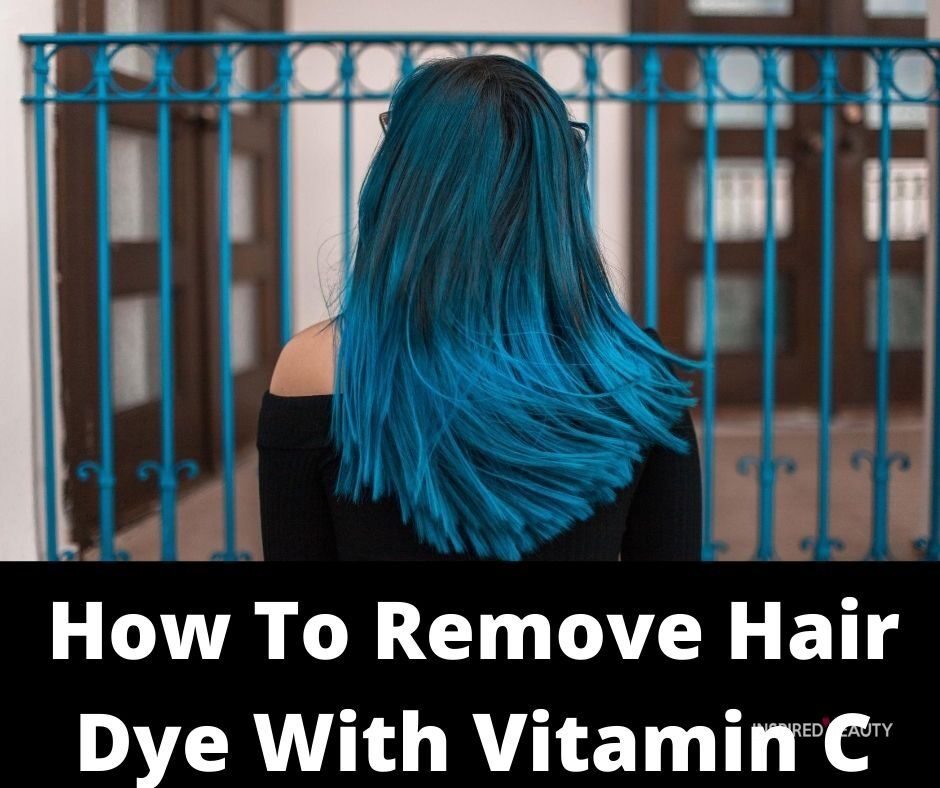 This method has worked well for many people. Vitamin C works like a charm removing semi-permanent hair dye. You will need Vitamin C power obviously or you could use the pills and crush them yourself.
Add one part Vitamin C to two-part Shampoo and mix into a paste. Wet your hair and got to lathering rubbing each strand through your finger. Next step cover your hair with a shower cap for about one hour.
When its all done rinse and dry, result varies but for most case 85 percent of your dye color will be gone.
Tip: If your hair is a little dry after the process follows up with moisturizing hair mask or deep conditioner. The vitamin C hair dye remover is quite convenient and can repeat the process to get desire shade.
Does Baking Soda to remove hair dye Really works?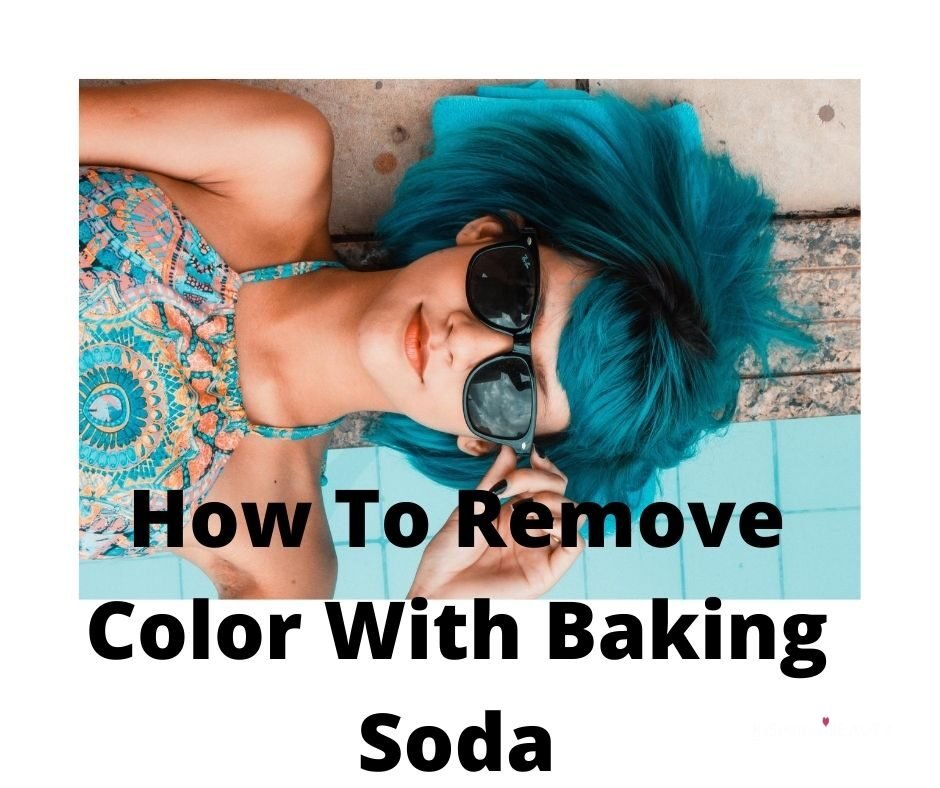 In short yes it does work however only on semi-permanent hair color. If you need to remove a permanent color please scroll back to the top of this list for hair color remover products.
Baking soda to remove hair dye is great for getting a soft shade. Maybe help turning that bright red color into a pastel strawberry instead.
What you need
tbsp Baking Soda
1 1/2 cup Water
1 tbsp Apple Cider Vinegar
5 drops Fragrant Essential Oil
Combine baking soda with water until smooth. Wet your hair and apply mixture thoroughly throughout the hair. Let the mixture sit for 10 minutes before rinsing with water.
Combine vinegar, water, and essential oil ( you could do this during the 10 minutes). Wash your hair with this as the final rinse, be sure to make enough.
Do this process for three are more consecutive days to get desire shade.
Baking soda and Shampoo to Remove Hair Color
This next hair color remover DIY is another popular home recipe.
1 tbsp Baking Soda
1 tbsp Anti-Dandruff Shampoo.
Combine both ingredients and create a mix. Damp your hair using warm water, then shampoo your hair using the baking soda mixture.
Leave it on your hair up to 20 minutes, rinse out with warm water and condition hair with deep conditioner.
You can repeat this process every few days until get desire shade.