Easter Nails Designs That is Super Cute 40+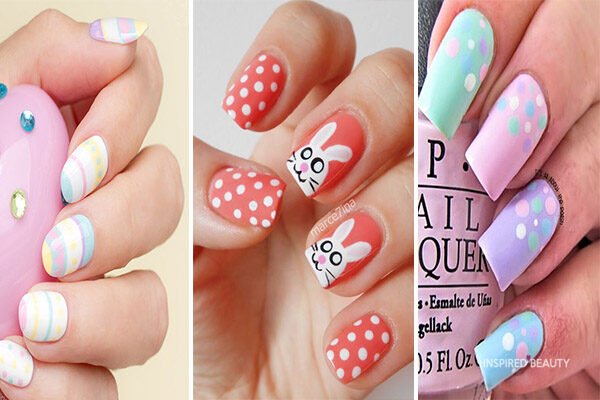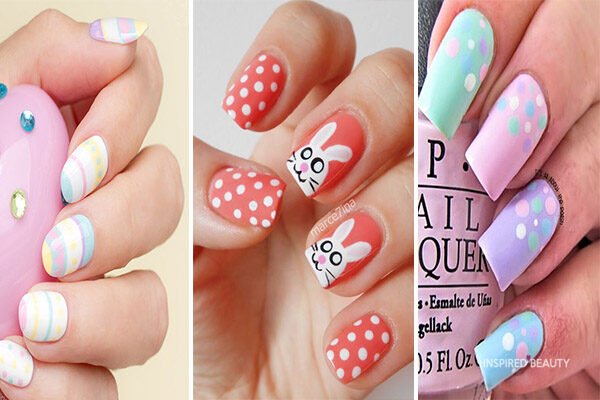 Easter nails designs are not just joyous but absolutely fun. Painting eggs and making Easter baskets are fun but you can also dazzle with some new fresh nail art for the Easter weekend.
Easter nails are among the most fun design when you think about spring nails.
These are some of the best design we collected but dont worry we got you if your . Some nails you will need professional but we have a few that you can do at home even as beginner.
*Disclosure: This post may contain affiliate links, which means that I get a commission if you decide to make a purchase through my links, at no cost to you. Read my disclaimer for more info.
Rabbit Easter nail designs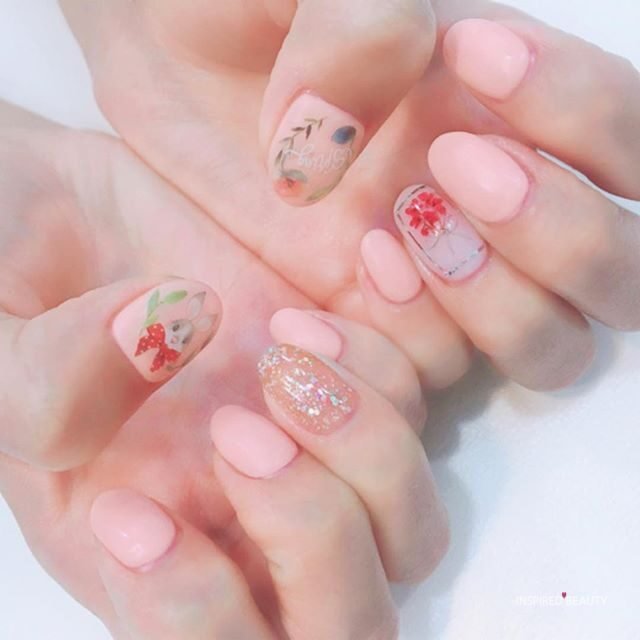 1 . Light pink nail with cute bunny rabbit designs are just adorable. If you love pink nails with somewhat surprise this is worth trying this Easter.
2 . These designs are nice ombre color with spring feeling in mind. The goal is to draw attention to the nails with the bunny. You will need to pay attention to those because bunny is a icon for Easter.
Easter nail designs
3. Easter Nail design for long Nails, we love this design because it has all the mood of Easter. Each nail has its own design polka dots, a cute chick and an cute little bunny. You can find how guides to achieve this design if you want to try it.
Pink Bunny Easter designs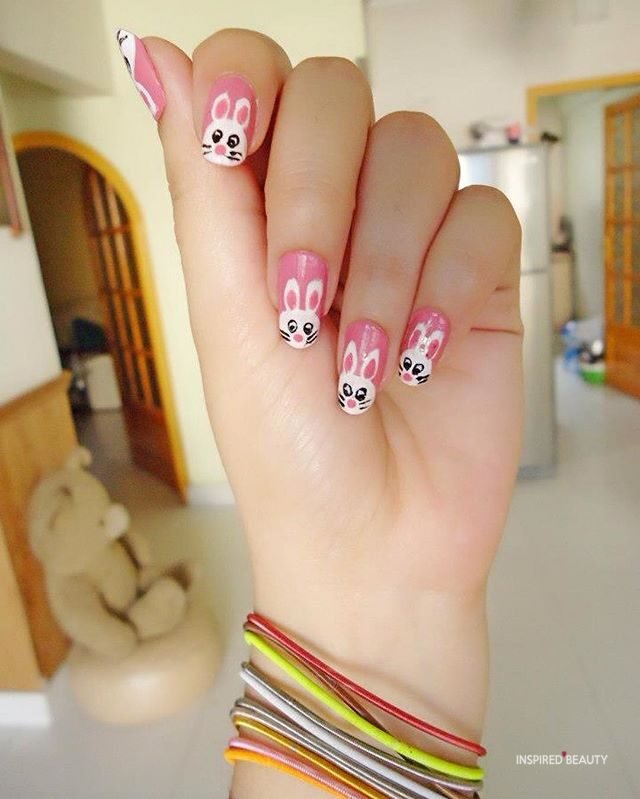 4. Pink Easter nails ideas with white bunny icon. Pretty in pink nails for who cant live without pink.
Light Pastel Easter Nail designs
5. Pastel nails that are super kawaii and one of my favorite. If you like to dress kawaii this nail art would be perfect for you. This is awesome for anyone who enjoy light color nails that are just adorable.
Easter nails that's creative
6. This design has all the Easter haves which is perfect for the holiday joy. You will enjoy these nail. This nail is perfect for this season.
Bunny Rabbits are just so cute and like a Easter icon for art. Did you notice the little baby chicken? isn't it adorable.
@ana.nails.5 @interendo_pl @hina_parvez
---
Chicken/ duck Easter nails ideas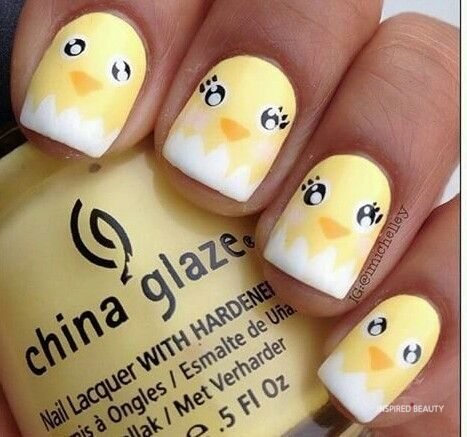 7. Baby Chicken coming from colorful eggs, this is one of my favorite. This is an adorable design, it has chicken with now eyebrows and the others with long lashes.
8. This Easter nail is 3d Chicken art that is amazing. This design has elements such as 3d nail art, other birds and colorful eggs. Two of the birds reminded me of angry birds and the other with google 3d eyes.
9. Little duckies are always welcome. Get you yellow nail polish for the base and with little effort you can create this design on your fingers or toes.
Via Instagram @nails_in_style @zigiztyle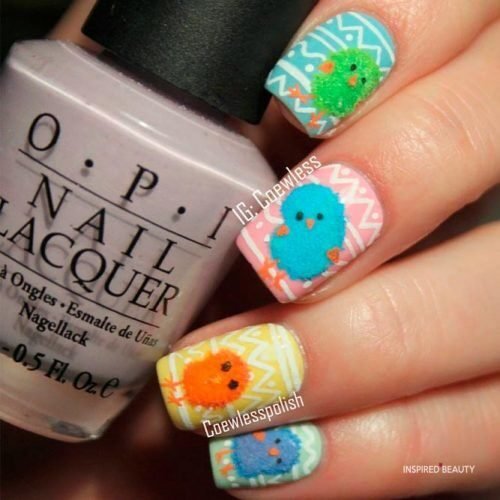 10. The other design we are showing you is this special design. If you are a bird lover then you will appreciate this design. You can get those stencil nail art supplies out to create this design supper easy. Each finger features a different color baby chicken.
Chic Easter nail designs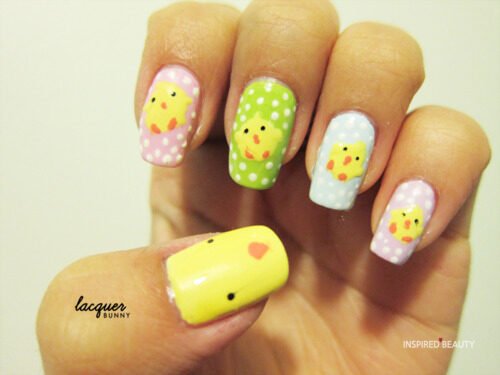 11. This other Easter nail design for long nails. Polish the base in the color you want makings all fingers different color. Use your dotting tool to to create the white polka dots. If you are good at painting you can draw those chicken or use stickers.
Baby Chic on nails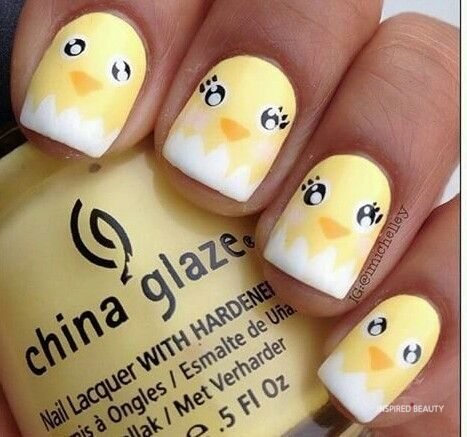 12. Baby Chicken in half broken eggs, similar to the one above except this is just bottom of the egg. This is quite easy to do and yellow totally screams spring.
Easter nails are not just joyous but absolutely fun. Painting eggs and making Easter baskets are fun but you can also dazzle with some new fresh nail art for the Easter weekend.
These are some of the best design we collected but dont worry we got you if your . Some nails you will need professional but we have a few that you can do at home even as beginner.
---
Pastel Easter Nails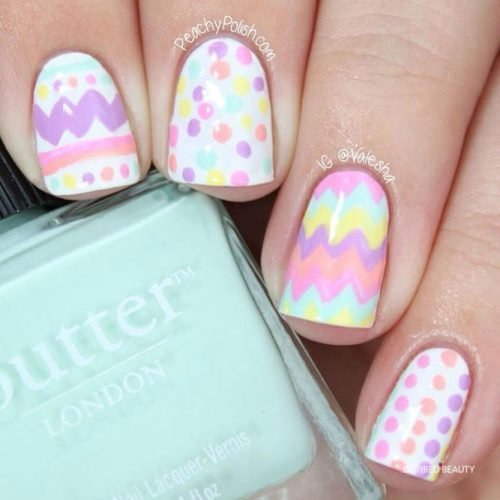 13. Turning your nails into pastel Easter eggs. Choose white or light color polish for base then draw bright patterns such as zigzag , lines and dots. Use multi bright colors to make your manicure even more special.
Cute Easter Nail Art Designs
14. Pastel Geometric Design easy to do with nail stamps. Choose light colors and create beautiful ombre art with your nails. This is a lovely design for you if you want to enjoy Easter but without looking too much like Easter. So this is a lovely choice for spring nails idea as well.
15. This other design features multi color design Zigzag on two nails, full color on 2 nails and making the other silver black nails. The silver black egg makes the design unique.
Via IG @peachypolish @modnails
Easter nails design
16. This bright Pastel nail with egg design and flowers is perfect combination for spring feeling. Adding festive mood with
17. Ombre nail ideas for long nails. Using pastel colors to recreate the speckled egg decorations on the base.
18. This third design in this row is the most easy. There are a few tutorial online that shows you how to create ombre nails and its super easy. These are good for beginners and looks nice on short or long nails.
sources: @nailsbyjema @puro.nails via Instagram @_hannahweir_
Pastel Patterns are just too adorable and Easter is a great time to let your nails enjoy them. You can mix any colors best to keep base white.
Polka Dots Easter Nail Designs
19 . Polko dots for Easter, paint little cute bunny on your middle and index fingers, then decorate your other nails with polka dots.
20. Another design newbie friendly , solid base of purple and blue. Use your dot tool to create donts on middle finger and just the tip of your index and little finger.
21. Another way to enjoy spring without much fuss is to make your nail design easy. Doesn't get much easier than these polka dots design. Get some of your favorite colors and recreate this look.
Polka Dots Easter Nails
Cute pink & white nails
22. This is our next pick, its pretty and the design is super adorable. All nails are uniquely designs. One finger has pink and white polka dots, pink design with 3d bow, then Easter bunny, the other with a basket and the big finger with a pink bow. This mani is cute and fun, enjoying all your Easter likes in this design.
All patterns and lines
23. This other design start with pink base and use bright colors to create patterns such as lines, dots and waves. The colors are beautiful and compliment each other well.
Bunny and basket Easter nails ideas
24. Chocolate bunny on pink base, the focus is on the bunny design and the finger with the basket design. This Easter nail design colors compliment each other and we love the touch of chocolate.
You notice here there are many ways to rock your favorite polka dot colors. From simple painting dots to more technical designs. You can add Easter holiday symbol to your Polka dots nail designs for more holiday mood.
Spring and Easter nails
Easter and spring nails are fun for all even the little ones could enjoy painting nails. Painting eggs and making Easter baskets are fun but you can also dazzle with some new fresh nail art for the Easter weekend.
These are some of the best design we collected but dont worry we got you if your . Some nails you will need professional but we have a few that you can do at home even as beginner.
---
Easter Egg Nails
25. This design is lovely the speckled egg design and the little chick with bow makes it even more special. The chick seems as if its coming out of the egg already dolled up. You can get bow like this from local store or online.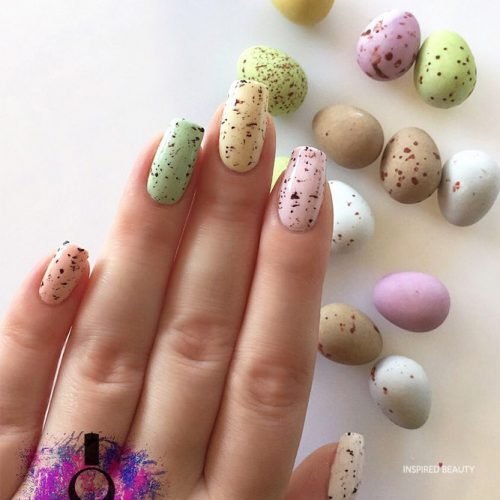 26. Speckled eggs design are just a nice way to enjoy the Easter and this other design is super easy. All you need is your bright pastel color, black or grey polish as well and fan brush to create this design.
See Also
27. This other design we choose is this classic Easter manicure.
sources: @karissabianco @mynails_forfun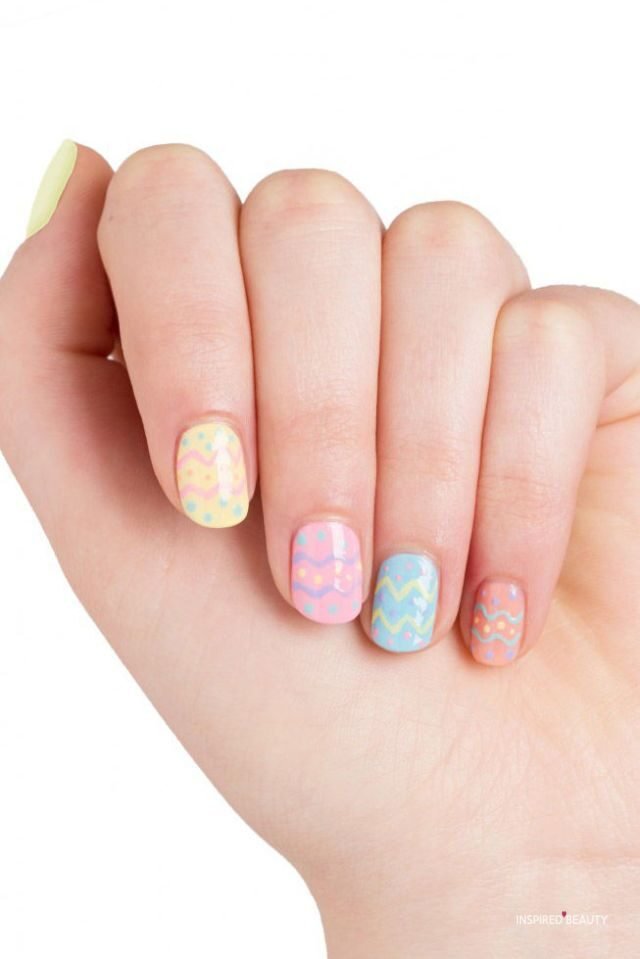 28. Why settle for one color when you can enjoy a bunch. Another classic design Easter egg basket. Waves and dots with bright pretty colors.
Purple is cute
29. Purple and the ring finger has the design.
Pretty and unique
30. This is for those who has lots of ideas and really just cant decide. This creative idea is worth trying if you want to just enjoy all the Easter design.
If you love the Easter surprise I recommend these designs. They are not only cute but easy to do. You can buy stickers to make your life even more easier.
Spring Flowers Nail Designs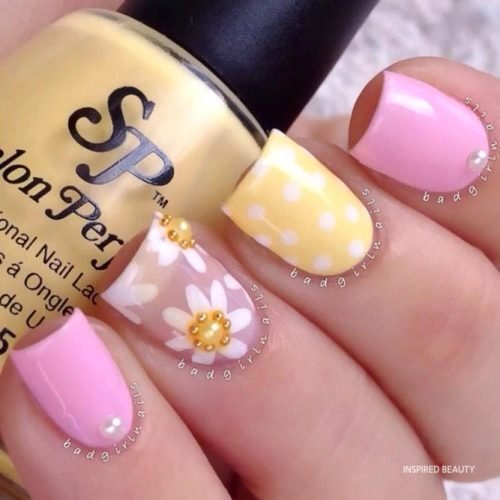 31. If you want to embrace Easter without the classic Easter symbols this is for you. This design will get you right into spring , bright yellow, pink and white.
Pink flowers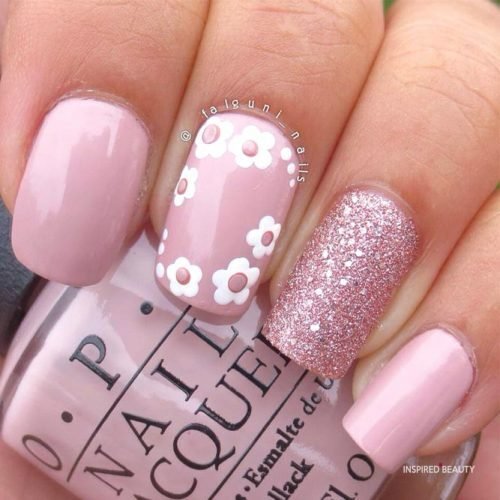 32. Pink lover then embrace it with your pink nature nails. With little sparkle and some white polish you create a lovely design.
Blue pink nails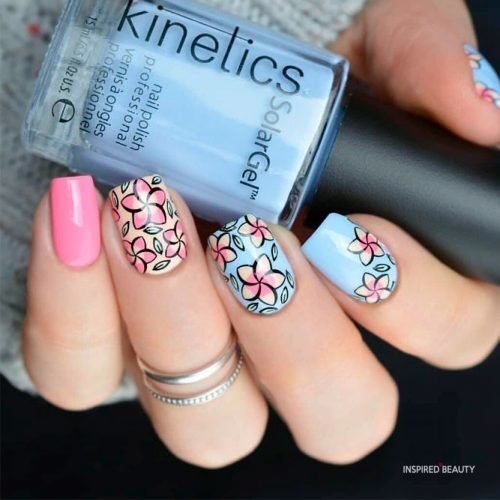 33. This other pick is if you do not want to focus on the classic Easter nail designs but want to add some spring vibe to your manicure.
IG : @badgirlfeatures , Fb nailsbyfalguni @aissandra
Wine Red and Pink Nails
34. This design gives the spring feeling but with elegant look for party.
Floral Easter nails design
35. This next one the colors really compliment each others. We love this one and its just your spring and summer fit.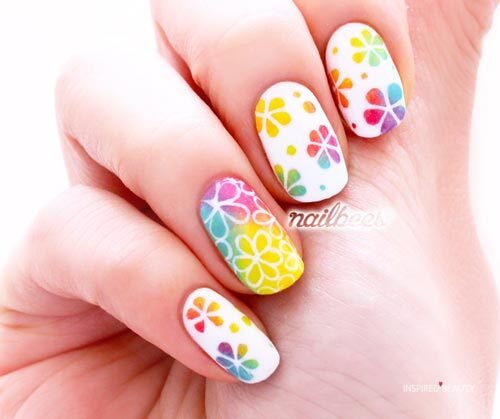 36. Another amazing design for bright vibrant personality. This Easter nail design is bright and pretty. This will give you free happy mood.
Nail Credit: @aissandra
Not sure what design you want try out these simple designs with flowers. They have a girly look and great for spring nail trend.
---
Candy Glitter Easter Nails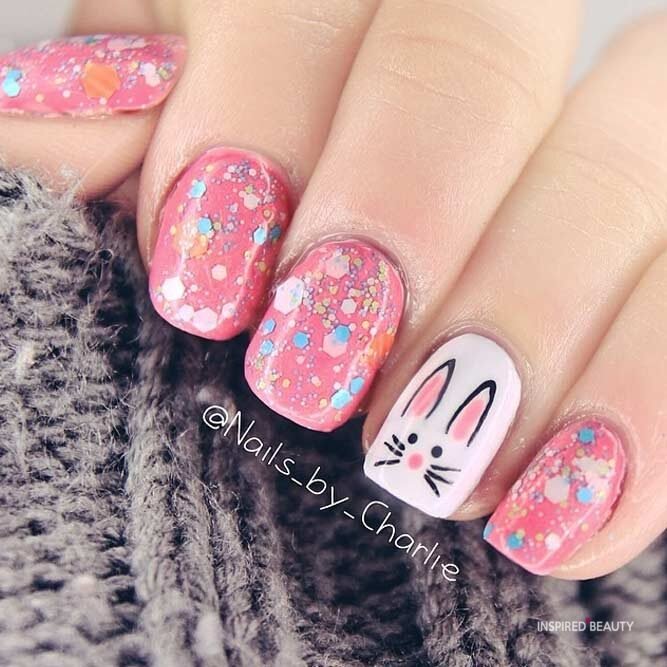 37. This next Easter nail we love because it dont seems to hard. Most the nails are pink and the ring finger has the bunny design. Its adorable and the fact you just need to paint just the bunny face makes it easier.
38. This is like candy, dont this give you the feeling of candy?.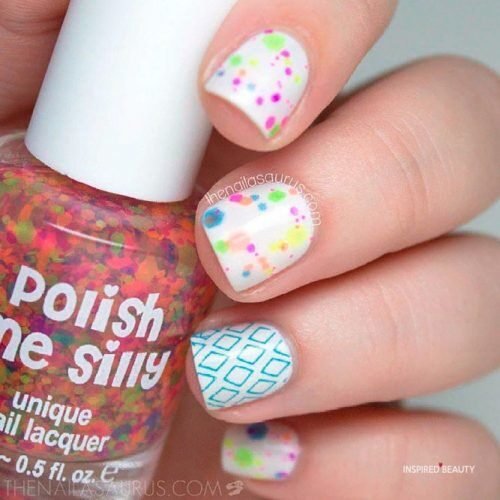 39. This other Easter nail pick is pretty. These will go with any spring/ summer outfit.
Speckled Eggs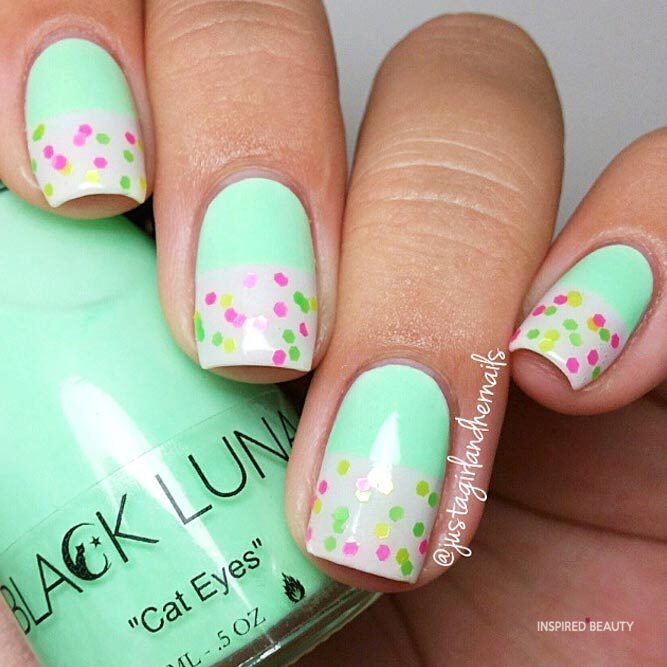 41. Light lime green and multi color on the top creating a speckled look like you get on sundaes.
White speckled Easter / Summer Nails eggs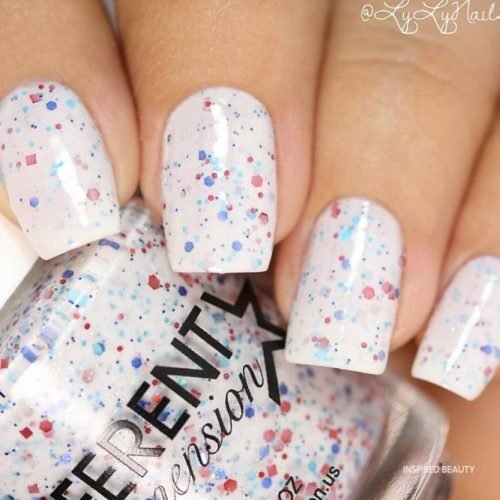 40. This is another easy design, choose the base color and use your fan brush to create speckles and enjoy your look.
To achieve this bright color apply the polish more than once. These are the most easy design from you can do at home. Another great thing about these Easter nail designs are how fast they are to do, so if you are short on time these are worth trying. These nails are perfect last minute nails.