12 Short hairstyle for a wedding that is just Stunning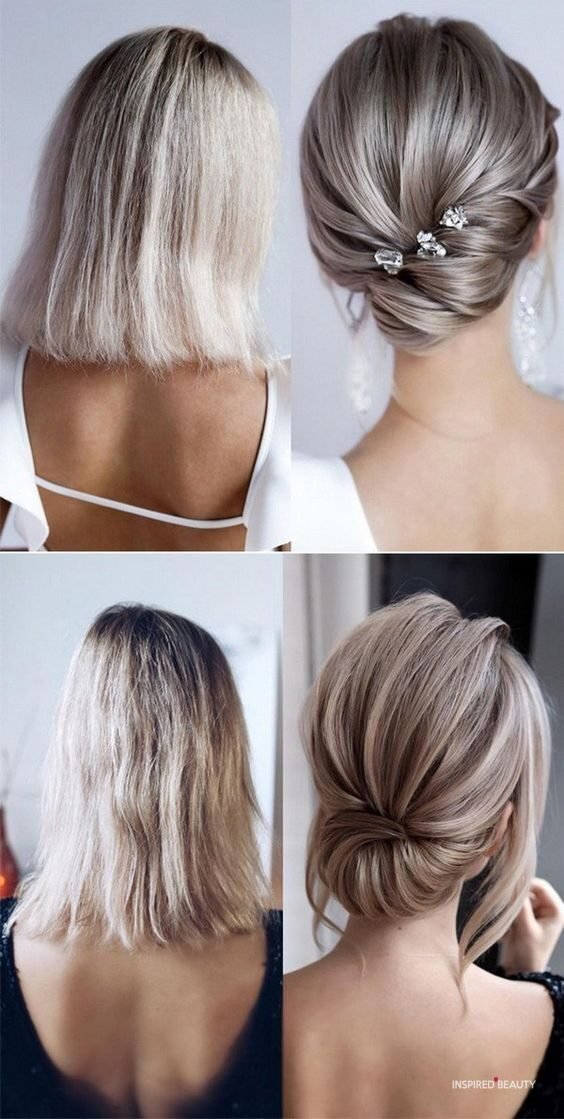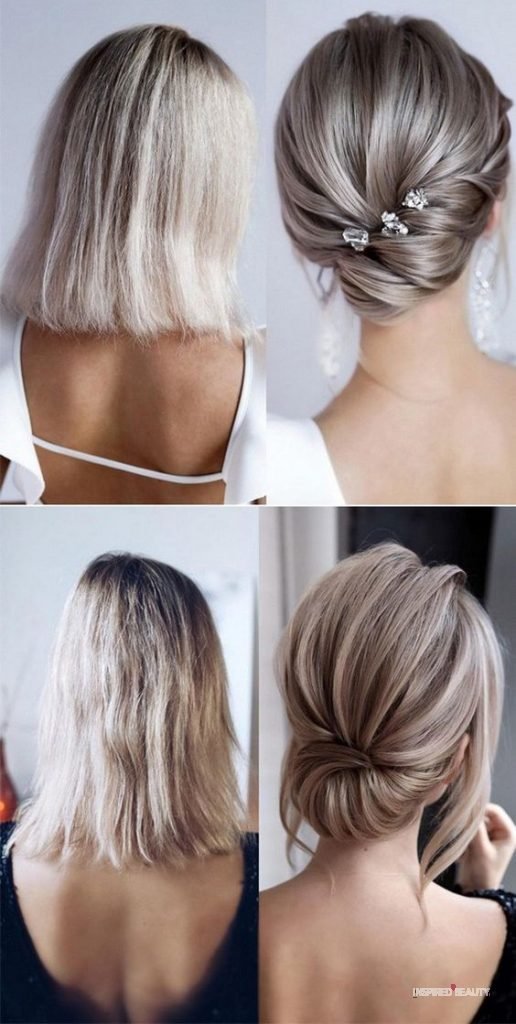 On your big day, your hair shouldn't be an issue. Looking for a short hairstyle for wedding that is sweet and romantic. With short hair, there are many options today and can look just as romantic and chic as long hair. These short hair hairstyle for wedding
1 . Headband and Short hairstyle for a wedding
A headband with sparkle will give your hair a little extra something. A beautiful flat twist on short hair is gorgeous with the right accessories.
source: Instagram Via @hairandprayer_clg
*Disclosure: This post may contain affiliate links, which means that I get a commission if you decide to make a purchase through my links, at no cost to you. Read my disclaimer for more info.
2 . Low Messy Chignon for Short Hair
This hairdo will compliment your attire and suitable for barn wedding. Add some flowers to the low chingnon for a more romantic look. This hairstyle is
3.
Image source
4 . Wedding hair down with Bobby Pins
This short chic hairstyle will look stunning for your wedding or any formal attire. The large metallic hair pins adds such elegance to the look, here are some hair pins that I think are totally gorgeous.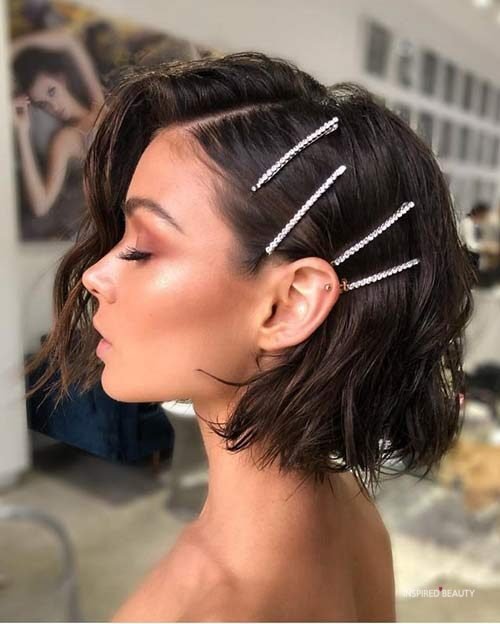 5 . Simple Gorgeous hairstyle for short hair
Short hair style for wedding dont have to be overthink. The curls create a softer look and with beautiful accessories to let it really shine. This gorgeous wedding hairstyle will look perfect for beach.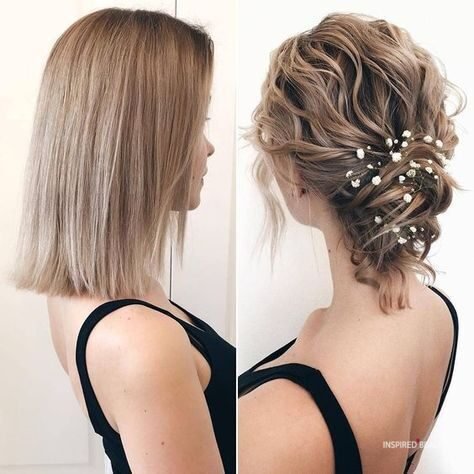 6. Short hair style for wedding updo idea
The dark roots and light blonde ends is what we love most. Letting out a few hair at the front enhance this bun that could be just simple. You can add accessories to the side such as flower pins but tbh its perfect just like this.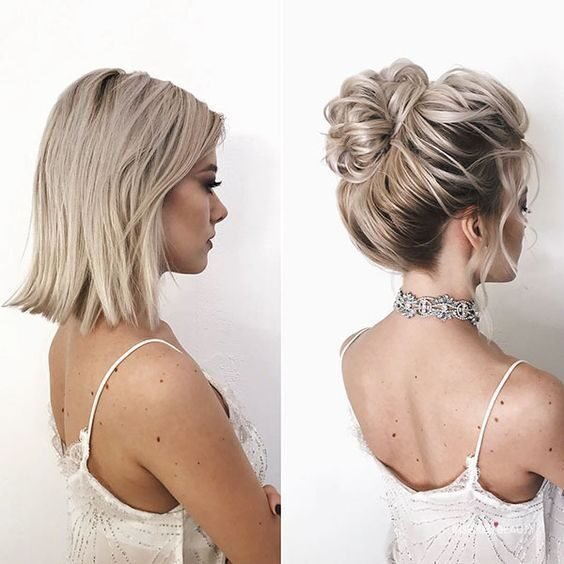 ---
7 . Curly updo for short hair
Sometimes having curly hair it seems not a lot of wedding option hairstyle but that is not the case. Wedding is where curly hair shines best like this one. Soft curls and twist with bobby pins.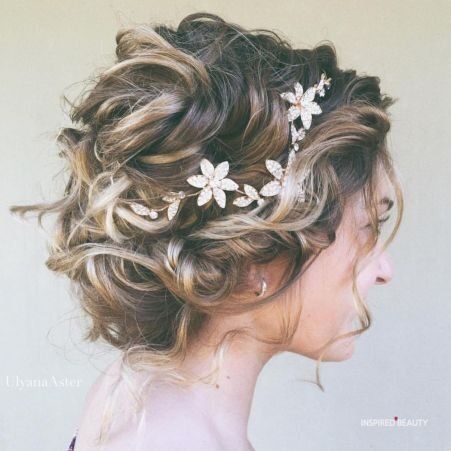 8 . Pixie With Bejeweled Headband
This pixie look is sophisticated with a lovely rhinestone headband. Clean neural makeup and you are good.
Image from here
See Also
9 .
Looking for an effortless look? then this style is for you part the hair, and loosely twist and tuck to the back as you go.
---
10 . Buzz Cut Short hairstyle for wedding
Hair is your problem? well, no hair no problem. Chic low cut hair, create texture with an edge control you can shop it Amazon.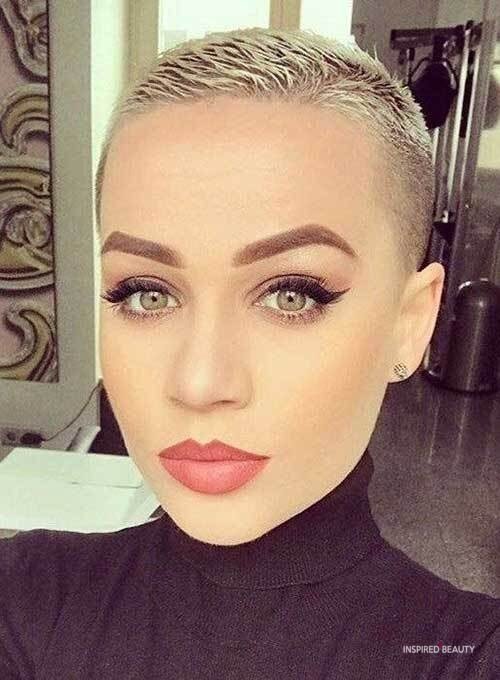 11. Short shave side hair
If you normally sport edgy shave side hair add some curls to the top and the right accessories. Not a lot of option but this will look beautiful and formal.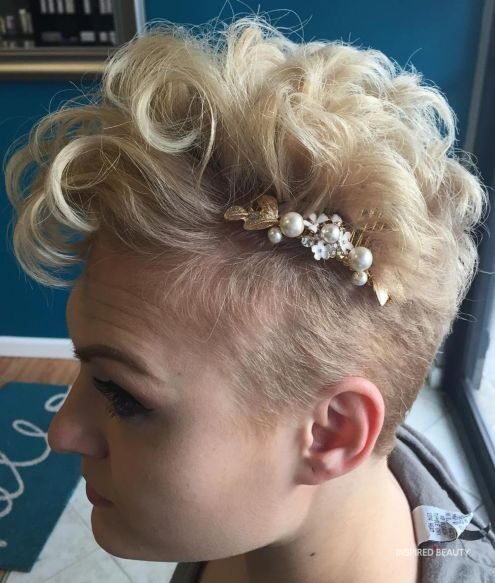 12. Go natural with short hair
Using your natural texture to have a beautiful playful look on your wedding day. Because coils hair shrinks a lot it sometimes appear shorter than it is in its natural form. Instead of straightening your hair just let your hair go natural with all the shrinkage and curl patterns that comes with it. This hairstyle will be even more special because its who you naturally are. Keep the hair out of your face with an headband that is flattering.