20 Halloween Wedding Cake Ideas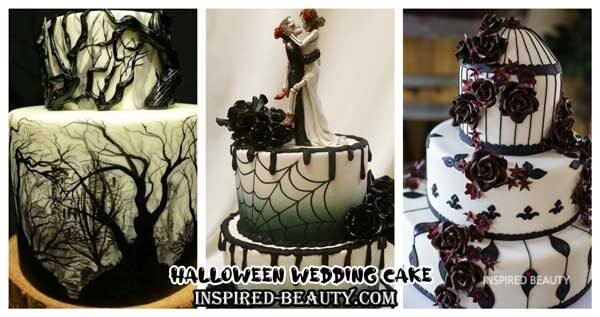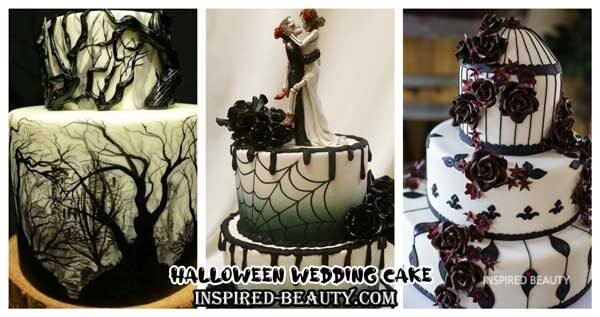 It's fair that when most of us picture Halloween, we don't always picture a romantic event. Afterall how could it be beautiful and so scary at the same time? Some of the most epic love stories are not only about romance, they are about similar interest and passion. You may find passion in a country wedding, beach theme, and others may want to have their wedding during the spooky season and fancy gothic wedding cake. We have gathered twenty Halloween wedding cake ideas for those couples who want to embrace their quirkier side and have a Halloween wedding.
Just like any wedding, Halloween theme weddings can be expressed in a wide number of ways. Its a season to be really creative and have fun with the colors that are associate with it. Popular Halloween colors such as Orange, black, purple, and vamp red. It is really cool to have your wedding be the way you picture no matter the season. The wedding cake is a big part of the wedding it really pulls it together. Couples get the opportunity to really express their wedding theme through their cake.
What makes Halloween wedding cakes so interesting is the part where you don't have to hold back. Your wedding cake can be as weird as you want it to be. After all, it is your wedding and you should make it as fun as you like.
*Disclosure: This post may contain affiliate links, which means that I get a commission if you decide to make a purchase through my links, at no cost to you. Read my disclaimer for more info.
Some of the wedding cakes on our list are gory and others just really weird, scary, and even elegant. What you can't say about these cakes is that they are forgettable. Your guest will have a hard time forgetting your wedding cake.
Dark and Deserted Woodland Halloween Wedding Cake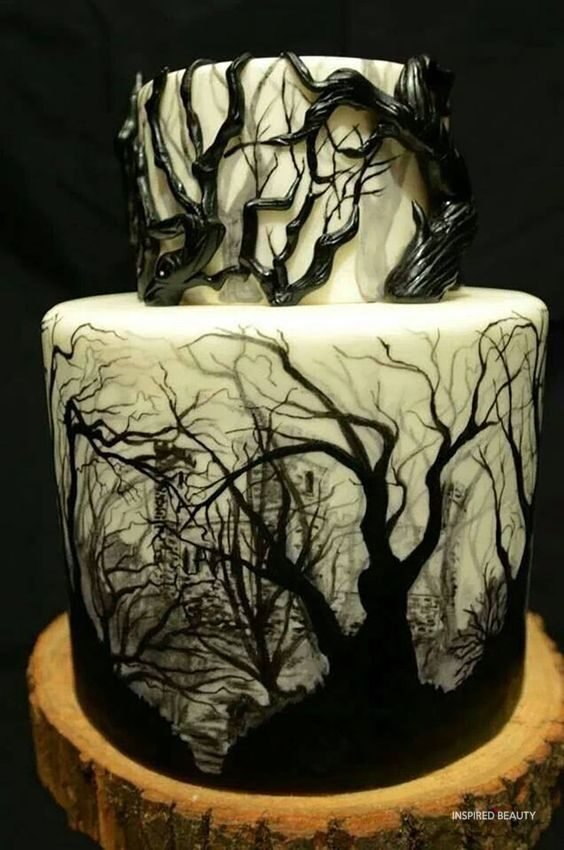 Nothing says scary than dark wood, this cake has two-tier and large enough for your guest to enjoy.
Elegant Halloween Wedding Cake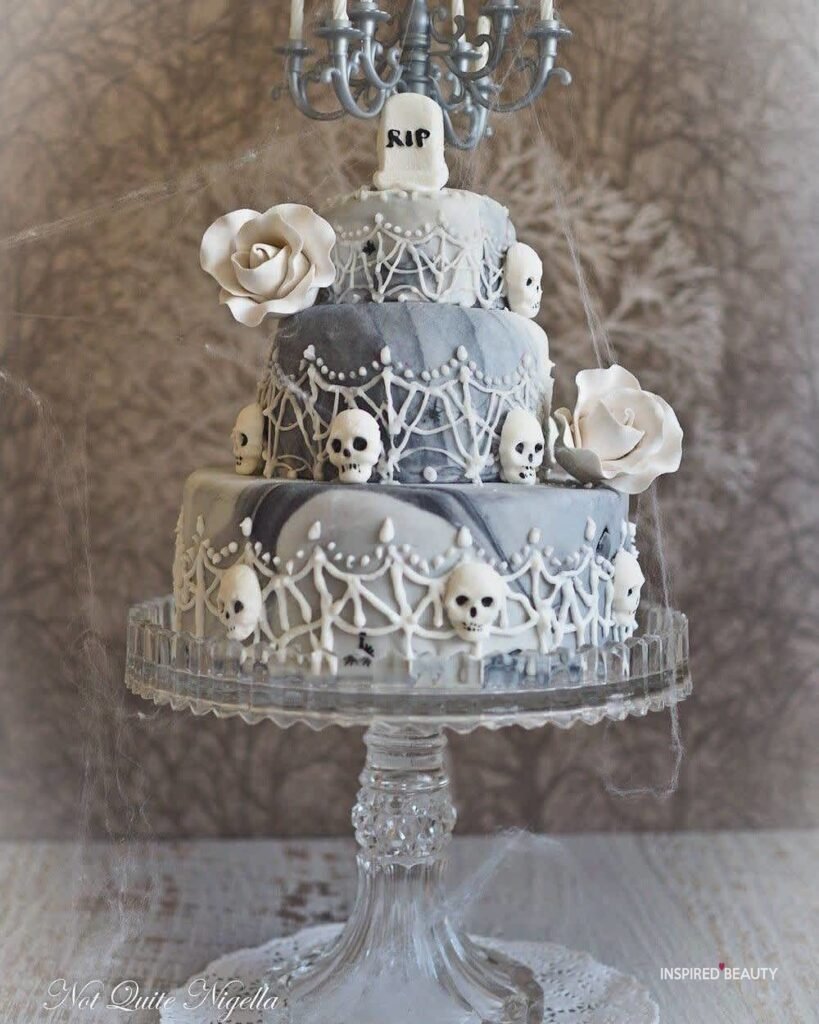 Image: fall_holiday_treats/Instagram
This cake is a perfect example of how elegant and delicate you wedding can still be. Although the skulls and spider webs says Halloween the color says bridal.
Black upside down Fall Wedding Cake
Image : Inspired beauty
When it comes to black cake its not the first choice for wedding but look how beautiful this one is. This is elegant and the flower decoration elevates the look while sticking to the theme.
Black & Red Creepy Cake Idea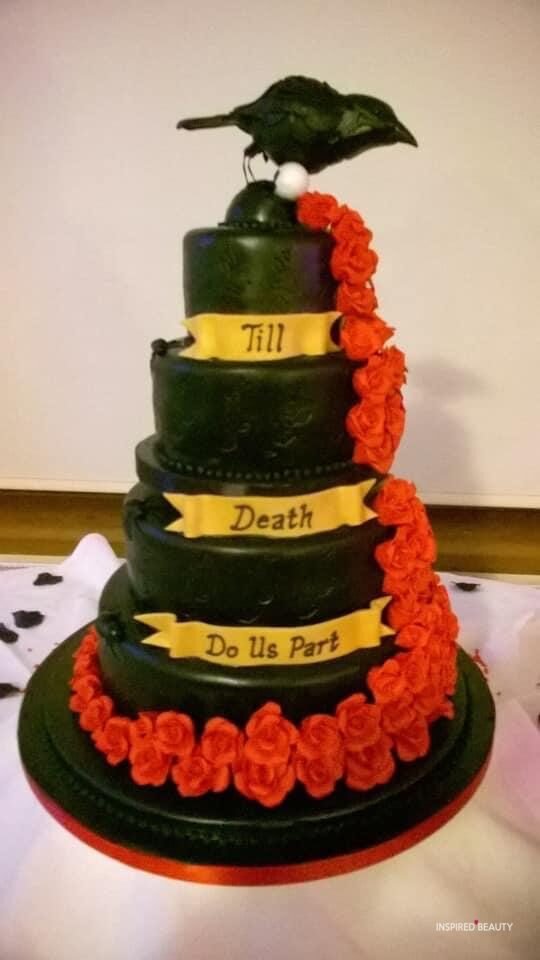 This four tier wedding cake is dramatic but subtle in many ways. The black crow as wedding topping is super creepy and just right for the spooky wedding.
Gothic Wedding Cake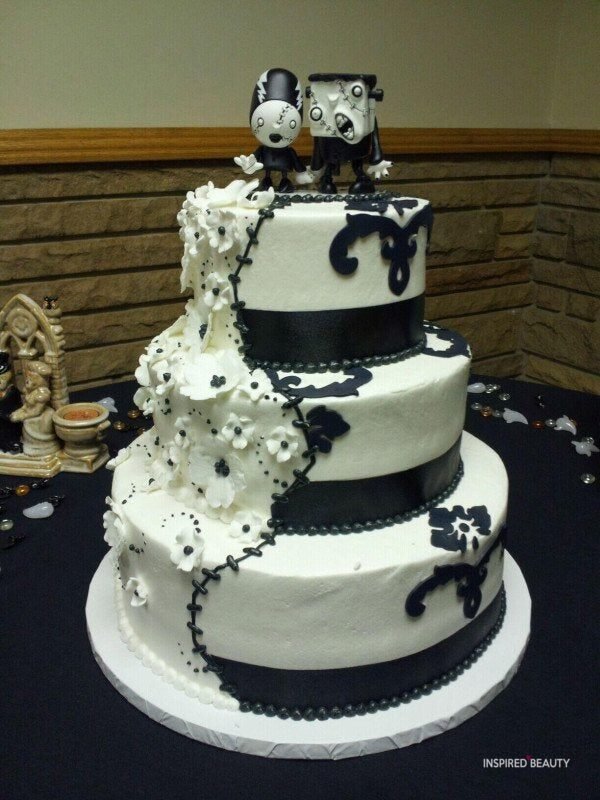 Image: u/nessbake
Black and white theme with cool toppers. This Halloween wedding cake is elegant and would do great for any wedding if toppers should be removed.
Skull Topper Halloween Wedding Cakes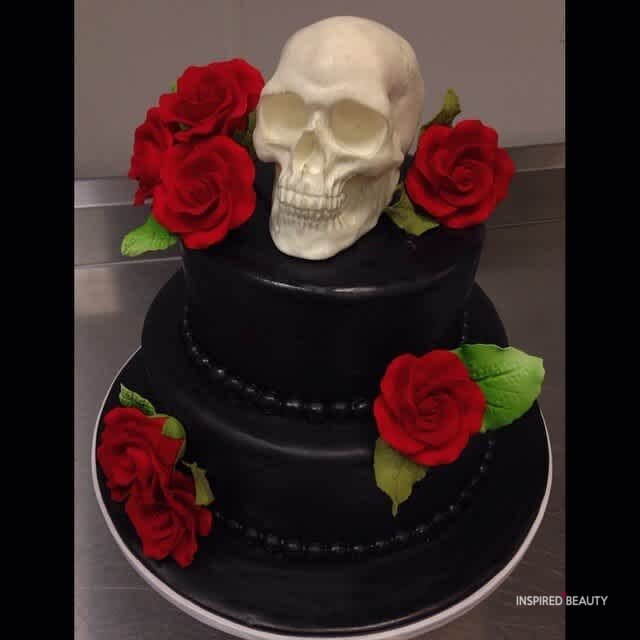 Pinterest.com
This all black cake may seem relatively simple but it sure stands out. The red Rose and white skill gives it enough to creep you out.
Gothic Wedding Cake
The Halloween season fits well with a Gothic wedding cake. Four tier blue and black cake and black moon topper to give more creep.
Bird Cage Elegant Cake For Fall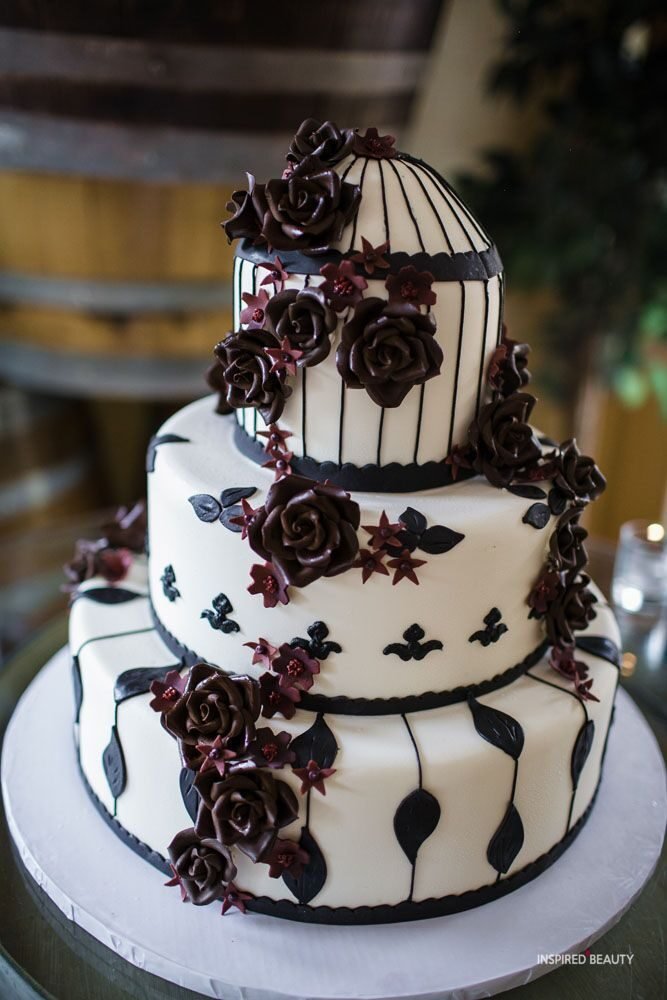 This wedding cake doesn't look all terrifying but still does give some creepy vibe. The cake looks elegant and creative to compliment your wedding in the best light.
Sugar Skull Halloween Wedding Cake Toppers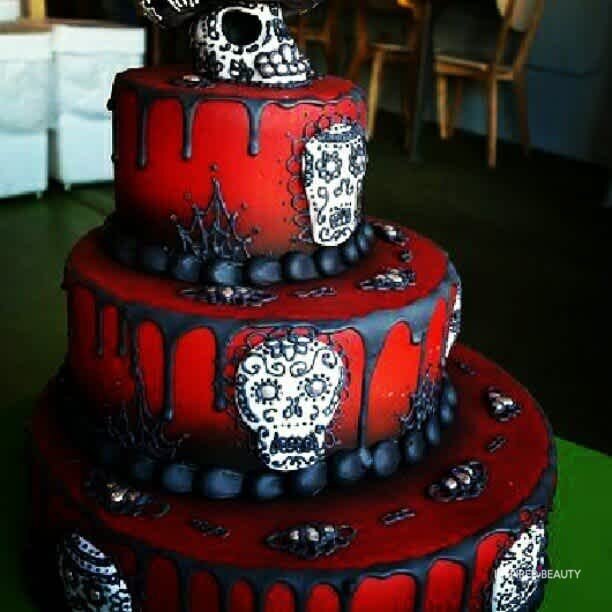 littlemiss_scareall/Instagram
This cake is not forgettable if you want a striking glory cake. The skull, the dark drip design looks amazing.
CupCakes Halloween Cake
This is another fun reason to have an Halloween wedding. All the cupcake toppers look great, rat bats, r i p . ghost and pumpkin that are all Halloween staples.
Haunted House Halloween Wedding Cake Toppers
Halloween wedding cake toppers that are really extravagant. This shows how much passion this couple has about creating something memorable.
Bone Wedding Toppers
lasvegascustomcakes/Instagram
The color is a classic color for Halloween, the skeleton toppers are a fun addition to the whole look. This will put a smile on your guest's faces.
Pumpkin and Hay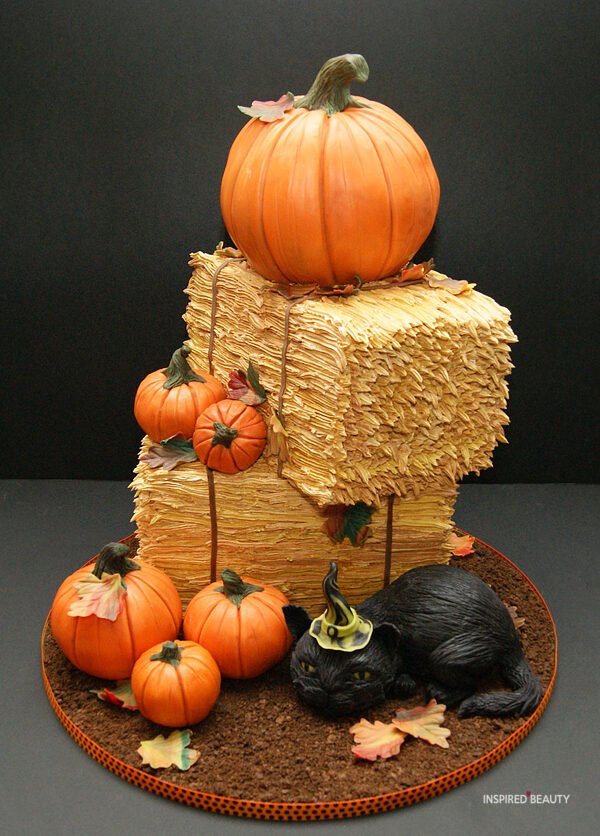 For a true fall wedding with just enough creep, this cake is unique and memorable. If you are having a barn Halloween wedding this creepy cake with a black cat will fit right in.
Night Before Christmas Spooky Cake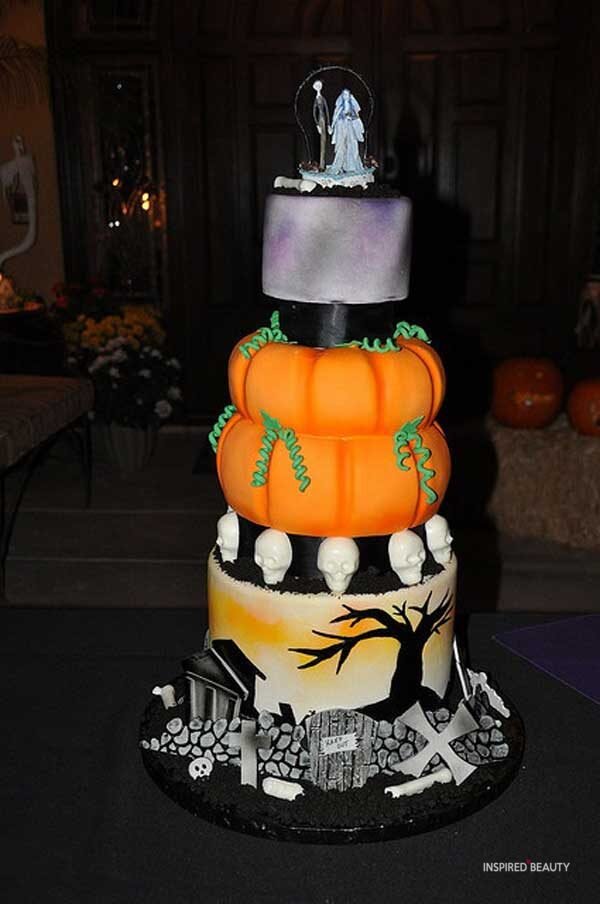 Going for a movie theme to get interesting ideas to create a cake around. We all need inspiration from somewhere so why not check out some of your favorite Halloween movies to create the perfect Halloween wedding cake.
Skeleton Halloween CakeToppers
For a elegant Halloween wedding cake this is simple, the skeleton toppers and black flowers add enough spooky to it.
Maleficent Inspired Cake
If you happen to be a Disney fan, well this maleficent cake can be your Halloween wedding inspiration. This is an interesting take on the cake the artist was recreating disney characters as cake and its yummy.
Pretty Cake For Halloween Wedding
This cake is one of my favorites, it's really pretty but still has characteristics for Halloween. If you want a minimalist version of your Halloween wedding cake then this is a good option.
Unique five-tier Cake
Although this cake is gloomy it is pretty and has good enough creep elements to stand out.
Dark and Lovely Fall Wedding Cake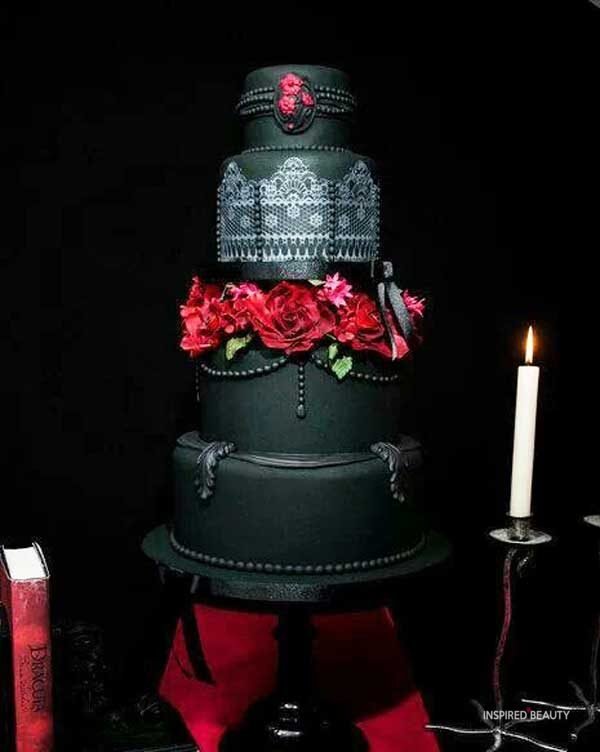 For a fall wedding, this vampire cake looks spectacular. Gothic-inspired wedding cake.
Full Red and Black Halloween Wedding Cake Ideas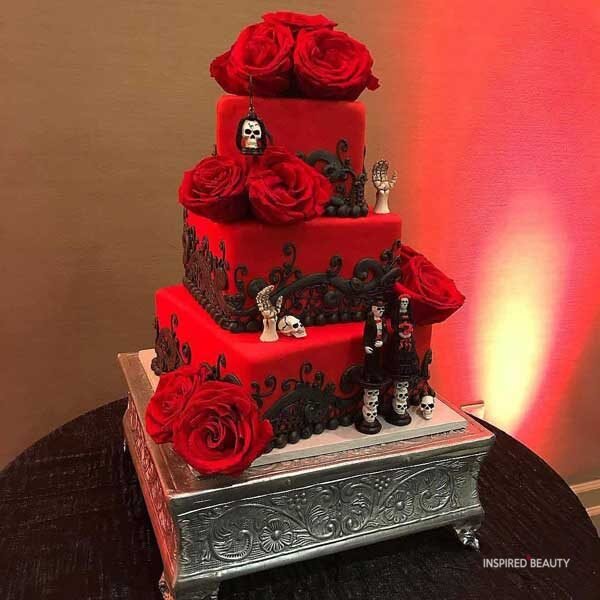 Red and black are popular among anti-valentine but for Halloween its pretty cool. The color is bright red and decorates with black.
Elegant Halloween Wedding Cake
The cake stand is decorate in fruits that are matching the color of Halloween. The cake if for couples who isn't afraid to be perky. Gray color is a bit unique as well.
PIN FOR LATER