10 Bat Makeup Ideas for Halloween 2020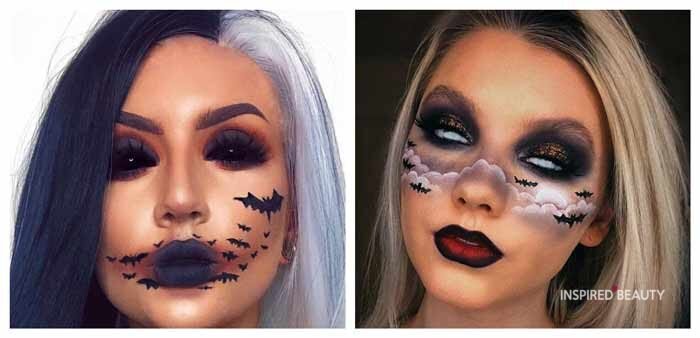 Halloween is not fully cover until you have some bat decor right? So how about adding this to your makeup? Its a classic creepy Halloween look and adding it to your makeup may just be the amount of creep you need. To show you how awesome bat makeup can be for Halloween. These bats look creepy, glam, and interesting so take a look at all the 10 ideas we have gathered.
1 . Creepy Makeup on the Lips
If you want a very scary and creepy look this is the one. Her eyes are very dark with black eye shadow and bat design from her lips. Her lips are painted black with bats surrounded it as if they are leaving from out her mouth. The black and white hair is also perfect for the whole look to come together.
2. Cute Bat Makeup For Halloween
This bat makeup look has two of the trendy elements of this year. The cloud makeup that goes well with bat idea in the night. With dark gold eye shadow and black eyeliner make a dramatic look. The White contact lenses really take the look to another level also red one should make just as much impact.
*Disclosure: This post may contain affiliate links, which means that I get a commission if you decide to make a purchase through my links, at no cost to you. Read my disclaimer for more info.
3 . Adorable Bat Makeup For Halloween
The next makeup look is cute and adorable will require very steady hands to copy this look. This look is cleaned face and not as scary perfect for girls who want to embrace Halloween but still cute.
4. Unique Bat Makeup Ideas
Want to mix with your favorite color pink. This unique look is not like the rest on this list, large bat painted on her face with drip effect. This is also a nice design for a vamp look, its creepy but at a minimum.
Image from : instagram.com/sareeeb
5 . Bat Cave
The illusion of this look makes it one to remember because it is so cool. Her face was painted all over with bad and the one on the eye really stands out. With her eyes closed, it looks like a dark bat cave. Also, I have to mention how good the bat eyeliner is.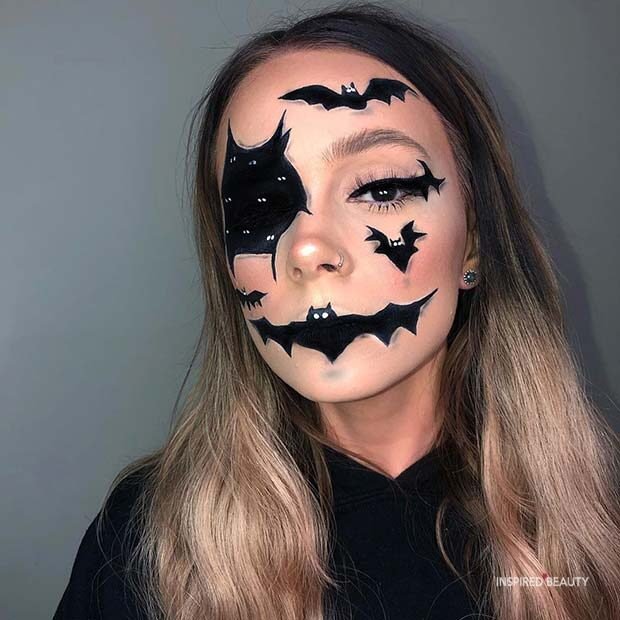 Source: @amynicolemakeup
6 . Bat Makeup for Kids
Bat makeup for kids with her adorable smile anything would look great. Large bat across the eyebrow and forehead. We love this style and its a nice way to let the kids join in on the fun.
7 . Simple Bat Makeup Ideas
This next bat makeup for Halloween has a cool illusion. The lips and around it has bat , the eyeliners are painted with bat wings design. This create a sense as if the bat was originally on her lips before the flew away and leave that nude spot on her lips.
Source: @kerena_ve
8 . Cute Creepy Illusion
This is one of my favorite, love the blush under the bat under the eyes. This is quite a cute design with pink eye shadow and pink lips. The illusion is painted on her body, its like she open her skin and the bats are flying out. This is not as easy as some of the others but there are a few tutorials online.
See Also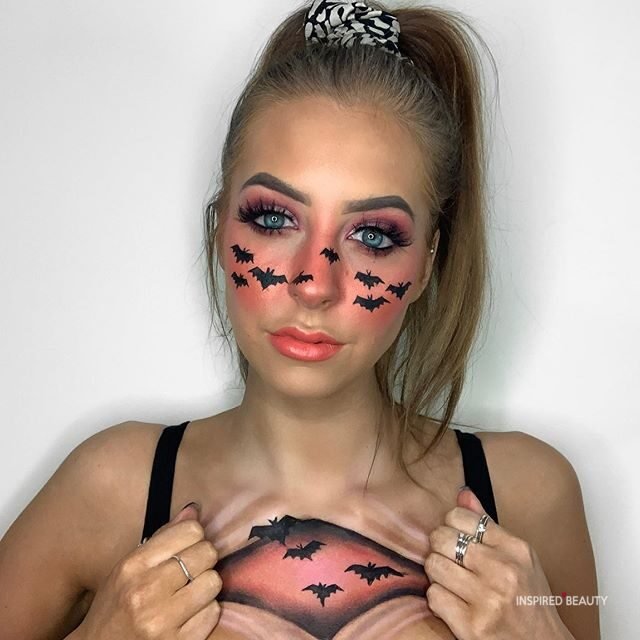 Source: @meganrobinsonmakeup
9. Glam Bat Makeup Ideas
The next bat makeup for halloween, is a stylish glam batman design. This look covers the eyes with golden eye shadow that remind me a bit of wonder women color.
@ag.aartist
10 . Bright Vibrant Bat Makup
Products used: Banana shade color pallete ,  fit me concealer shade 110,  fit me powder, chocolate bronzer, Here
If you like these bat makeup ideas check out clown makeup ideas for halloween.