10 Haircuts For Petite Women To Stand Out From a Crowd
Like clothes that can change how we appear haircuts can do just the same. Haircuts can even make us appear taller. Like most beauty things it's not easy to find that perfect haircut that matches our style, personality, and our features.
Sometimes even petite girls need a little help with beauty tips. You may want to appear taller to stand out among any crowd.
1 . Bob
selenagomez / Instagram, © khloekardashian / Instagram
*Disclosure: This post may contain affiliate links, which means that I get a commission if you decide to make a purchase through my links, at no cost to you. Read my disclaimer for more info.
The bob is a classic hairstyle that has been around for ages. This style will look good on every woman. When in doubt get a bob cut.
2 . Lob
Lucy Hale / Chrissy Teigen
If you are a petite women and want to try the lob go for it. Its perfect for women with round face, it helps to show off our feature and your chin.
3 . Pixie hair
Turner-Smith / Meagan Good
Women and girls can cut their hair in a pixie. You can wear your pixie with bangs, textured long or short.
4 . Mullet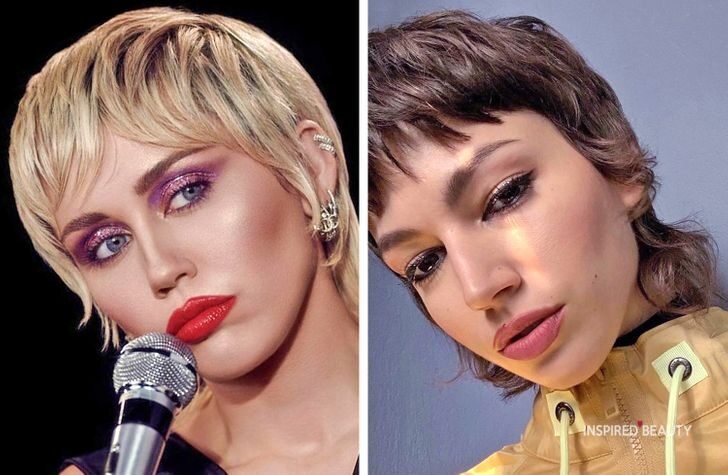 Miley Cyrus / Úrsula Corberó
This style has made a comeback since late, who would have though this look could be stylish. The cut is short in the front and longer in the back, that can help you appear taller.
Jenna Dewan / Riawna Capri
This length hair is for women who dont really go for short hair. The style barely ouch your shoulder but its long enough that you can still do a nice ponytail.
6 . Garçon haircut
The Garçon is another classic style on this list that has made a spot back in our hearts. This hairstyle is usually best for a triangular shape face but would look good on any woman of any age. Petite women can rock this style plus it show off the nape, it can make you appear taller while giving you a youthful vibe.
7 . A-line pixie
unknown / Ruby Rose
Another way to style your pixie cut its a bit longer than the classic pixie. This is a sophisticated look that is traditionally style with a side part. If you are petite wand want to try this softer version of the original pixie go ahead.
8 . Chest length Hairstyles
If you cant decide you can choose to stay in between, your hair is neither too long or too short. Simple enjoy the best of both worlds a lot of room to play around with it.
9 . Long and Straight
If you dont like short hair you can get a clean long short cut. This type of hair makes petite girls appear taller, just go silky straight.
Stacked haircut looks great when done correctly. Long in the front and shorter in the back.