41 Cute Autumn/Fall Nail Designs To Try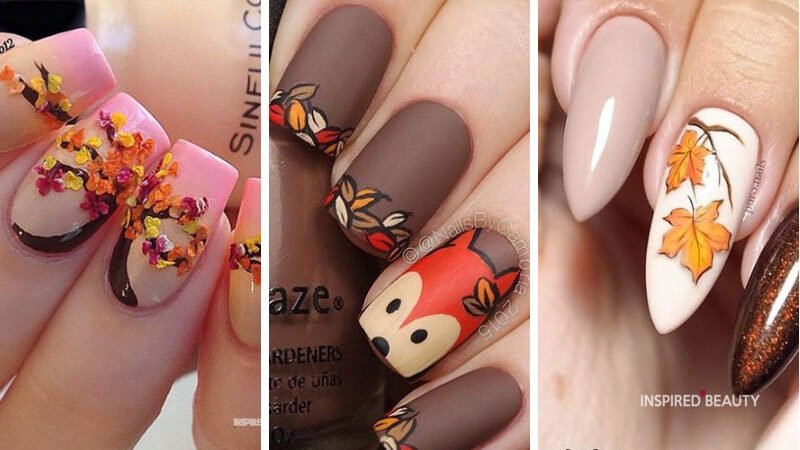 You are here to change up your nail designs now that summer is over to fall nail designs. Summer is great but cute autumn nail designs are also fun and this season has lots of events. The designs below cover all aspects of fall, Thanksgiving, pumpkin designs and if you need Halloween inspiration you can also read our post here for Halloween nail designs. We have some of the best autumn/fall nails to make your day better.
We have gathered some of the best trends for the season, whether is falling leaves, ombre shades, brilliant shades of colors.
FYI post Contain affiliate link
Pretty Fall Nail Designs With Orange
If you want an autumn/fall nails design not only pretty but also has a cute autumn nail design color theme. Your finger skill has to be neat when recreating this design. Need brown nail polish to create the base, you then need orange and cream color all the popular Autumn color.
Pretty short nail design
You can't have too much glitter, there is no such thing! Let the spark out with this easy design. If you are looking for a design to go well with short nails this is quite pretty. Fall is for everyone and these are great for short nails lovers. Orange is the main color, style with chunky gold glitter, other finger fine gold sparkle, and maple leaf.
Maple leaf autumn/fall nails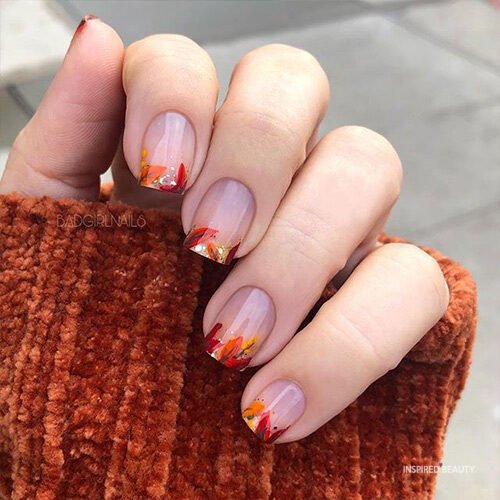 Choosing a pretty design with minimalist pattern to look effortlessly stylish this fall season. Paint your nails with clear polish or really light pink polish, then paint multi-color leaves on your fingertips. The design looks fairly easy as the artist adds more interesting patterns on the tip.
badgirlnails via Instagram , nailsbycambria via Instagram paintboxnails
---
Orange nails design
Burn orange nails design is nothing new to fall and another example of how you can wear it. This design is beginner-friendly, your nail will look great like this if you have to do it yourself. DIY nail for everyone to try and impress the people around you. Your nails will look cute like this, short or long nails.
Autumn Nail Ideas with Bright Orange
When bright orange is not enough the black-purple steps in to elevate the look. The design has three stand out elements to embrace the season. Adding silver glitter ombre to the black-purple is quite pretty.
Coral Orange Autumn Nail Ideas
Not a dramatic design but has a touch of sweetness no one cant deny. All finishers are painted with light orange, the design is done on the ring finger of a tree. The tree is changing leaves and they falling and have multi-color. Pretty fall design for short nail, another for the short nail community.
---
---
Autumn friendly color orange in different shades. Show off your yellow orange, burnt orange nails with a mix of black or gold to create an interesting look.
Stained Glass Nail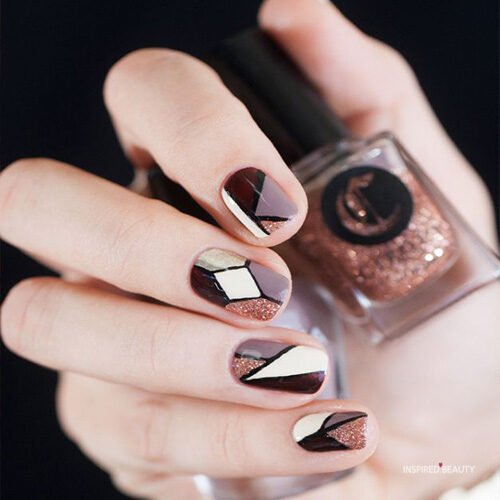 The nail trend with fall color compliment each other well. Stained glass design in right now just as you thought what else to add to autumn. It's your turn to try out this nail trend and what time is better than the present! You can choose to switch things up and add some other colors you like more.
Half Moon Fall Nail Design
This design is totally DIY which makes it perfect for if you can't afford to go to a stylist. The colors are pretty and will make a great transition nail into winter. The design is gold at the bottom of the nail, red, and gold glitter french tip. Personally I would probably switch out the red to a darker shade red and make it my own.
Cute Autumn Nail Designs Almond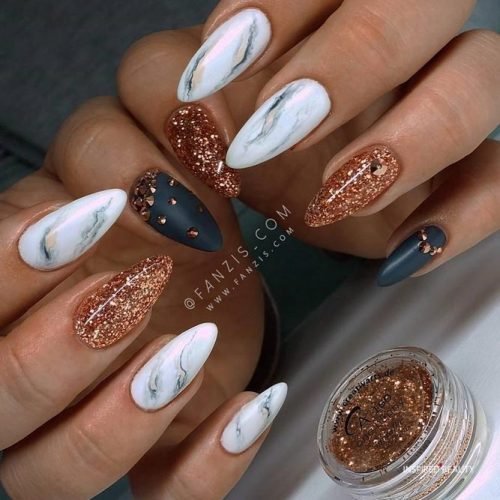 Almond nails are a popular trend for medium and long nails. They have a certain sophistication to them and this elegant fall nail design is proof. The colors are beautiful and will suit any fall outfit.
Design are mauve glitter, marble nail and black nail art with studs.
---
Cute Autumn Nail Designs Matte
Accent nail design, double the fun with this cute autumn nail designs. The green matte nails really compliment the two middle fingers design. You will really be embracing the fun side of autumn with this design.
---
Burgundy Fall Nail Designs
Burgundy is a popular red shade for fall so its no surprise how stunning this design is. It really helps the white and glitter in the middle to stands out. Burgandy has a touch of elegance and a fall stand-alone color. It would look great in solid burgundy on all fingers as well.
Coffin Fall Nails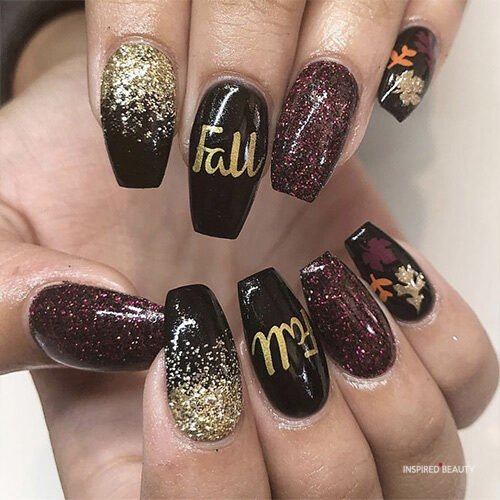 @DIGITSNAILSBYANNA
Fall ideas for nails with actual fall text is so pretty too. All the color combination on this is stunning, black, gold glitter, purple glitter with maple leaves on a small finger. This pretty design is a little more complicated than some of the others on this list. If you are not the best at the hand-painting design I have listed the decal below.
---
Weather is creating half moon, stained glass or having brown sparkle on almond nail. Mix and match color accent, a bit of everything because who can blame you its hard to decide on one.
Pretty Autumn Nail Designs with Leaves
All fingers with delicate tone colors white and nude polish one being the exception. You don't need a lot of colors or bright colors to have your nails stand out. Long almond shape nail art that looks elegant and fun.
Hand-painted fall nail design
Beautiful pink theme ombre base polish. French tip with gradient pink, brown tree with pastel embellishments creating leaves. This cute autumn nail design is something we can wear to a family event such has thanksgiving.
Autum leaves Mani
Nails that look great can instantly boost your confidence. Gel purple nail, matte purple with maple leaf and gold glitter nail on small finger. This is like water drops on leaves, like early morning dew. This is pretty and will make any women feel good getting a fresh looking manicure.
If you are looking for thanksgiving nails designs inspiration for your family gathering take a look at these.
@nails__lena @mari_nails_art @solo_nails
---
Leaves Simple Nail Art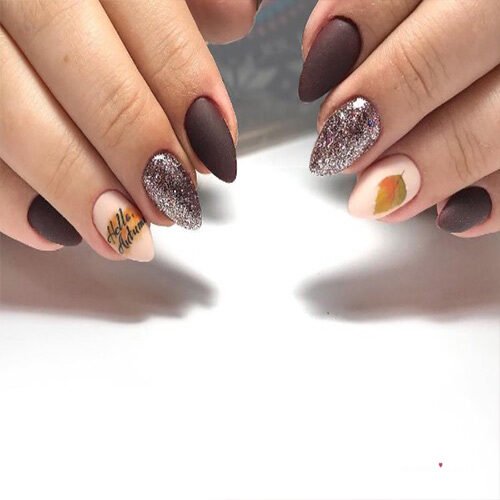 There are times when you want to express the season with simple thing as the glitter and leaves. You can choose different colors to mix and match this design. Try new trends instead of using dark burgundy could maybe go with pink.
Cute Autumn Nail Designs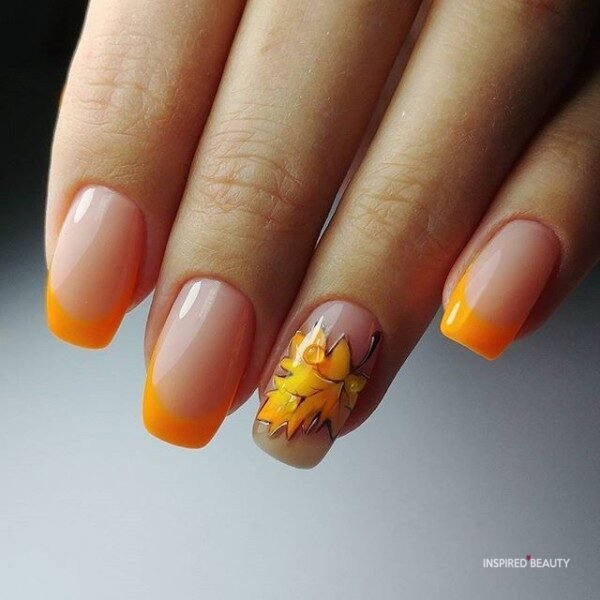 A modern take on the french tip, with bright color, yellow leaf with a dark outline. This nail design is elegant and delicate, quite cute. Bright yellowish-orange french tip, accent nail with the yellow maple leaf, and black outline.
Leaf Fall Ideas For Nails
Leafy design that will require a steady hand to recreate this fall ideas for nails. This is pretty and stunning with light yellow base. The multi color leaves on every finger to create this amazing design.
One of the main characteristics of the autumn season is the falling leaves. This is one of the things I look most forward to seeing and the changes of leaves colors. One of the best way to express your seasonal spirit is with your manicure.
Shop Autumn leaves Stamping Plates for $15.50
---
Simple Autum Fall Nail Designs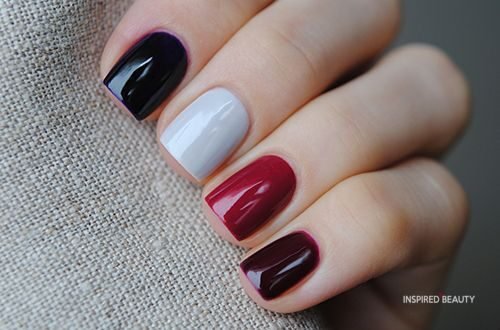 Choosing a multi-color nail design is welcome and looks great. Fall ideas for nails don't have to be tightly traditional. You can mix things up and still embrace the season, cute short nail art.
Soft Pastel Autumn Nail Ideas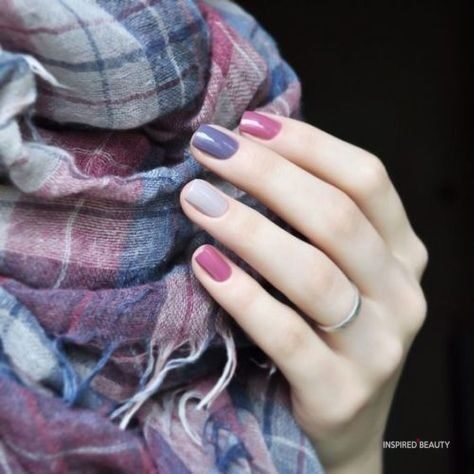 Want something with light colors? these multi color nail design on different fingers. Although autumn is usually about dark colors dont mean your Mani has to stick to that rule. If you like light colors there are no reason to not go for a design like this. DIY on short nail match with light color outfit.
Pretty Light Color Gel Nails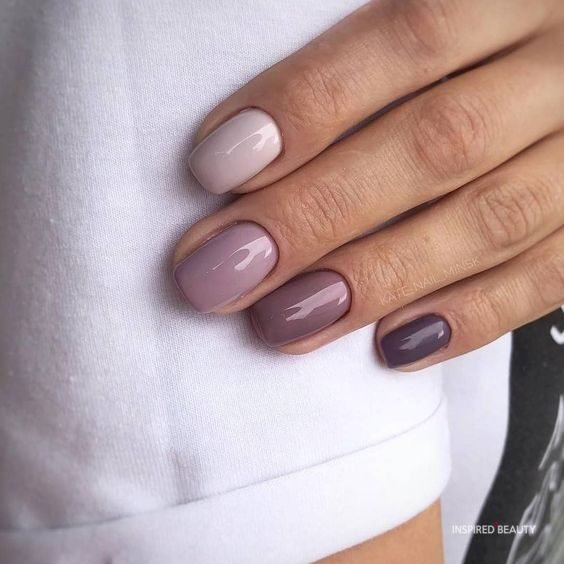 Want something pretty, try these cute autumn nail designs for your next mani. The design looks good on both short or long nails. The ombre color from the index finger starts with the lightest color getting darker on each finger. You can also try the design in orange shades.
---
wedding Autumn Nail Colors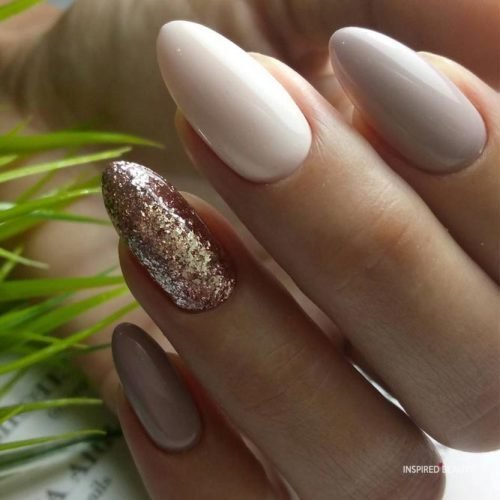 If you are getting married during this season and wants to still go with traditional color. The season is orangy more but if you are a traditional woman then here is pretty nail art to use.
Short Fall Nail Designs
This nail art is easy all is needed is to not be messy. Clean up the nail polish around your fingers. The design is dark burgundy red and can have a light coat of glitter.
Glossy Green Almond Nail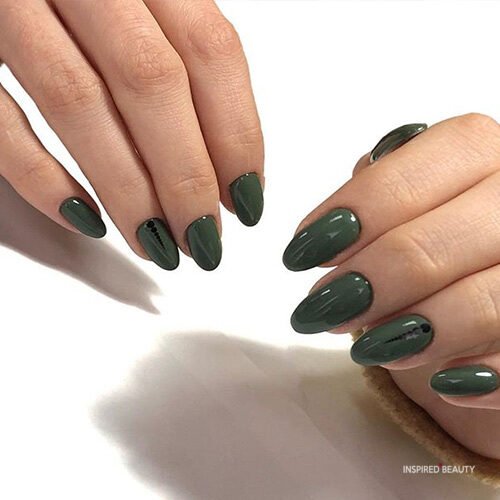 The simple design just needs the right fall nail polish, and you can mix and match colors or go with just one awesome color on all nails.
Cool Fall Nail Colors
Fall has so many colors to choose from, dark color sits well in fall, warm drinks, and dark clothes. This black shellac nail is fantastic looking. Rock this black and white design this fall. The main design is on the ring finger, creating an accent broken glass effect.
---
Perfect Ombre Fall Ideas For Nails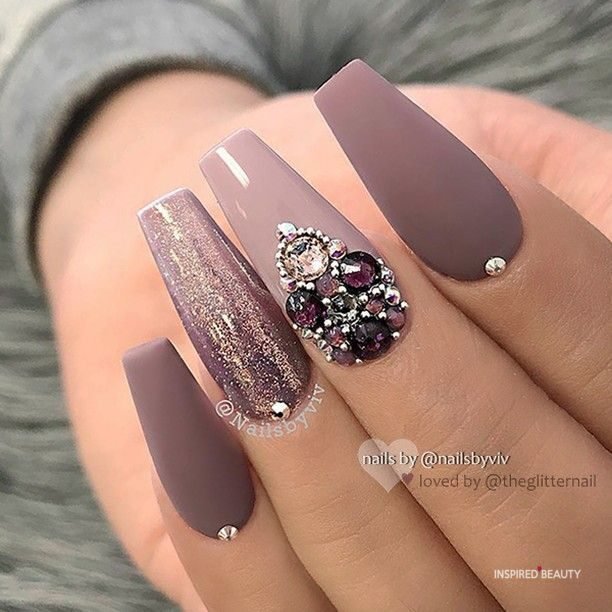 Coffin nail is one of the hottest nail shape trend right now. Mixing and recreating his ombre look. The stand out nail has mix colors of rhinestones of purple and silver stones.
---
Mix And Match Fall Nail Design In Burgandy, Orange, And Mellow Yellow Colors
This design has three fingers in dark burgundy red which is a big color for fall nail designs. I don't think this color will be going away anytime soon so it's safe to say let us give it a try. The color is warm, regal, and elegant and looks good on any length. Paint all your nails burgundy except the ring and middle finger. Paint your mid finger in bright orange and ring finger ins mellow yellow with brown tree and leaves falling.
Scarecrow Orange Nails Design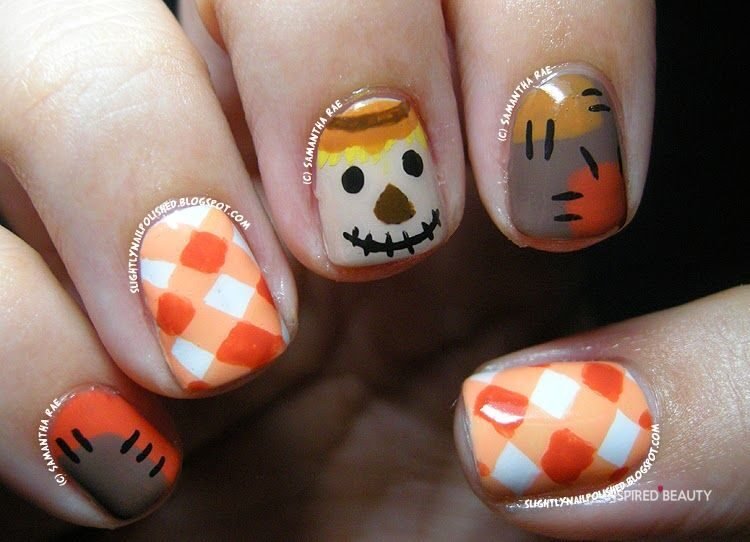 This short nail design is pretty but I am sure would look good on longer nails as well. Plaid design as traditional turkey day colors as well. This pretty patchwork scarecrow design has both a creepy and cute look.
---
Pumpkin Orange Nails Design
If you want to ensure your fingers get a notice all autumn season, give this look a try. The bright orange combines with the pumpkin nail on the ring finger is almost impossible to miss. This look is not the most dramatic but it is cute and stylish.
Stunning Autumn Nail Ideas
One of the most stunning autumn nail ideas is the representation of joy. This design is colorful and fun with lots of chunky multi-color glitter. The middle finger has a "hello autumn" text design in brown color, the ring finger has a warm drink latte.
Blue Nails With Bright Leaves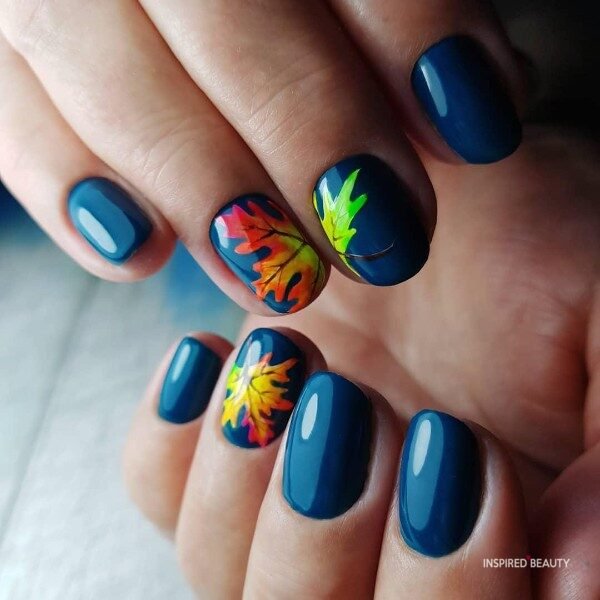 Image: @just.nails.ekb
Fall ideas for nails can in blue, when fall hits paint your nails in navy blue and add some bright color leaves to it. The look will be something special like this, beautiful outcome.
Glitter Orange and Olive Green
Orange and olive color polish painted on your nails. This color combination is pretty amazing, with painted leaves outline on the two center fingers, finish up with glitter. The sparkle is almost like dew on the spider web.
Cute Autumn Nail Designs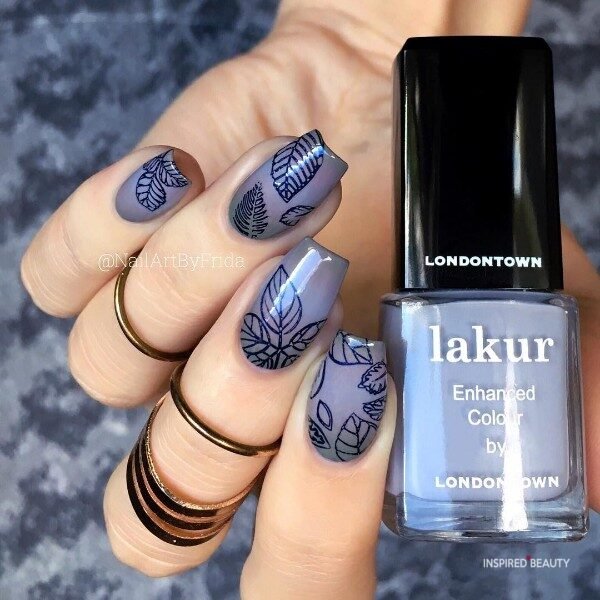 The ombre effect on this nail is quite pretty. This is a elegant look and perfect for traditional office.
Stilleto Cute fall nail designs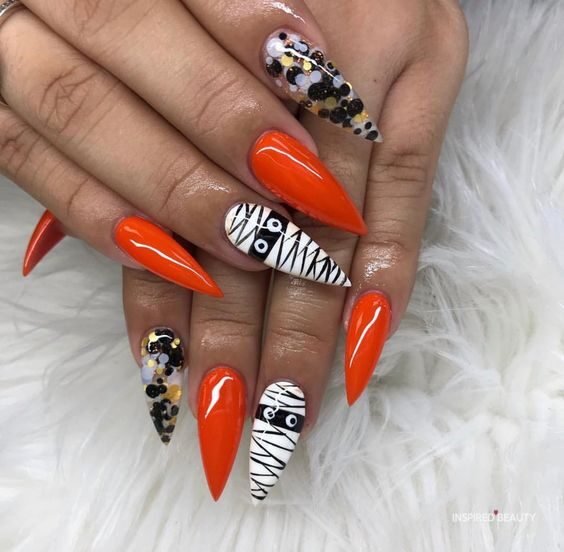 Bring out the scary season on your nails with this mummy pattern design. Want a bit of everything to follow some of the tips from this artist. Choosing a stiletto shape is perfect for the design as well, its one of the most trending nail shape at the moment.
Pretty Nail Art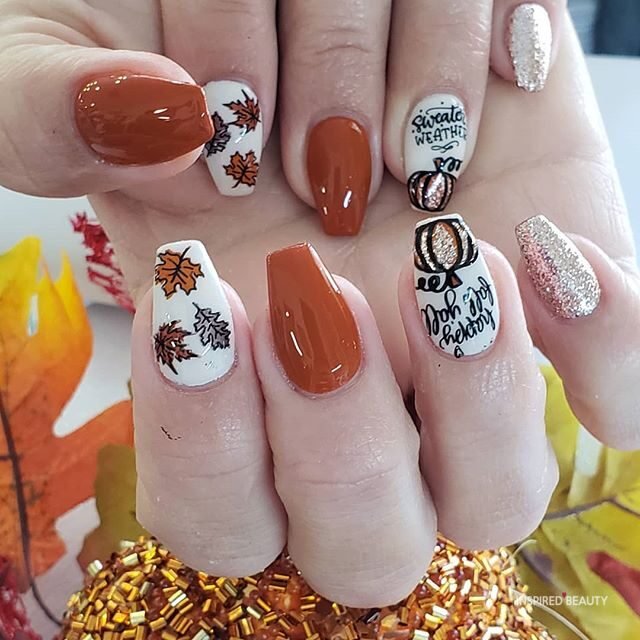 This nail is another beautiful design done on medium length nails. This design would only look good on medium or long nails as it gives more space to create design. Burn orange colors on two finger, silver glitter on pinky finger, and autumn design done on the other two with leaves and text.
Moon and Stars Nail Art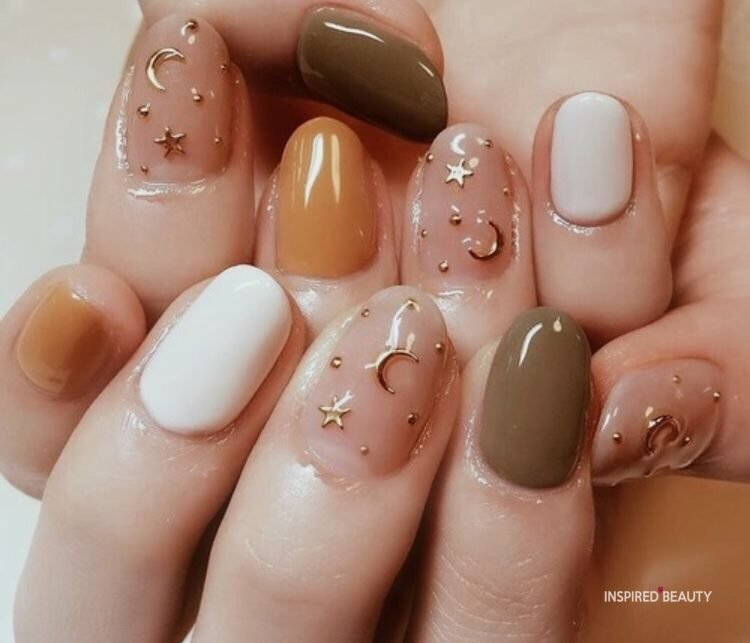 With fun autumn/fall nails colors plus the bonus of moon and stars embellishment. Done in gel nail polish which makes it look even more pretty. The moons embellishment really gives the design a fairy look that also fits in the season.
---
Short Multi-Colored Fall Nail Art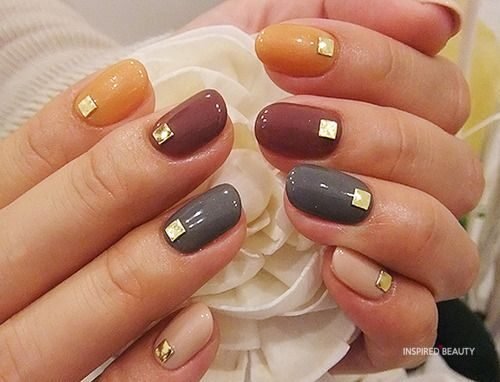 Multi color nail is not going anywhere, for now, its one of the easiest nail designs. Gather your nail polish that compliments each other and start painting each finger with a different color. When it comes to autumn/fall nails you have many colors so why choose one.
Long Autumn Nail Ideas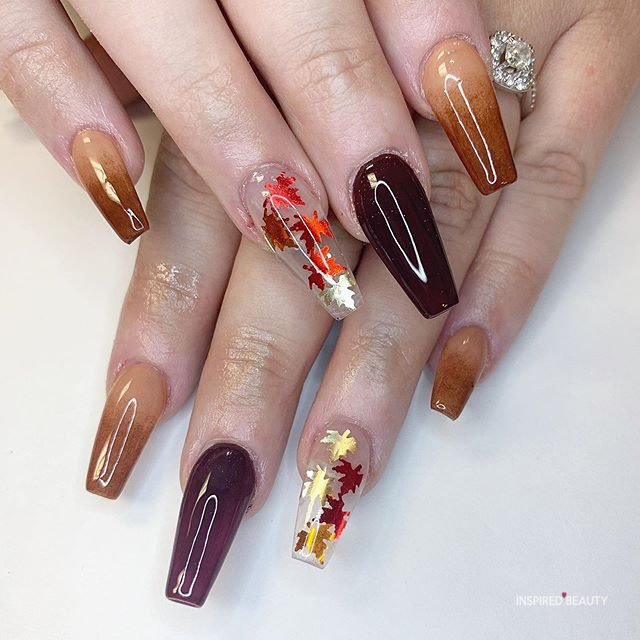 Autumn/fall nails
Want your nails to stand out at the family gatherings, parties? This Design will do just that for you. If the ombre is not enough, the purple and the clear nail with different color maple leaves may. The nail art has all the color that fits the season this manicure is ready for you to try it out.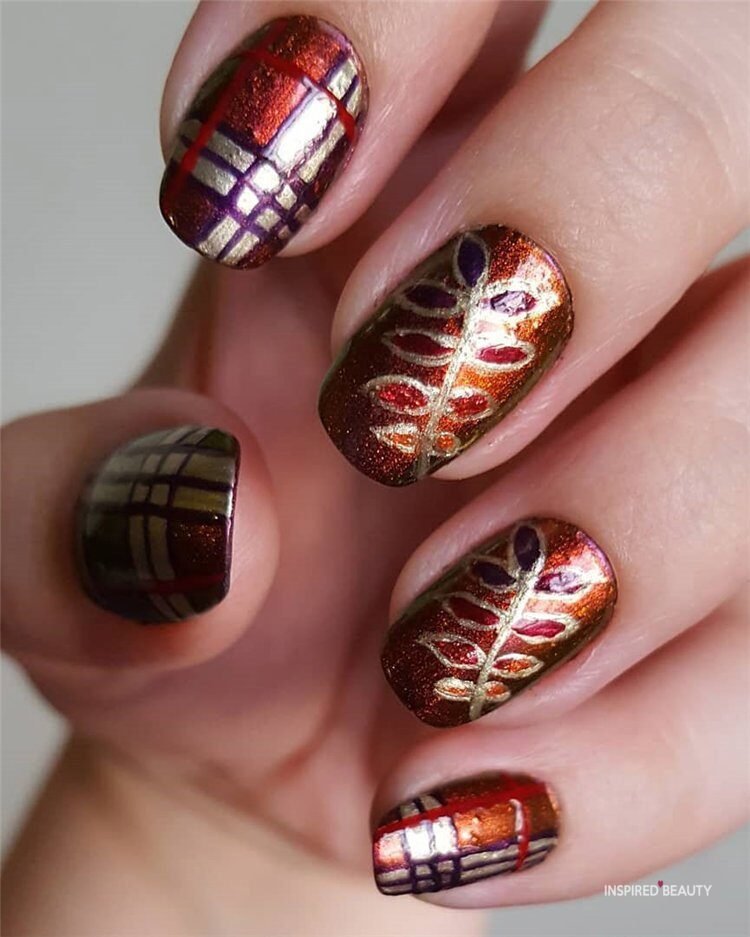 The pattern is like a gift wrapping paper, its quite lovely. Its quite pretty multiple patterns also. The flowers the plaid in short and long design. Recreating this design means
Diamon Shape Fall Ideas For Nails
Credit photo: mdollasnails via Instagram
This is a must-try fall nail art, fresh bright colors in different shades of orange. You don't need a lot of colors to make your nails stand out. This design was done with only three main colors.
Pretty Fox autumn/fall nails
If you want a fall animal, this fox will get the attention. Fox has a natural Autumn look this manicure will do just that.
Stunning Fall Ideas For Nails
Another fantastic autumn nail design, you dont have to be dark this season. Key to a good manicure is to have a clean finish and soft cuticles.
---
You want to show off your new designs and here are eight cool fall nail arts. You can change up your style every week if you feel the need. Try out this design and let me know on my fb, Pinterest, or IG page. These designs will surely get you in the autumn spirit.