16 Cute Thanksgiving Nails Designs That Will Inspire You 2020
Cute thanksgiving nails designs are just as interesting and exciting as Halloween nails. Bring the feast on your mani this thanksgiving with these interesting ideas. With your nails, you can express a particular event. Fall nails are good in general but want to change things up for thanksgiving. Take your nails to another level with some creativity that is not for everyday wear. You will enjoy these small changes nothing said you have to stick to one theme.
Pumpkin Thanksgiving nails
Design your nails with drawn on pumpkin, adding this element to your design makes it more thanksgiving and fall.
Get these Thanksgiving nail decals
*Disclosure: This post may contain affiliate links, which means that I get a commission if you decide to make a purchase through my links, at no cost to you. Read my disclaimer for more info.
Three fingers are done in solid orange, other two center finger in cream base with orange pumpkin design. The colors are bright and joyful and fits well in the season.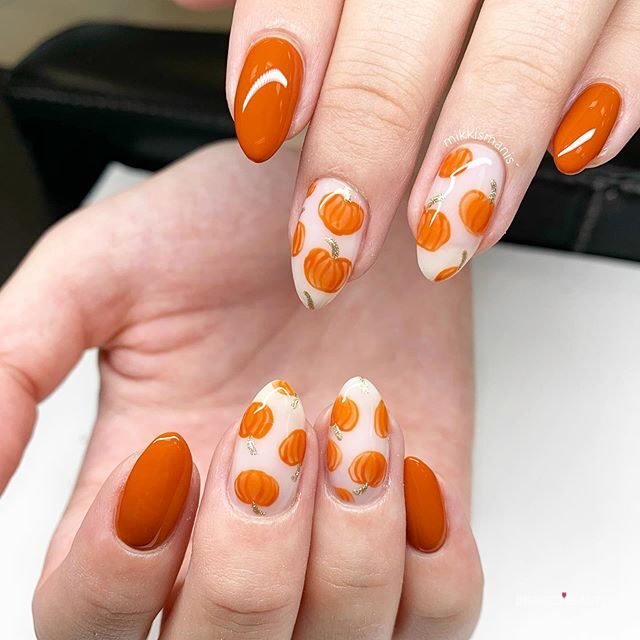 Hand Painted Turkeys Cute Thanksgiving Nails
This design is all about fall, a Thanksgiving list would not be complete without funny turkey art. Every time you look at this you will laugh as its funny and appropriate. These gives you a idea how you can have turkey pattern on your nail arts. Featuring dark colors on most nails with turkey face being the main design.
Choosing nails that are really about thanksgiving with turkey is simple. If you are looking for DIY thanksgiving nails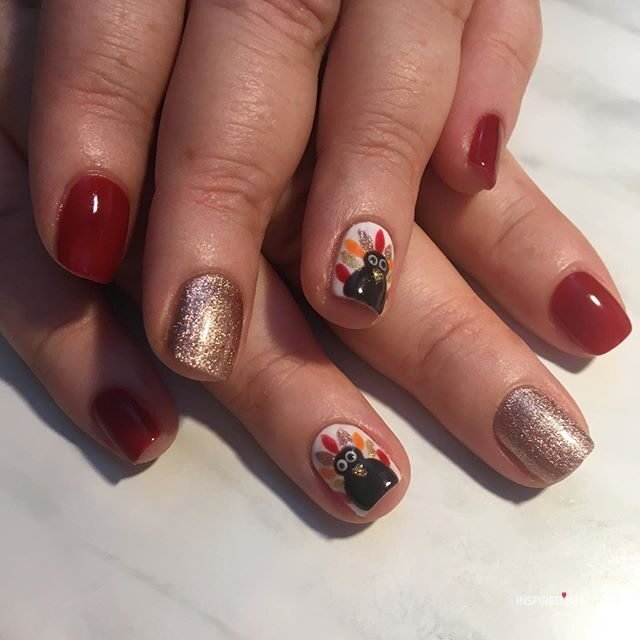 DIY thanksgiving nails
Try our next cute thanksgiving nails, easy to do, and super adorable. Four nails are painted in a brown-red color and with an accent nail, hand-painted turkey. Although this DIY thanksgiving nails look simple is may still take some practice to recreate the turkey.
This next nail art is very cute, pastel orange, and other bright colors with one finger have the turkey. This is a nice style for teenage girls or women with youthful taste.
Feast Element nails for thanksgiving
Adding the whole feast on your fingers this fall. Elements such as glitter, basket, pumpkin, turkey and leaves falling. Show everyone you are ready for a lot of food, feeling all stuffed after.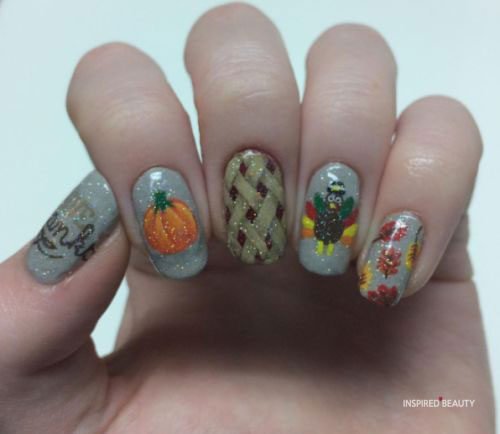 For foody design this next nail art has pie looking and turkey art. Show case your love for this family event with some of your favorite food.
Similar to our previous design but done on shorter nails. Thanksgiving basket, pie and turkey, one finger with stripe and bow.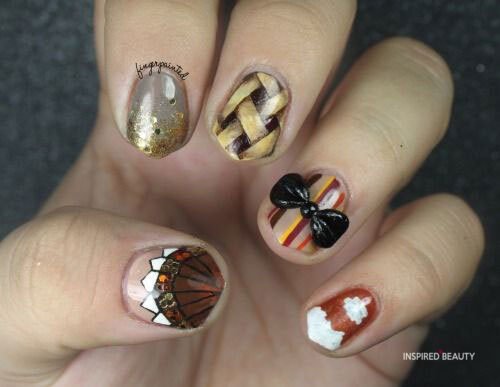 Creative Thanksgiving Colors For Nails
These other designs will look good even after thanksgiving. Thanksgiving colors for nails that will look great. Not necessary with the holiday theme but you can add the theme colors to create interesting nail art. Choose colors such as brown, green, orange and bright yellow to take the look to a another level.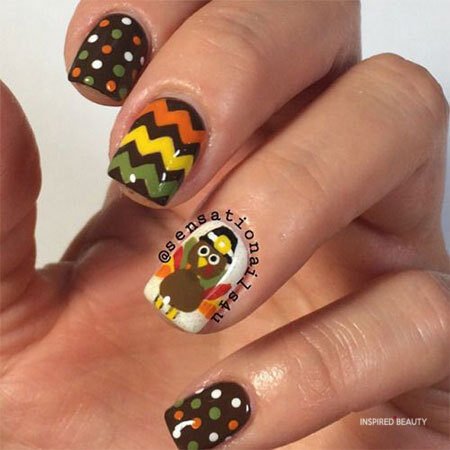 Cute Thanksgiving nails color are often colors we dont use all year round and one of the reason they are so good. This fall nail design is ombre wine red to orange leafy look.
The next DIY thanksgiving nails is painted in brown orange tone and the accent nail with white base and brown leaves. Accent nails really help a simple design to be more interesting.
See Also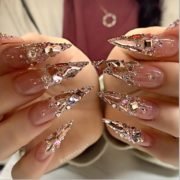 The next design is done on short nails. Oval shape nails, the bottom of the nails are in natural color, the tip painted with thanksgiving traditional plaid colors.
Source: polishedtwins via Instagram
Seasonal Colors Thanksgiving Nails Designs
Choosing to do your nails into the seasonal colors for thanksgiving. The colors that are most popular during the fall are Orange, brown, and plaid pattern. This next design is justs stylish and cool. Pointy stiletto nails but not too long and this is why these nails are so cute.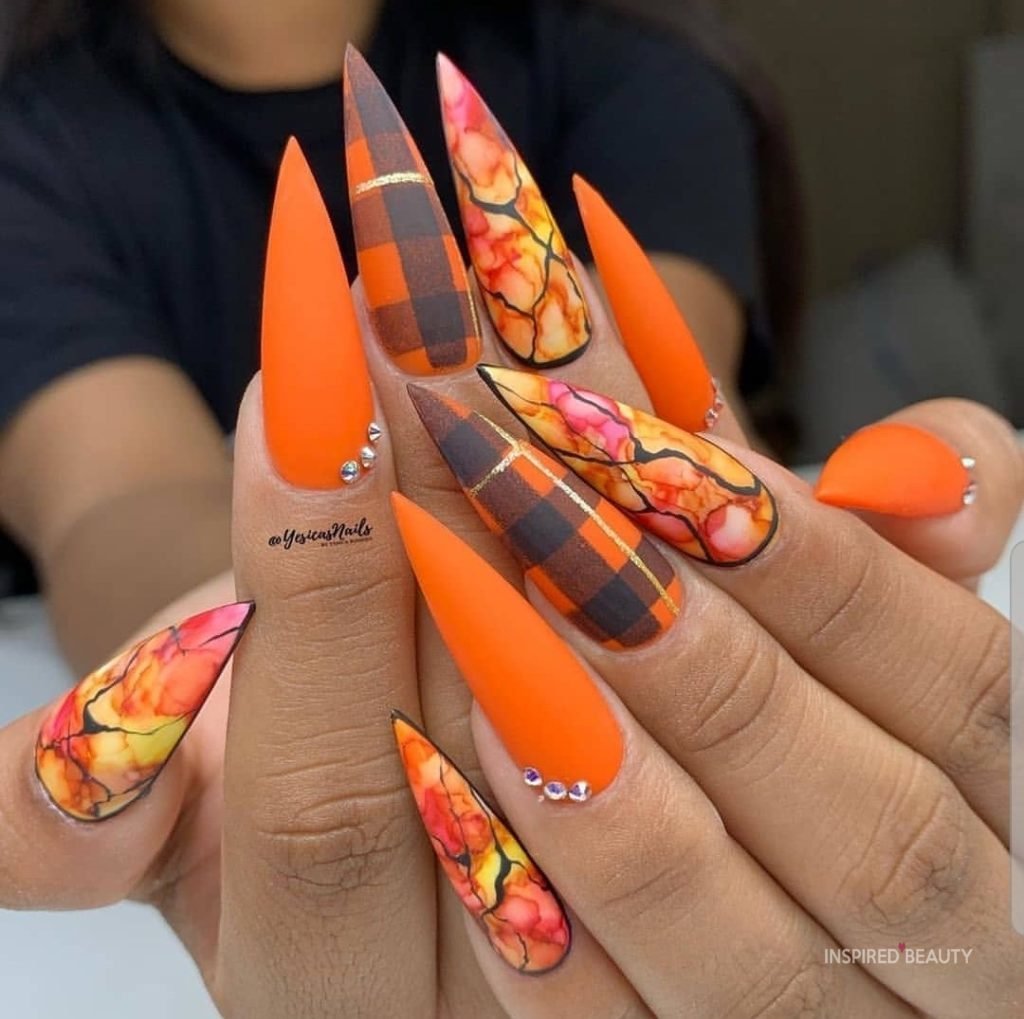 The cute thanksgiving nails idea is these long coffin nail art with orange and leaf decals. Coffin nails shape looks great on all designs really. Three fingers painted in orange and the other two fingers in clear acrylic and muti color fall leaf.
You can shop fall decals amazon here.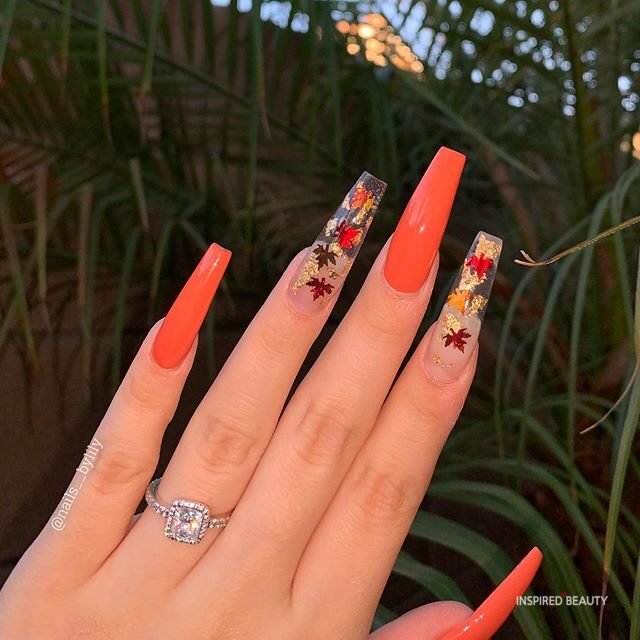 Which of these were your favorite design? do you see yourself doing any of these this holiday? If so try them out few days before so you will have it down before the big day. If you are planning on doing it yourself, ask a friend or family member to help you out.