Christmas Centerpieces For The Table (22 Ideas)
It is almost that time of the year and we are looking for ideas for DIY Christmas centerpieces for the table. Rustic Christmas centerpieces, place cards, festive napkins, and beyond.
I have the best ideas for you if you are into DIY Christmas centerpiece or if you are the kind of person that rather purchasing it. It doesn't matter the case we have ideas for both.
Some of these ideas simple and very easy Christmas centerpieces for tables even if bough from store. And if you are having a Christmas party these there is no better way to showcase your style than with these easy Christmas centerpieces for tables.
*Disclosure: This post may contain affiliate links, which means that I get a commission if you decide to make a purchase through my links, at no cost to you. Read my disclaimer for more info.
From elegant candle arrangements to nature's natural décor such as pinecones, conifers, cranberries, and the likes. Here we have some of the best table ideas to get you into the festive spirit.
1 . White Roses Christmas centerpieces for the table
The white rose and white small pumpkin coming out of the fall season decoration. This may be one of the most elegant Christmas centerpieces on our list. Really pay attention to your background.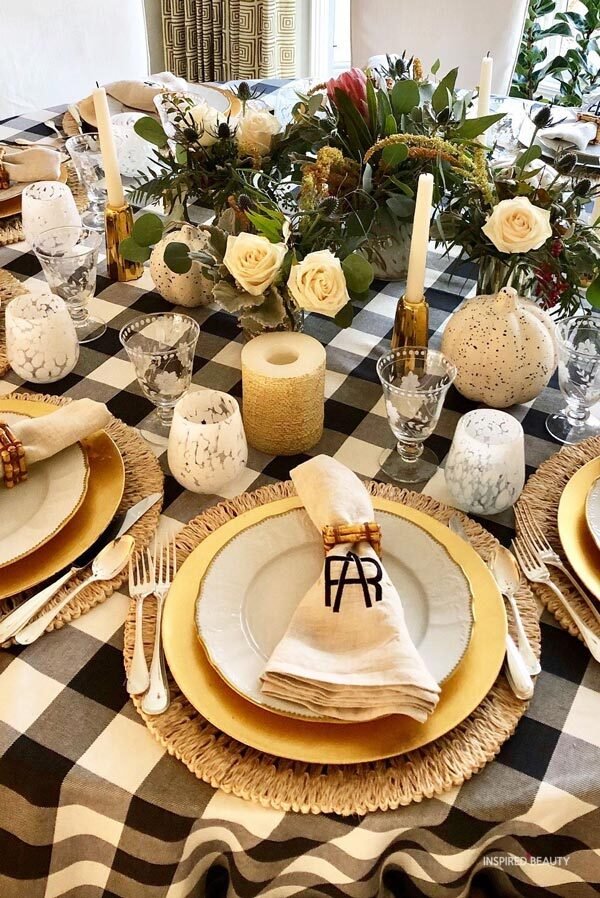 Image from , here
2 . Gingerbread House Centerpiece
Tiny gingerbread houses creating a community separated by branches and cranberries. Although this may be time-consuming it is worth it, you need wrapping papers for the base like these here.
Image Via thefarmchick
3 . Snowy Tree DIY Christmas For The Table Decoration
This brings the feel of snowy feeling on pine tree branches and pine cones. This is a pretty DIY Christmas centerpiece that gives you a fairy tale feel.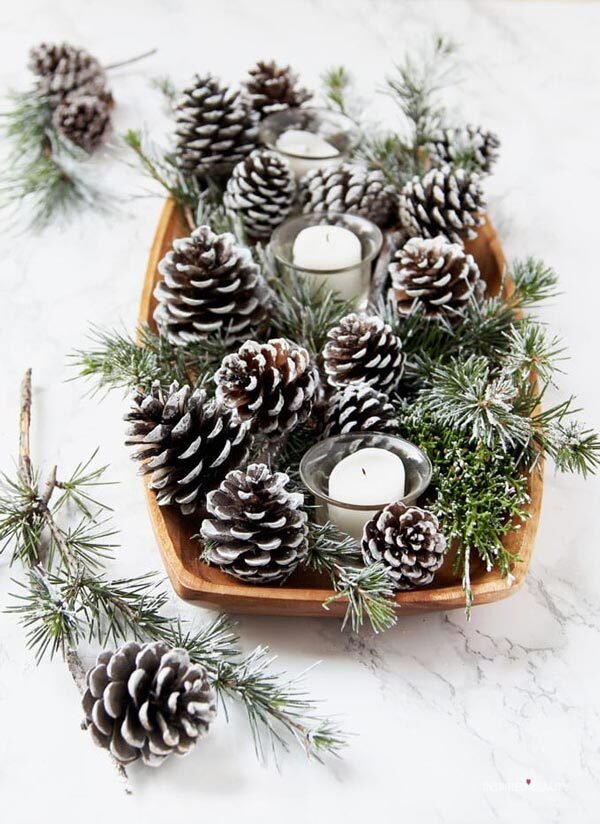 Get the tutorial here
4 . Bottle Brush Trees
This design is simple and fun to do, its totally DIY friendly.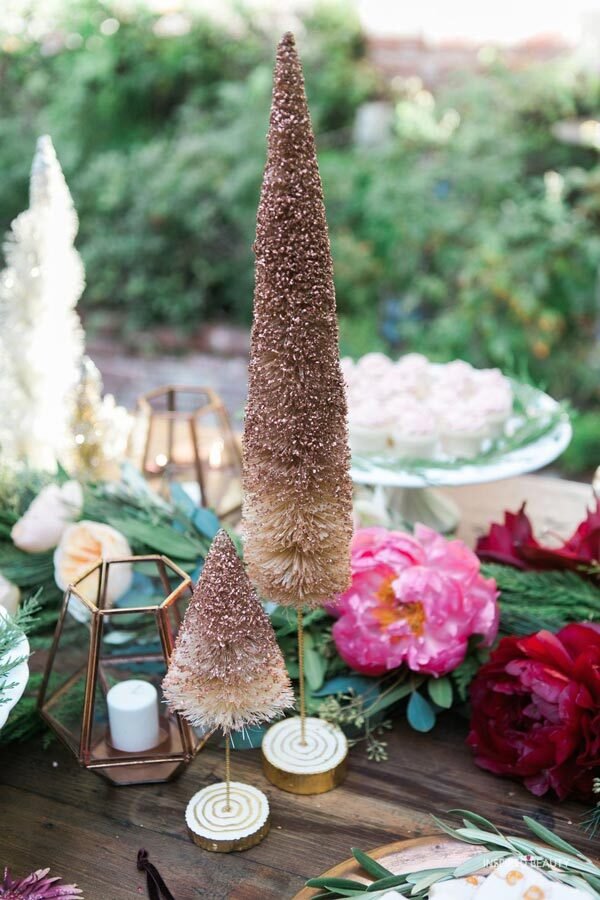 The ideas is from twinkandsis
5 . Pinecone Hurricanes
This next design from Pinterest is modern and easy to do. Two tall glass vase, fill with pinecones, decorative fairy lights in it.
Image from Pinterest

6. Fir Tree Branches
This next elegant Christmas centerpieces uses natural fire tree branches and fresh flowers. The green and white creates a neutral table decoration.
More from sugarandcharm
7 .Candles on a Cake Stand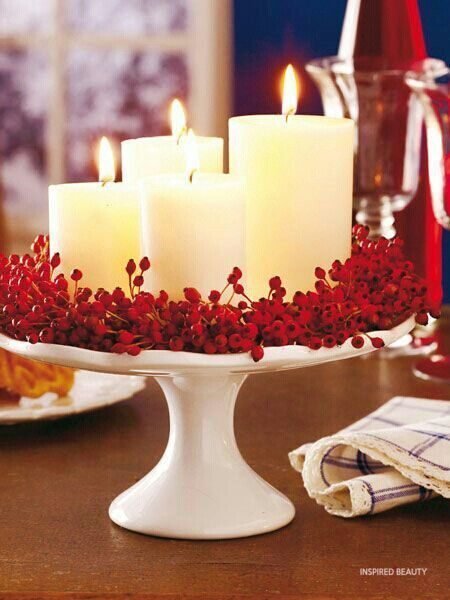 8 . Christmas Centerpieces DIY
This is an elegant Christmas centerpiece DIY for wedding formal dinner. This is super eye-catching and I am sure your guest is pleased. You can shop for this if you live in theUS from here.
9. Table Christmas Centerpieces
This festive charm centerpiece to brighten your kitchen table this season.
Image via confessionsofaserialdiyer
10 . Charming Christmas centerpieces ideas
Keep this classy with this timeless design, artificial flowers to give that outdoor feeling. Green and silver with red berry accent. Keeping the areas around the centerpiece clean and tidy really let them stand out. You can purchase a vas like this one from Walmart here.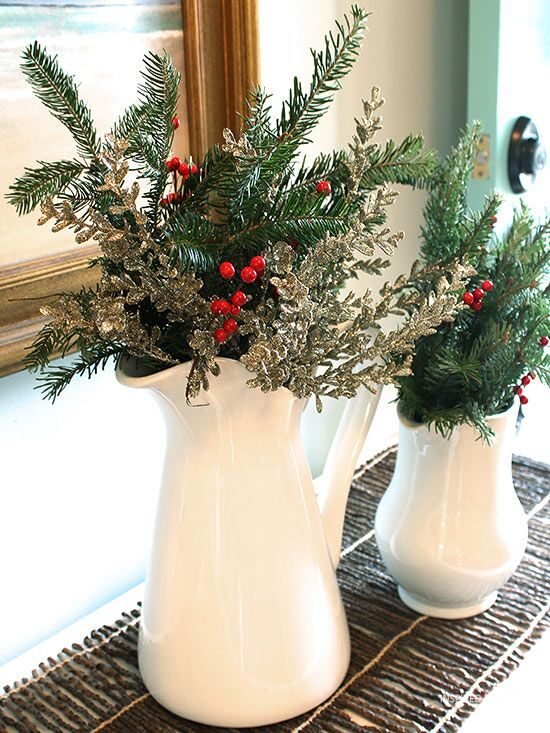 11. Cranberries and candles
Up next on the list of DIY Christmas centerpieces ideas is this cranberries and candle design. Although the look is stunning it's surprisingly easy to put together.
12 . Beautiful for Christmas Wedding Centerpiece
Here is an affordable country style centerpiece idea.
See Also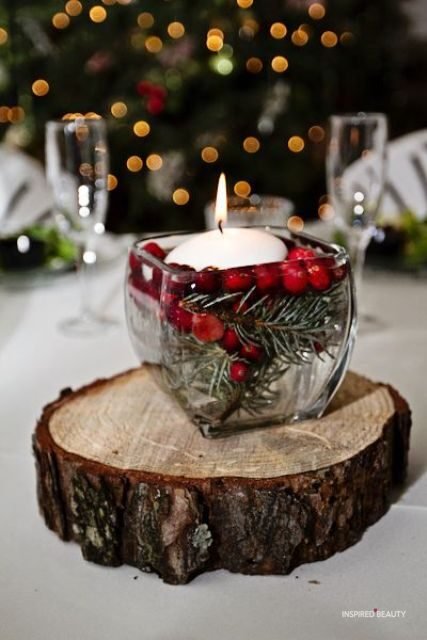 13 . Simple Christmas table decorations
Image from Wayfair
14 . Christmas Lanterns Centerpiece
Image from, here
15 . Farmhouse Holly & Pine Accent
Get It On Petals
16 . Jingle all the Way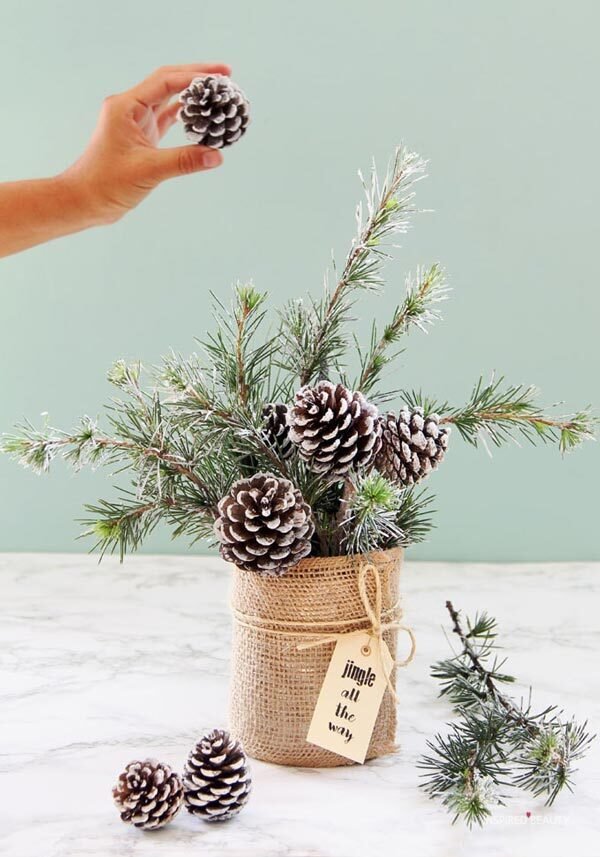 Get the tutorial here
17 . Evoking The Forest
With this Christmas centerpiece, you can enjoy the outdoor charm without actually going outdoors. Using the classic vase to decorate this elegant table decoration.
Via Decoration Inc.
18 . Festive Gift Bags
Turn the regular Christmas bag into something more glam. Adding touch of white paint can give a snow scene, fill with pine and branches, with a charm-adorned twine that pulls the look together.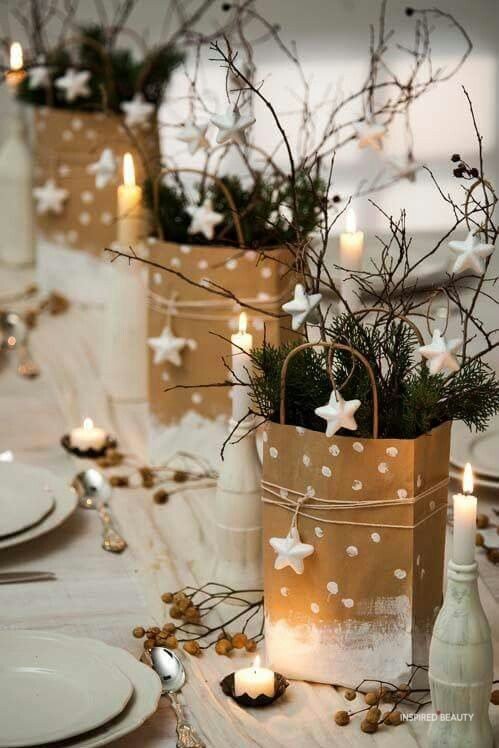 ---
19 .Pine Cones and branches
Image here
20 . Mini Christmas Trees
This is one of the easiest to do on this list. You can buy your plastic mini trees at a local store or from here.
21. Candle in a Jar Christmas Centerpieces For the table
22 . Reindeer and Cake stand Centerpice
Gingerbread reindeer cutout shape that is really cute, cookies carefully place around the double-decker cake stand like this one here. Modern Christmas table decorations that look really cute.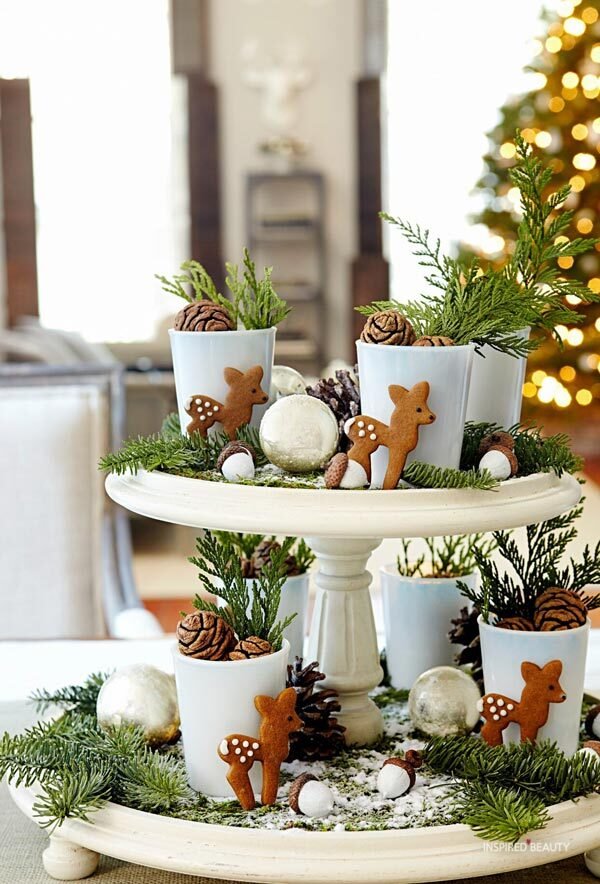 Pin it for Later