28 Casual Denim Shorts Outfit Ideas
I don't know about you but denim shorts outfit my favorite almost everyday clothes. I wear denim pants, shorts, dress for everything you could imagine. It is one of the most chill laid-back pieces in my wardrobe. For summer and spring, I love mini denim because it is great feeling the sun on your skin. Also, I live most of the year in a tropical climate these days. High waisted denim shorts are fun even for work during summer on a casual day.
Demin is great for all body type and so here are 28+ casual ideas to hang out with friends or your boyfriend. Most of these are put together with sneakers or sandals for an easy effortless look.
Note* Post contain affiliate links
*Disclosure: This post may contain affiliate links, which means that I get a commission if you decide to make a purchase through my links, at no cost to you. Read my disclaimer for more info.
High waisted denim shorts with Crop Top
High waisted shorts flattered all body type. You can wear these if you dont like the lower waist ones so much. Also another thing about these is that if you have stretch mark on the lower part of your belly it covers it. Just showing a small part of your tummy makes it ideal for most places, while still being young and happy.
1 .
Similar Wrap Around Halter Crop, here | Shop similar Shorts, here | Shoes, here
---
2 .
Styling your shorts with an adorable top can change the whole mood. The fun part about denim is they will go well with anything. So if you want to show off some skin but still look adorable this denim shorts outfit will do that.
Copy this:
Shop Similar crop top, here | Shorts, Here | Cosmetic Jewelry, here
---
Cute denim shorts outfits
3 .
Up next is a tube crop top that screams summer, paired with a high waisted denim shorts. You are barely showing any tummy skin and that makes the look even more fun with just a peek-a-boo.
Style with sunglasses and bun hair or ponytail will look good.
Shop Similiar:
Top, here| High waisted Denim shorts, here |
---
4
Copy this look:
Similar shorts, here|Sun hat , here | Similar cute top, here
---
5
The next denim shorts outfit idea is this raw hem shorts, white blouse, and knee-length socks. This outfit will look great on a date night or as casual clubwear.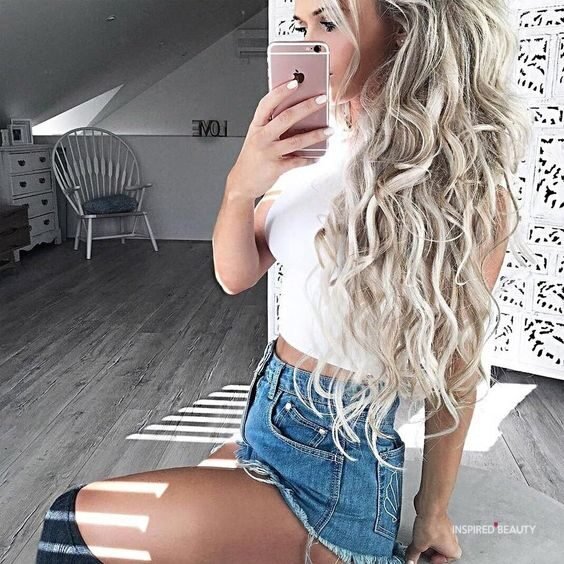 6
Honey tops and Shorts Denim this is a casual look. You can wear these with sandals or sneaker to go beach or mall.
Shop honey tee, Here | White and blue Similar shorts, here
---
7
If you are looking for a beach outfit because you may not feel wearing a bikini this is perfect. The off-shoulder top is loose and free-flowing with a pair of blue denim.
You can pick a pair up today here
---
Overalls Demin Shorts
8
Street style for a casual day out.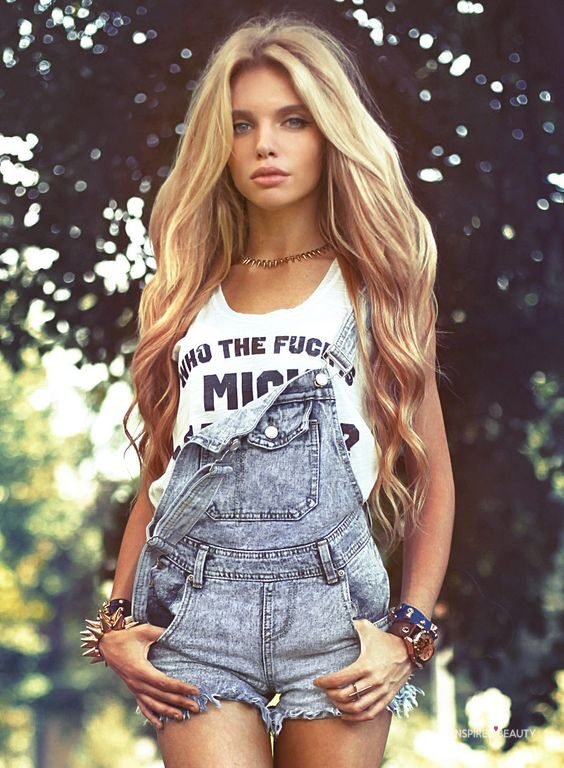 9
The next style has stripped blouse underneath the overalls. This casual outfit is effortlessly hot. This is a good denim outfit ideas for college girls,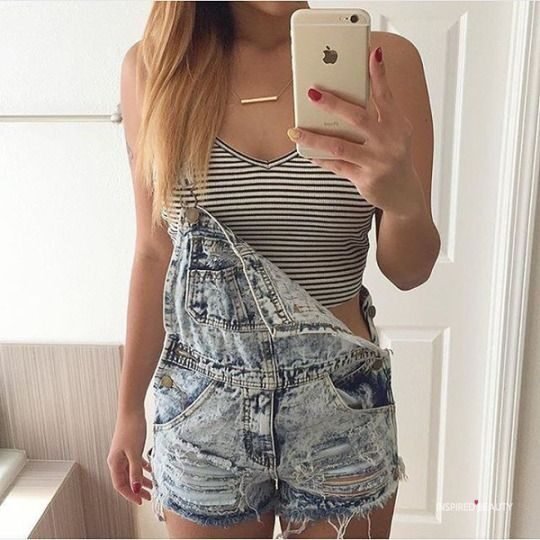 Copy This Look:
Overall here | Stripped Top, Here
10 Adidas sneakers and you are good to go
This is a cute teen outfit for spring school time. You can choose to wear this with white or black top if you are looking for an outfit put together. This demin overalls shorts is worth adding to your shopping list.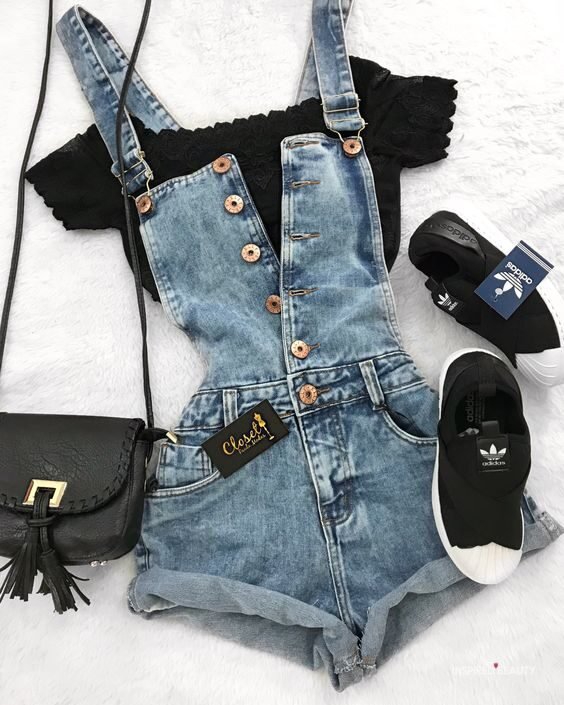 Shop Similar Overalls, here | Shop Similar, Black Adidas, here
---
11 Casual denim Outfit
One of the reasons these overalls seem to never fully go out of style is how good they can look. People may think overalls denim and start thinking country or childish but today they are suitable for everyone. It doesn't matter how old or young you are there is one that will compliment you. Like the next denim shorts outfits idea, you can adjust the overalls straps or completely leave it open.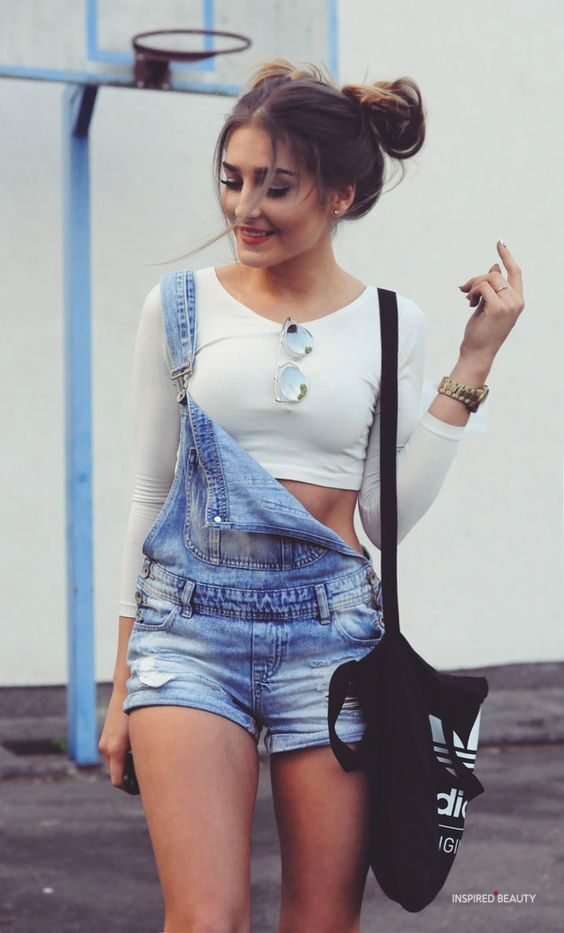 Similar Denim bib Overalls shorts, here |
12
Short white t-shirt under your overall denim for women.
Shop Similar Overalls, here
---
Denim Shredded with Comfortable top
13
One of the key is to show off your legs with comfortable top/blouse with nice contrasting tone. Simple outfit but at the same time stylish and easy on the eyes.
14
The next outfit has some elements that capture our childhood such as Disney headbands, cute round neck white tee, with adidas original superstar and gold earrings.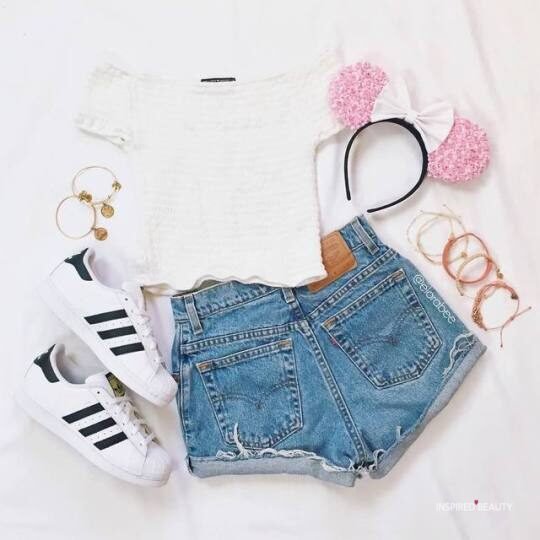 Original superstar sneakers, here | Similar shorts, here | Mouse ears headbands
---
15
Here is another way to style your denim shorts outfit with a light cardigan, sunglasses with gladiator sandals. The brown gladiator sandals add personality to the look with a twist of a country feel.
Choose an outfit that compliments both your personality and skin tone. Sunglasses are popular in summer for both style and protecting your eyes.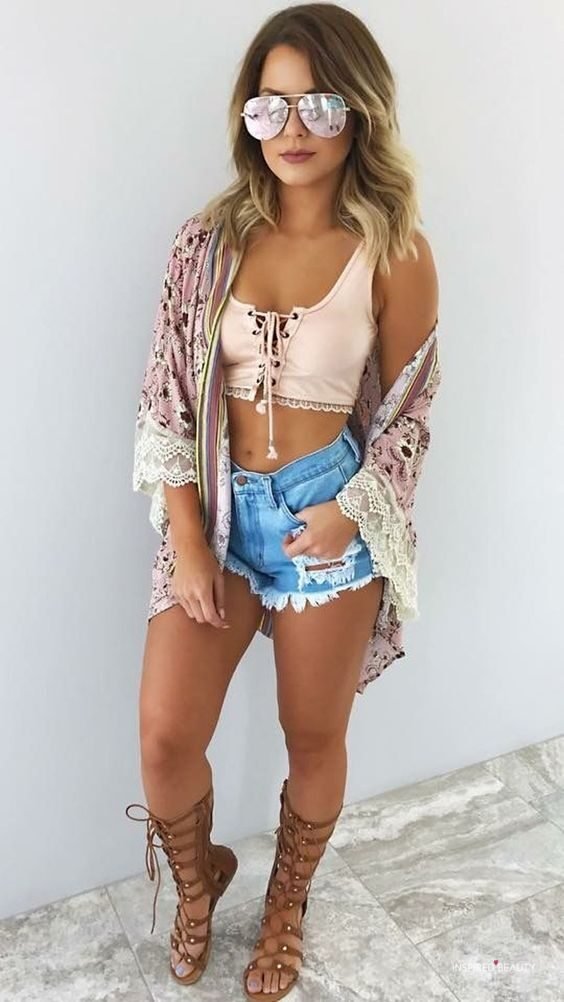 Similar gladiator shoes, here |
---
Denim Skirt Outfits
16
Not technically a shorts but this denim skirt outfit is pretty cute.
---
17
Ready for the beach scene, this mini denim will get you in the mood. This outfit with yellow and white stripe, jeans short and heels.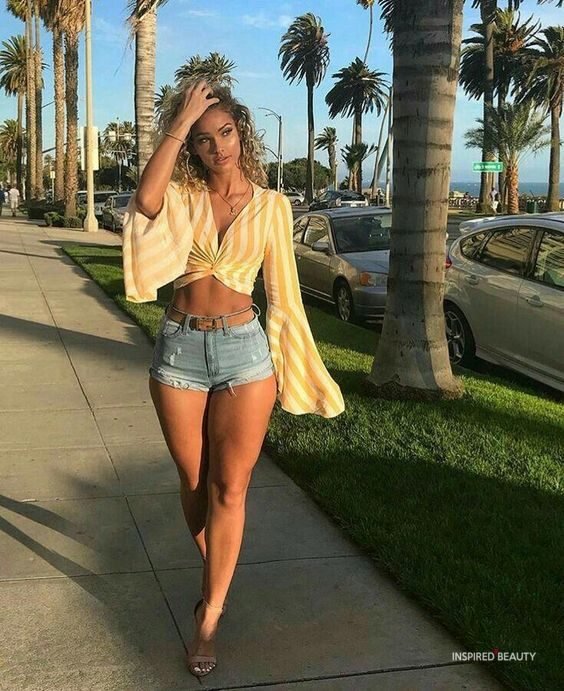 ---
Denim Shorts with Dress top
18
Denim with stilettos heels, looking for something to wear to the office? These next short denim outfits will be able to go to the office or business meeting. This outfit is also a nice early fall outfit. Business at the top and play date at the bottom.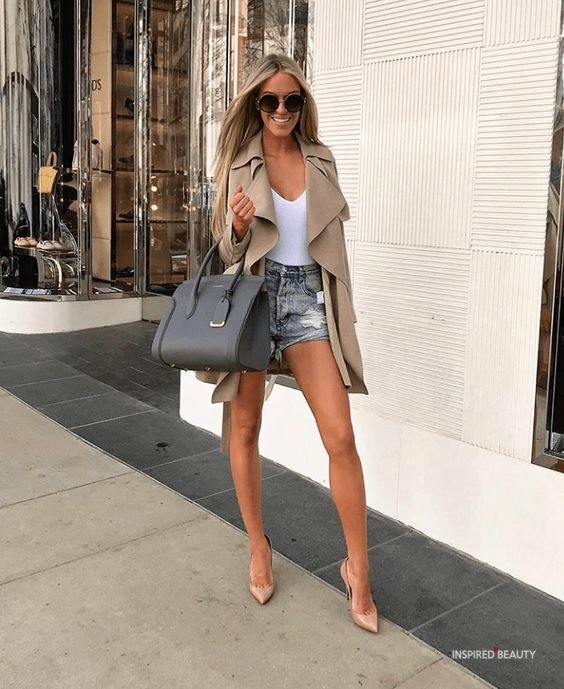 19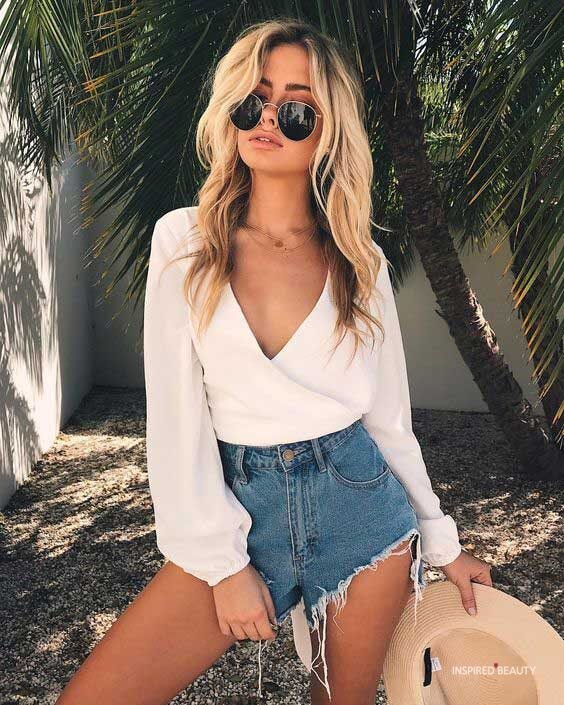 20
Pink Blazer with Shorts denim and cross bag with sleek back hair. On our list of short denim outfit ideas, this is perfect for fall. If you are still looking for fall inspired outfits to check out this list here.
Copy:
22
Dress top and blazer with open-toe shoes. If you are thinking of something to wear on Fridays or maybe an office party why not consider something like this.
23
The next outfit is more party style but the blazer tones it down. If you dont want to show too much skin a blazer really add flavor to it.
24
Black and white look is always a classic and clutch bag.
High waisted denim shorts outfit Ideas
25
High waisted denim shorts are popular for a lot of women. One of the main reason is it may hide areas you are not comfortable showing. The fact they look stylish and can be worn by women of all body size.
26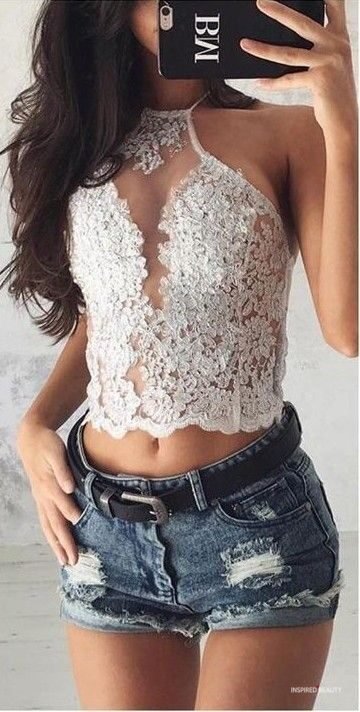 27
If you are thinking of denim shorts outfit for high school. This next outfit will look good on you and age appropriate.
28
Trendsetting girl and women will appreciate this outfit. Tube top and blue denim shorts outfit.
29