Disney Christmas Tree Decorations Theme Ideas
With Christmas around the corner, you may be looking for ideas to decorate your tree. Walt Disney Christmas tree decorations are good for anyone who loves fantasy, just wants to try something new, or bring back childhood memories. If you are looking for creative DIY Christmas tree ideas then this post is perfect for you.
You notice Christmas is here by all the decorations on the streets, the songs playing, the stores around you.
This means it's time to start decorating your home and bring that Disney inspired theme inside. Christmas tree is the biggest center pice of your decoration
*Disclosure: This post may contain affiliate links, which means that I get a commission if you decide to make a purchase through my links, at no cost to you. Read my disclaimer for more info.
Disney Christmas tree with Minnie and Micky
For the first tree idea, it has an elegant theme layout to bring joy to your family. Minnie and Mickey are really bold and beautiful and popular. To bring the look together Christmas tree decoration is the center of the whole decoration theme.
Image source
Frozen Inspired Disney Christmas Tree Ideas
This next Christmas tree idea is popular among young kids, everyone knows who Frozen is. Light blue ribbons around the tree with silver ornament. You can buy these Frozen Ornaments like these here.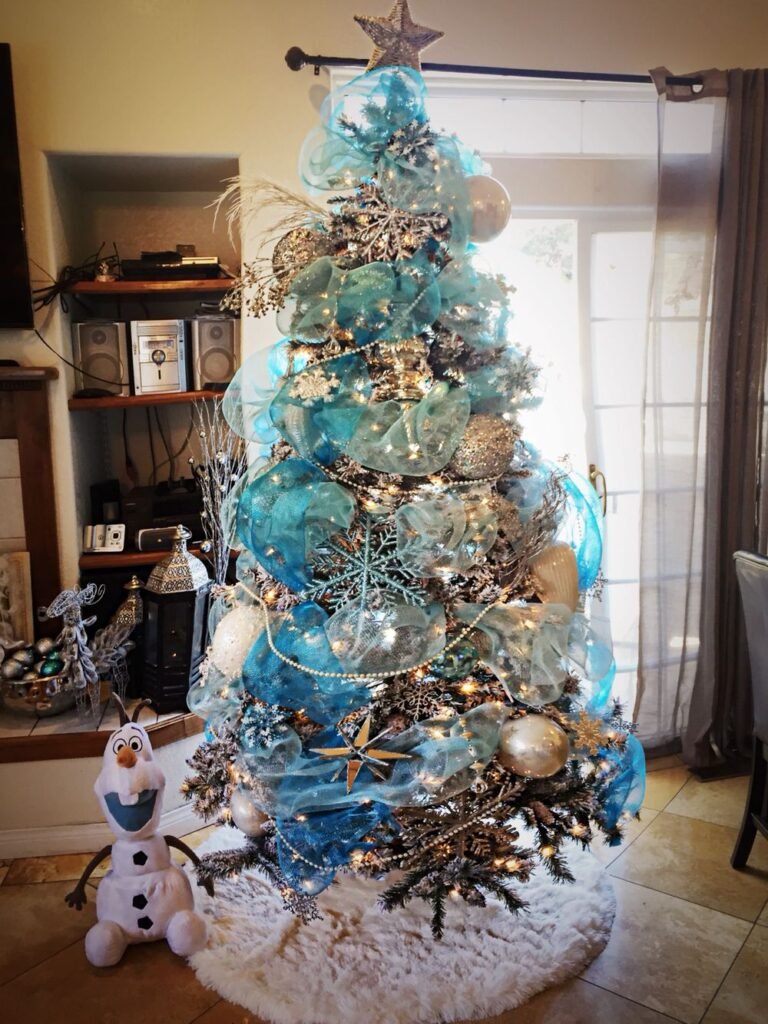 source: Pinterest.com
Disney Little Mermaid Christmas Tree Idea
This next Disney Christmas tree decoration is more under the sea theme. If you are a fan of princess Ariel then this under the sea idea will make a great DIY project. The little mermaid is one of my personal favorite Disney princesses. I think if I was to do this I would use Ariel as a Christmas tree topper.
Disney Christmas Tree
The next Idea is this with Goofy and friends. The whole Disney theme is on this cant have too much Disney right?
Image : source
Fun Lots of Green
This next idea has a lot of the old traditional look with the star and bow. You can decorate your tree while wearing fun Disney Micky and Minnie outfits.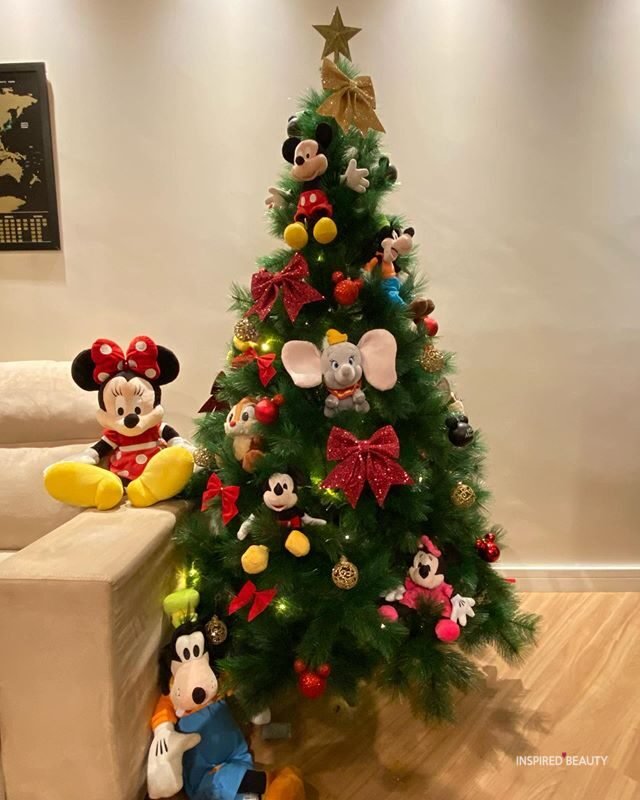 Image from here
All Disney Ornament
This tree has no special Disney movie theme but one thing for sure it's all Walt Disney inspired. If you cant choose between your favorites maybe you could try them all like this. This would look good with stars for the Christmas tree topper. You choose a star from amazon here.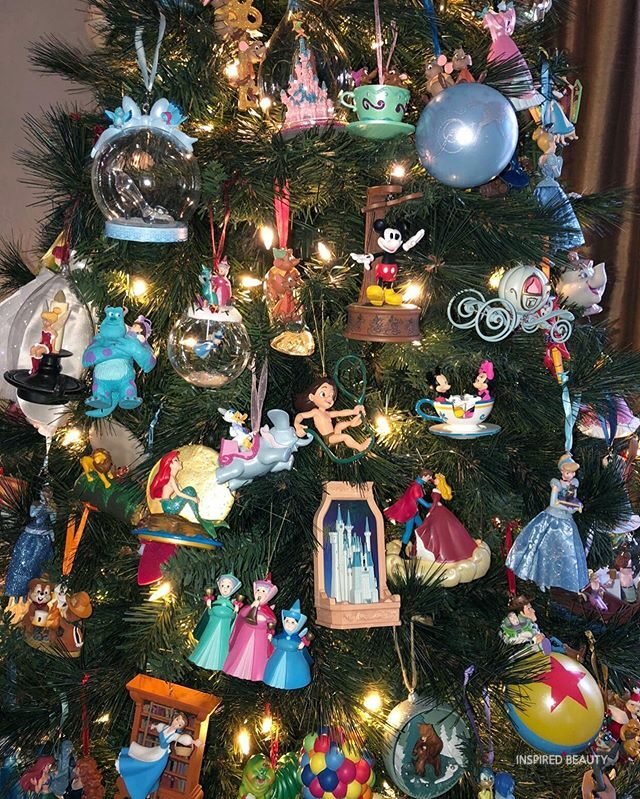 Image from here
Lovely Tree Idea with Train tracks around
A tradition for many trains around the Christmas tree, this is a real treat to kids. I recommend this train set for the winter wonderland effect.
Image: source
Snow White Wicked Queen
Cant just have the good guys right, here is a Tree with little more dark creativity. The Magic Mirror is the topper, the wicked witch, Princess Snow White, and the dwarfs. The purple theme goes quite well especially if you are coming off Halloween too.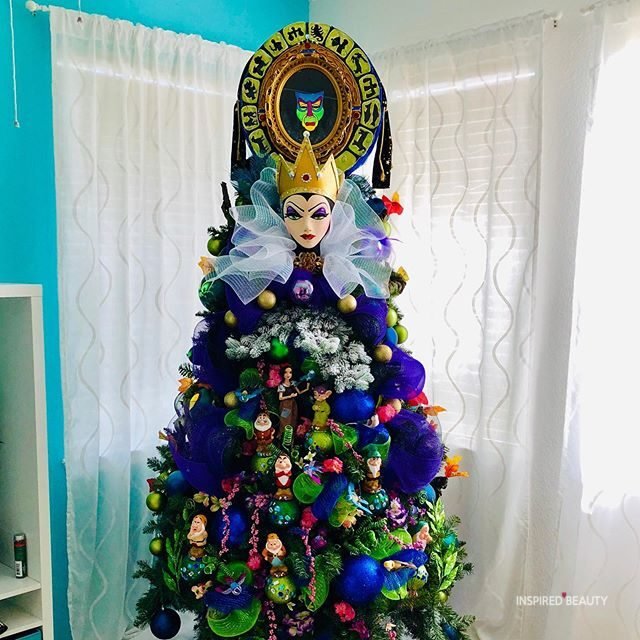 Image artfredocreations
Fun Walt Disney Christmas Tree Decorations
Toy story is a big fan favorite, that everyone will stun your guest. If you are thinking of creative DIY ideas this is one to keep you occupied this holiday season. You can use letters blocks to recreate you are your kid's name under the tree.
Image orlandobyus
Pixar Disney Christmas tree ornaments
From Prince Aladdin, Lion King, Monster inc, nemo and more. This creative idea will really be memorable.
Image marusantosambientacion
Donut Disney Christmas tree decorations
Small Pretty tree can be adorable and the kids will have fun with this one.
If you like this please remember to save in your Christmas boards!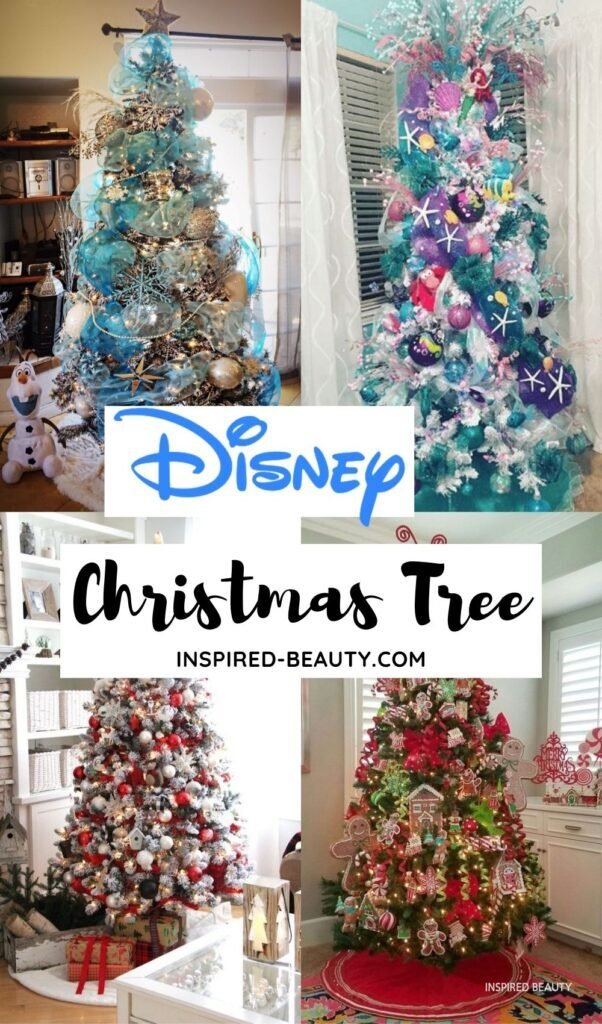 Here are some creative Disney Christmas Tree Ideas the whole family will enjoy.