Makeup Organizer with Drawers
With all the makeup we have, it's hard to think about what life would be like without a Makeup Organizer.
I can truly say that we wouldn't be able to get rid of all the clutter and find most of the makeup that we use.
So because we know the importance of a good makeup Organizer well will be giving our advice about the best Makeup Organizer.
*Disclosure: This post may contain affiliate links, which means that I get a commission if you decide to make a purchase through my links, at no cost to you. Read my disclaimer for more info.
Why drawers, because of all the compartments. To organize all your makeup and makeup brushes you need a Makeup Organizer.
That way you will know exactly where to look and find every makeup, brush and sponge.
This list was isn't done in any random order, I just list the Makeup Organizers that I like, and make sure you check out the full list and choose the one that will fit your makeup needs.
Because everyone as their own makeup problems.
Makeup Organizer with Drawers
My Recommendation
This Makeup Organizer is my favorites and I have this exact one at home, the only difference is I both mines a year are two ago.
But This Organizer really helped me out because before all my makeup was all over the place.
The reason I love this makeup Organizer is because of the transparent look and it's big enough to hold most of the makeup I have and it fits nicely in most spaces.
4 Pieces,7 Drawers, Transparent, Makeup Organizer
When it comes to makeup storage you really don't want to go too small, plus you get the added bonus of being able to see-through the organizer. Trust me that helps a lot in finding the right makeup.
This 4 Pieces Makeup Organizer is one of the best Cosmetic Storage for displaying your jewelry and makeup.
This Organizer has 7 Transparent drawers for holding Makeup, so you will always know where your makeup is at all times.
Having a big enough space to put all my makeup was always a problem for me, but since getting this, i really havent had any problems fining my makeup.
i even bough a makeup brush organizer also just my my brushes.
Clear Makeup Organizer with drawers
This Makeup Organizer is the smaller version of the top one it has fewer drawers but it looks just as good.
Bigger isn't always better so choose the organizer that best for you.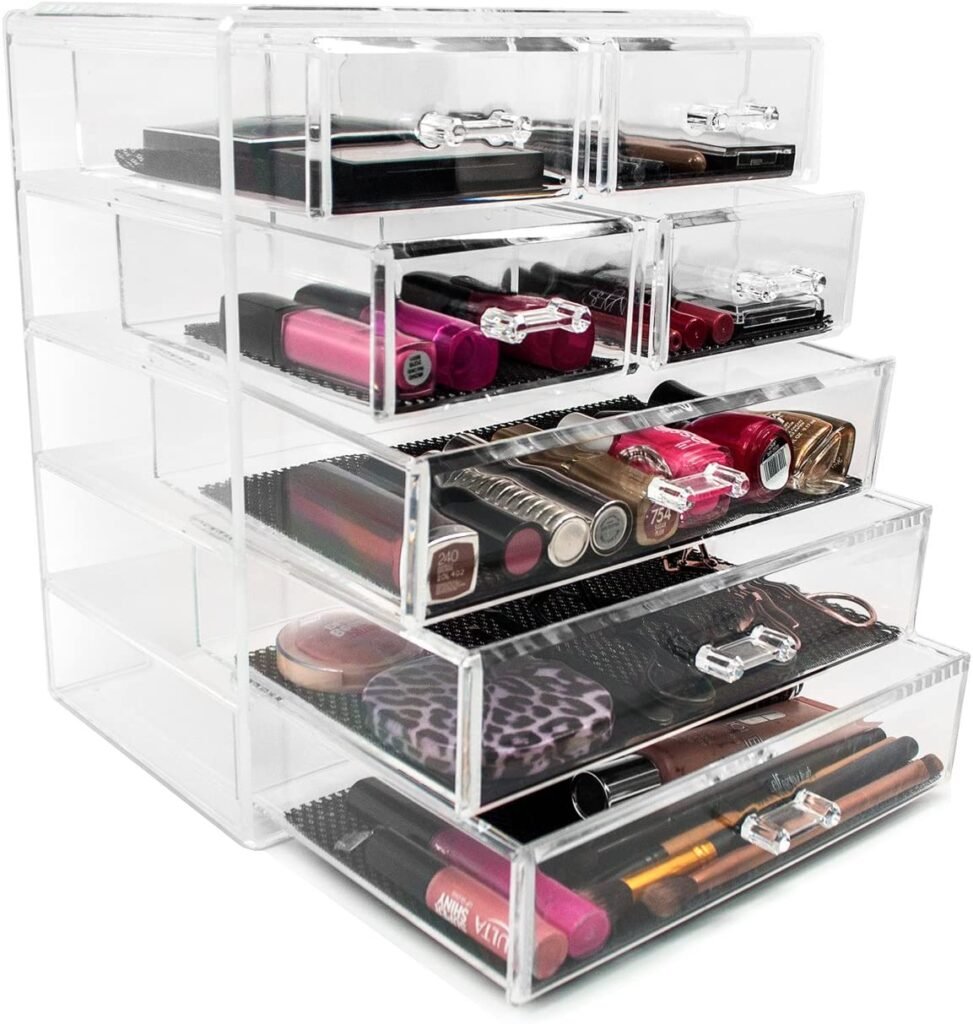 Now the main reason why I list this one is because of how it opens up, it really has a nice style to it and it looks really cute with all the makeup inside.
These organizers are really if you're on a budget are need an extra one for the bathroom. because a girl can never have too much makeup. Even though these are really small they do a good really good job.
Jewelry and Makeup Organizer
This is a beautiful pink plastic Budget organizer and will look good in your bathroom.
The reason I choose this organizer is because it's just so small and simple, and can fit anywhere in the house.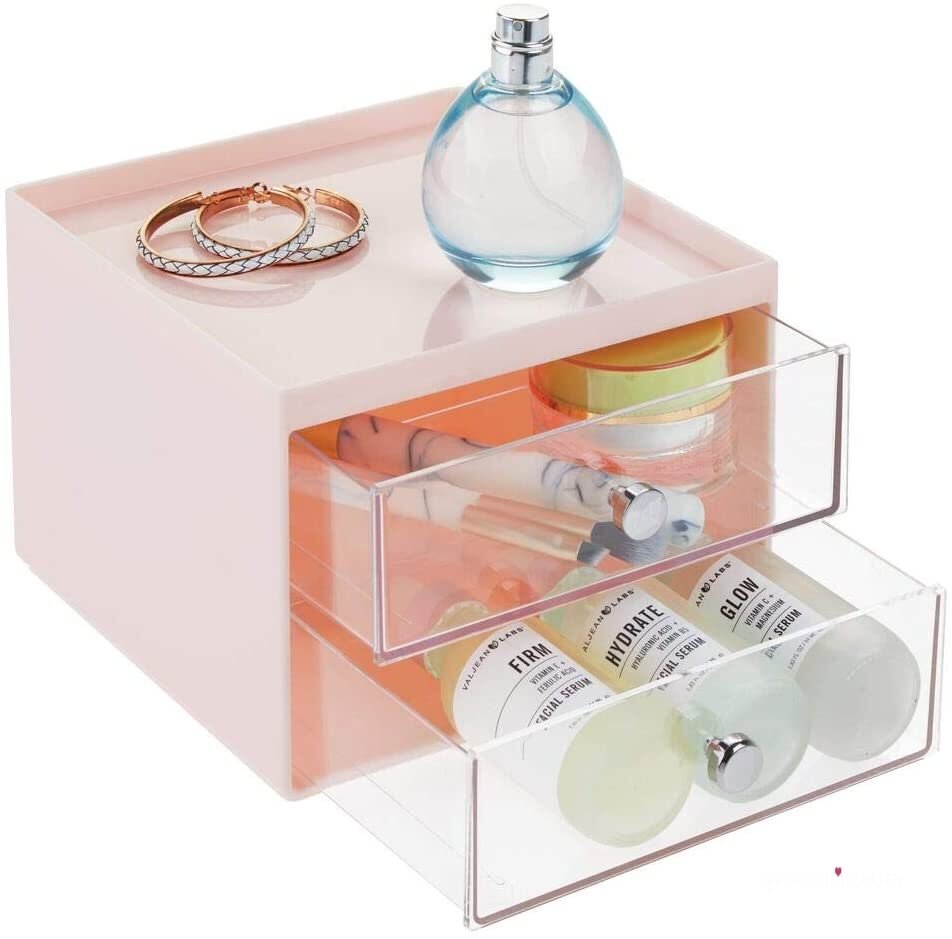 so this cute little pink plastic organizer is perfect if you looking for something small and out of the way, are you just need a second place to put more makeup.
White Makeup Organizer with Drawers
This makeup storage cube comes in a lot of different colors. So I would suggest checking them all out because some of the bright colors really look great.
so if your looking for a good small makeup organizer that this will work.
plus it's a cube so you can always put stuff on the top so it's not really taking up any space.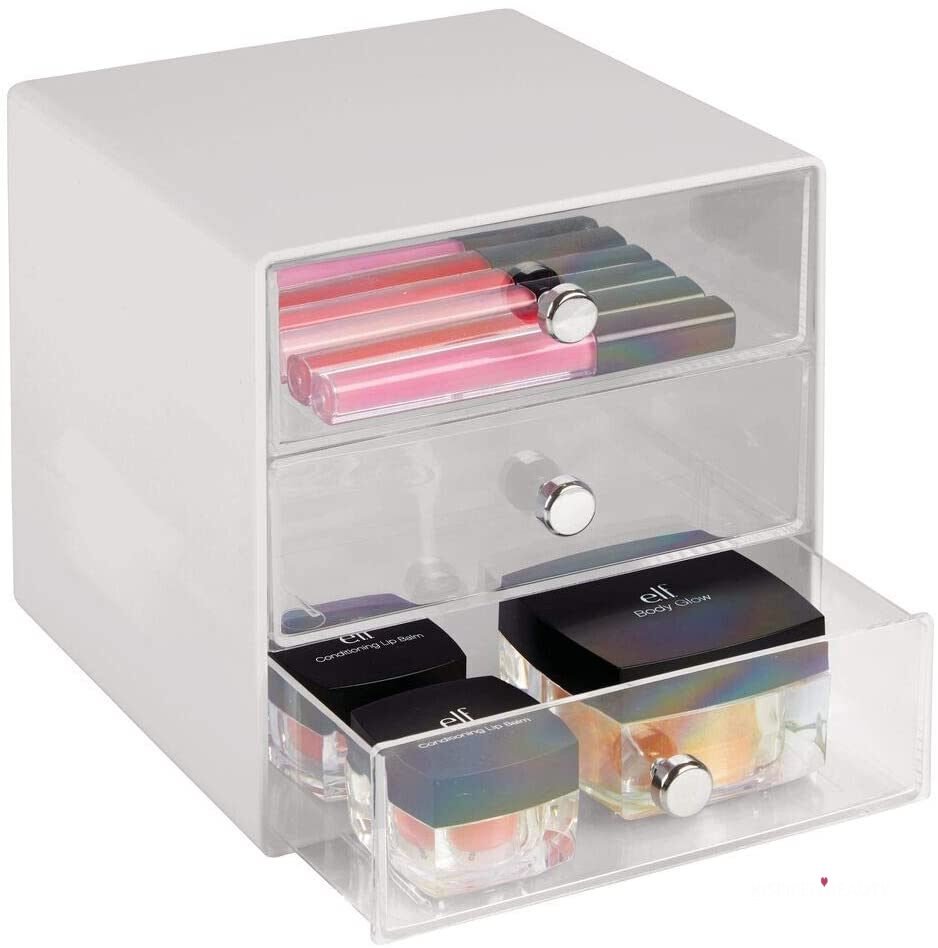 So if your looking to save space then this might be the right organizer for you.
Acrylic Makeup Organizer with Drawers
Right now it looks like we are going tinny and tinny but the smaller the better I always say. but if you need space maker, this makeup organizer and the one before is the choice for you.
Plus it does look great and i can see this being a good place to keep your makeup, but if you have a lot of makeup i would suggest going with the top organizer.
Clear Acrylic Makeup Organizer
all of these are made out of mostly the same material, but every style is different and they all have a very unique look.
this one isn't as small as the two at before it but it looks better and has a nice diamond look at the side. plus it has space at the top to hold nail polish and other stuff.
Professional Water Proof Cosmetic Makeup Organizer
If you have ever seen a professional makeup artist this is the type of organizer that they have. Plus this one is waterproof so if you put in in the bathroom you won't have to worry about your makeup getting wet.
so it will keep your makeup nice and dry, and give you the pro look your going for.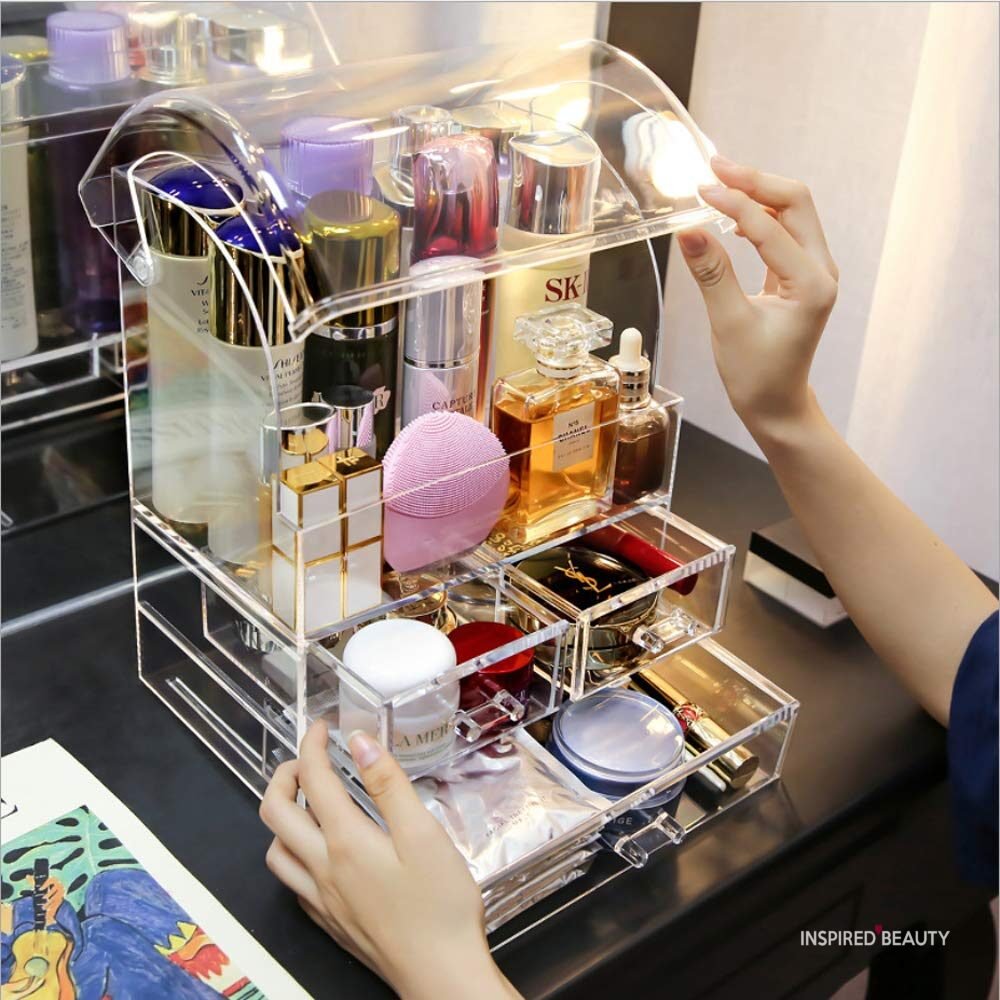 If I say this one before I bought the one I have I would go with this one but I love the one I have so no regrets.
Another budget Organizer, that will fit nicely in your home.
Now if you not looking for something flashy then your in luck because this organizer isn't flashy are see-through but it's cool and simple. maybe that's why I like it so much.
Crazy how something so simple could look so amazing
Makeup Organizer Set, 4 Piece
This is a big 4 Piece set and is great if you have a lot of makeup and need a lot of space to put it. but with this set, you really won't need anything more to store your makeup.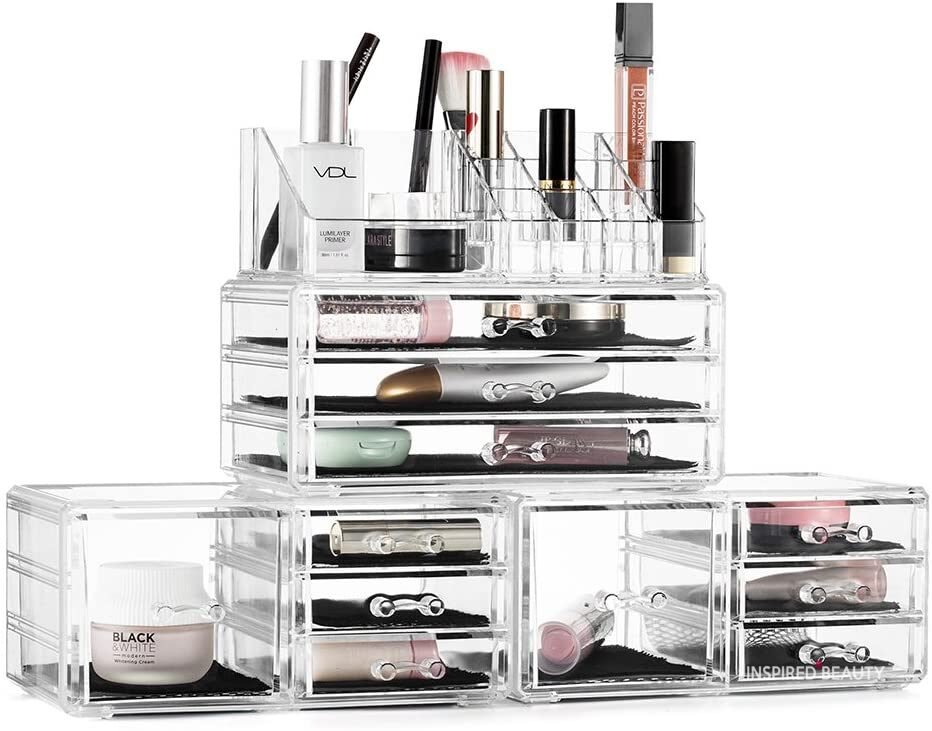 This also comes in 8 pieces so if you need more, you can get that one instead.
If you want to do your own thing, most of these Organizers come in different pieces, like this one. it's a 4 piece set but you can use it in different styles.
I mean just look at it, it looks really neat and fits in just right.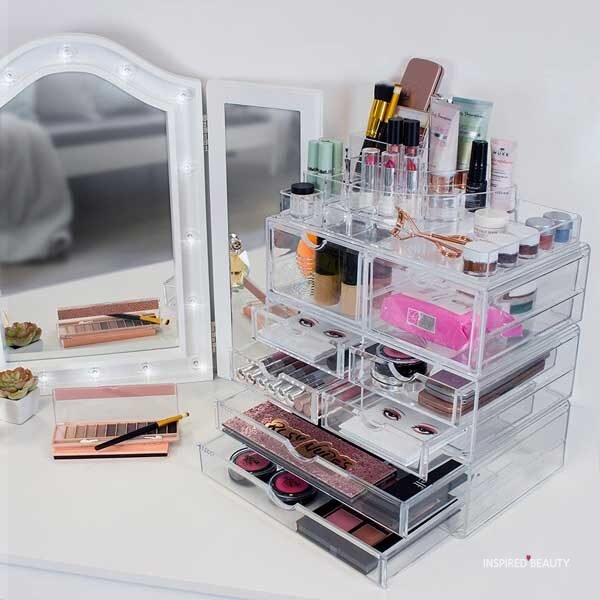 Now even though this is 4 pieces you can set it up in a lot of different ways, it's really up to you.
Countertop makeup organizer
Ok so this is the big one, this makeup organizer has 12 drawers, and it's huge. The good thing is you get in in 3 different colors if you count see-through as a color.
But you can really fit a lot of makeup in this. so if your makeup craze like me, go for it.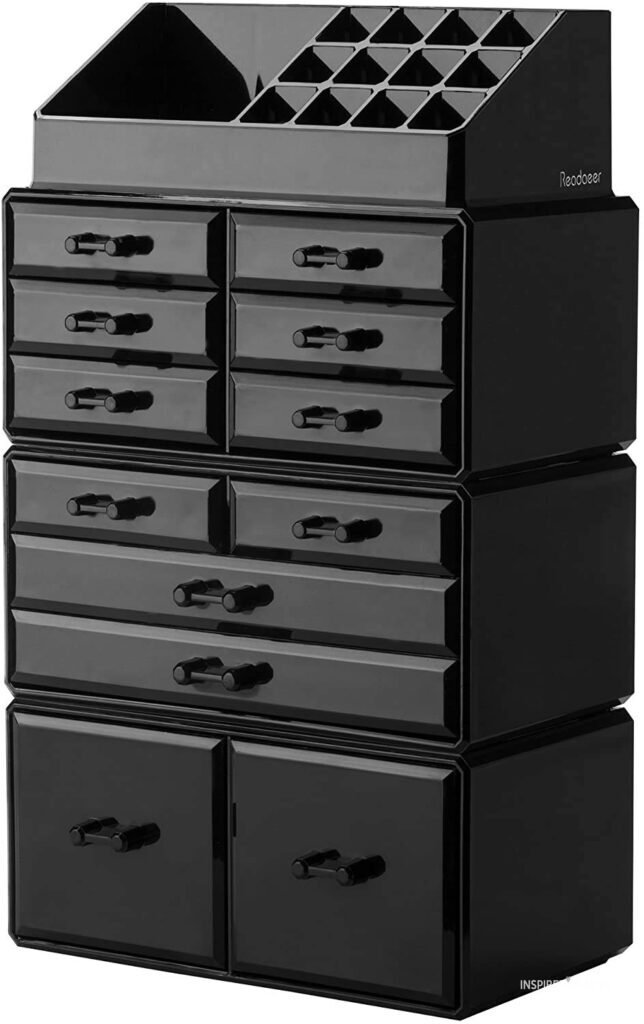 Makeup storage drawers
The Makeup Organizer is made up of plastic but it has 3 drawers and its pretty neat and looks really good.
Plus it as space on the top to put lipstick and other makeup that you want to just grab instantly.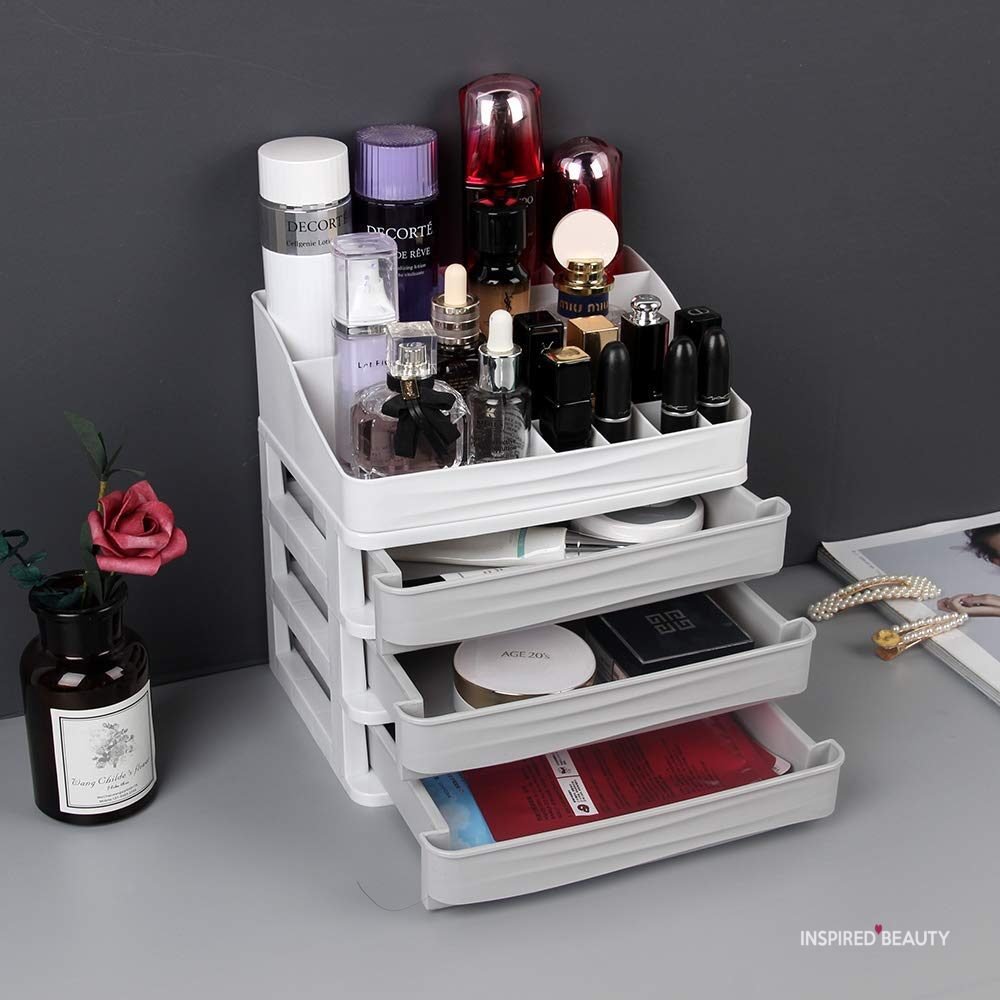 and a good thing about plastic is that its hard to destroy so you really don't need to worry about it too much.
These are 12 of the best organizers you well ever find and the price isn't over the top.
but these organizers will be good for keeping your makeup safe and easy to find, because you really don't want your makeup all over the place when you need them.