Hair routine for long hair
Disclaimer : Guest Post
Looking after long hair is all about having the right approach and getting into a good routine. Look after your locks and you'll have a shiny, glossy head of hair. Neglect things and you could end up with a drab 'do. No need to worry though, these top tips are going to help you create a healthy routine for your long hair.
Treat your hair
General, on-going maintenance is a huge part of keeping your hair at its best, but so is treating it on a regular basis. That means weekly deep conditioning to help keep strands moisturized and glossy. And the use of essential oils can really help support the overall health of your hair. That's because these amazing oils contain properties that can do all manner of good for your locks, from soothing a dry scalp to strengthening strands and boosting regeneration of cells.
*Disclosure: This post may contain affiliate links, which means that I get a commission if you decide to make a purchase through my links, at no cost to you. Read my disclaimer for more info.
Using tea tree oil for hair is one of the best ways to treat your hair. All you have to do is mix it with a carrier oil like coconut or olive, massage into the scalp and leave for 15 minutes. Once you've let the oil do its work all you have to do is wash as normal. The benefits of tea tree oil include the ability to fight against dandruff, due to its antibacterial and anti-fungal properties. On top of that it can also unblock pores, keep your scalp healthy, and even promote hair growth.
2. Regular brushing
Regular brushing, up to twice a day, is not only going to stop hair from getting tangled, it's vital for its health and shine too. Brushing helps support your hair health by stopping the tangles from weakening strands, by removing debris, and by spreading the natural oils all around your head. But! Brushing too aggressively is a big no-no. Instead, be a little gentler for great results.
Start from the bottom of your hair and work in sections until you reach the top. Always work in this direction, as brushing directly from the roots can cause stress and actually damage your hair over time. In addition to brushing in the right direction you should also avoid brushing your hair when it's wet. This is because your hair is fragile at this time and more susceptible to breakages.
3. Don't over wash
Clean hair is vital for health and hygiene, but you need to be careful with over washing. If you do wash too often, you risk stripping the hair of its natural oils, which could leave it dull and limp. So, forget about shampooing every day and work on the basis that three times a week is enough.
That doesn't mean that you have to sit around with dirty hair if you've already reached your quota for the week though, just use water if you can, or be sensible about the amount of shampoo that you use.
4 . Avoid excessive heat
Excessive heat is no friend to anyone's hair, especially those who have luscious long locks!
Some of the worst offenders, when it comes to heat damage on hair, are your tongs, curlers and straighteners. When you use them to style your hair you're often doing so with excessive heat, which can cause your hair to dry out and even fray. That doesn't mean you have to give them up, just use sparingly and apply a heat protective spray when you do so.
Washing with overly hot water is another potentially risky thing to do, for the same reasons. Instead of turning up the hot tap you should keep the water at a warm temperature. And a final rinse with cool water is a good idea too. Too much heat is not something that your hair can deal with, so keep the temperature down whenever you can.
5 . Air-dry when you can
Continuing with the heat theme, air-drying is always going to be healthiest way to dry your hair. If you've got nothing that you need to rush out for you should try to avoid using your hairdryer and, in particular, steer clear of the hottest setting. When you do use hairdryer, the coolest setting is going to cause the least amount of stress to you hair. Holding it at a distance, versus close by, will help too.
Patting your hair with a dry towel is better than rubbing, as it is less harsh. If you get overzealous with the rubbing you could end up doing damage or maybe even pull out a few of those precious strands. So, if you can go "au naturale" with your hair drying, that is always going to be the best way.
Check out : How to Tame Frizzy Hair
See Also
6 . Protect your hair from the elements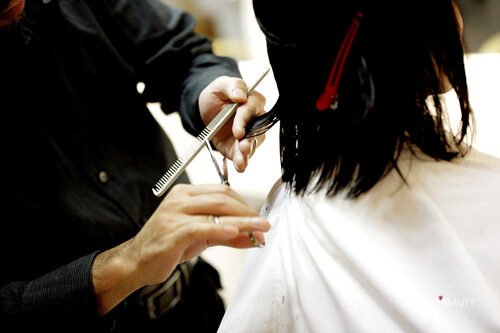 As much as you like to show off your gorgeous long hair there are times when you need to cover it up. And harsh winter weather calls for that kind of protection. If you know you're going to be out and about in the wind, rain and cold, simply pop a hat or a scarf over your head. That way you'll be protecting your hair from the potential damage of winter.
Then there's the summer. Sometimes, when the sun is blazing it's best to cover your head to look after your hair and scalp. There are plenty of cool looks to try out when it comes to summer hats!
7 . Have regular trims
Finally, having regular haircuts isn't just about keeping up with the latest trends, it'll also help prevent the damage of those pesky split ends. On top of that, your hairstylist will not only be able to make you look good, they'll be able to offer professional advice for you to keep your hair long and healthy.
There you have it, your extensive guide to looking after long hair and keeping it at its best. From treating your locks and the benefits of tea tree oil for hair to regular visits to your hairstylist, now you know how to build an effective routine that'll keep your luscious long locks looking lovely.
Images:
www.pixabay.com, www.unsplash.com