Acrylic Nail Designs and step by step Tutorial
Acrylic Nail Designs
Here are some step by step acrylic nail design that you can do at home . Some of these beautiful design wont have tutorial but will be able to still inspire you to achieve a beautiful look .
1. Acrylic Nails with an Ombre

*Disclosure: This post may contain affiliate links, which means that I get a commission if you decide to make a purchase through my links, at no cost to you. Read my disclaimer for more info.
Image: Source
What You Will Need
Periwinkle nail polish
Light purple nail polish
Nude-pink nail polish
Liquid latex or tape
Makeup sponge
White nail polish
Top coat
How to Apply :
1. Apply the white polish as base.
2. Apply the latex liquid around your nails to prevent it from getting the polish on it.
3.Then on the makeup brush,apply  the periwinkle, light purple, and the nude-pink nail polish (like on the picture).
4. Dap the brush on your finger to create the amber effect . Apply more polish to the brush if needed.
5. Finish remove the liquid latex from around your nail.
2. Matte Lavender and Snow Nails
Image source
This is beautiful and a great color to try this fall/winter season . This is nice especially if you dont like dark colors for winter, perfect between light and modest.
What You Will Need
Matte Pastel purple nail polish
White matte nail polish
Loose white glitter
Dry flat paint brush


How to Apply
1 . Paint all your nails with the purple polish except for the one you plan on doing white.
2. Now for the finger you choose to do white, apply white polish.
3. While the white polish is still wet, use a flat brush to pick up some loose white glitter and place it onto your nail.
3. Lavender Boho Acrylic Nails
Image source Pinterest.com
Here is another lovey pastel design with the ring finger done in a different color. The unique design is done on the ring finger.
What You Will Need
Pastel purple nail polish
Fine brush
White nail polish
Top coat
How to Apply:
Paint all your nails with the pastel purple polish leaving your ring finger unpainted.
You will need steady hands for this part , you will need to draw out the boho design on your ring finger.
Now seal your design with the top coat polish . Easy 😀
4. Night sky  blue and White Acrylic Nails with Silver Moons
This is so my style, personally this is me. This is not only fun but super easy to do.
What You Will Need
Black nail polish
White nail polish
Silver nail polish
Top coat
How to Apply:
Paint the thumb, pinky and ring fingernails with blue.
Paint the index and middle fingernails white.
Paint half-moons with the silver nail polish onto all of the nails.
Seal the manicure with a top coat.
Other Acrylic Nails you may like
5. Round Short Nails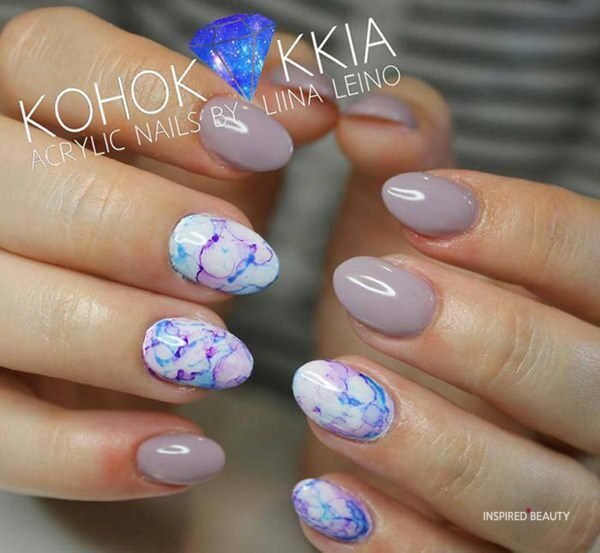 Round short nails with beautiful blend of colors.
6. Multi colors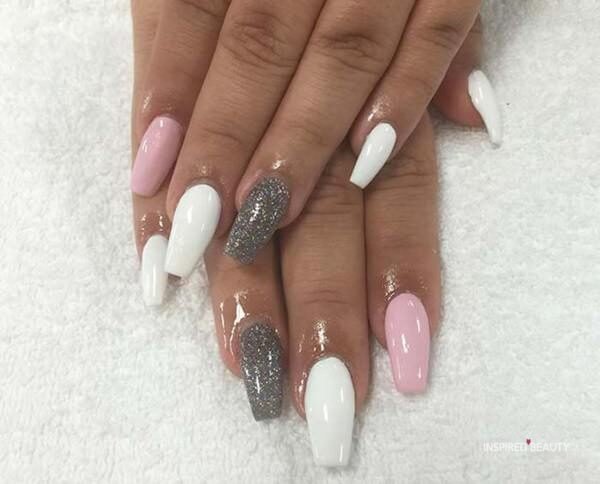 This is just perfect and easy multiple color nails. This is so easy to do you dont need anything special .
7. Black and Sparkle Nails Acrylics
8. Zig Zag Designs
Pink shade with touch of zig zag .
9. Emerald Green Nails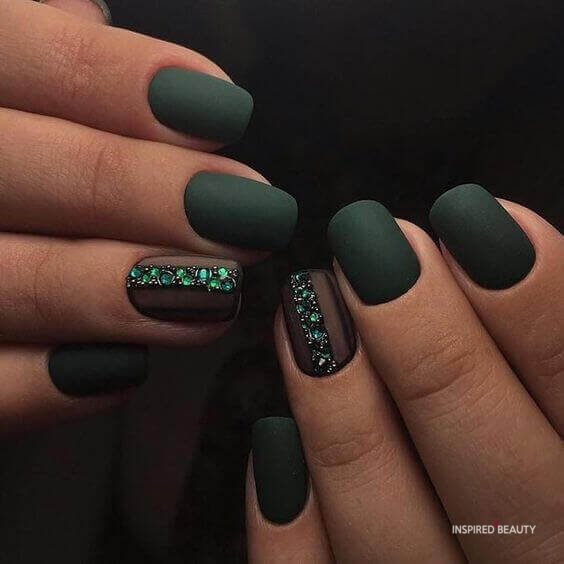 Classy emerald green color nails with beautiful green rhinestone.
10. Pearl Acrylic Nail Designs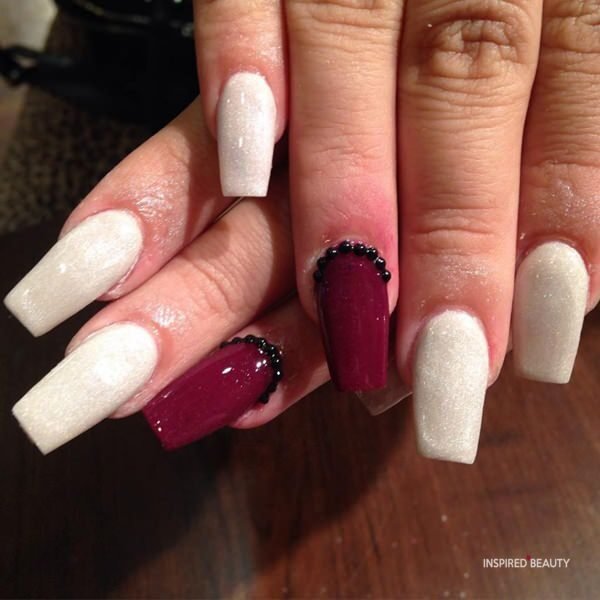 This look is simple and super easy to do. The Pearl create the design to add a little more to the look .
This is perfect for falls , dark and lovely and best part super easy to do . Same color scheme with two different texture will surely make a statement.
This post contain affiliate links.